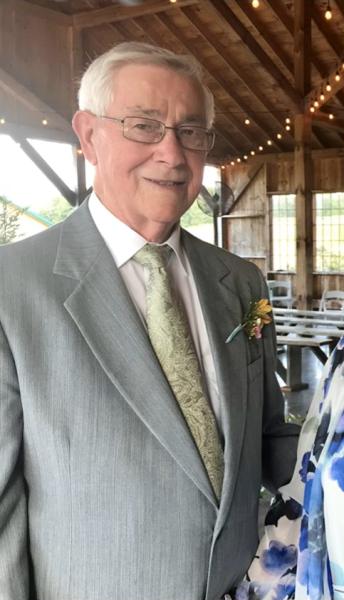 Mr. Arthur Frederick "Fred" Carswell, age 89, Jonesborough passed away Thursday, November 18, 2021, at the Johnson City Medical Center.
Mr. Carswell was born in Waynesville, NC and the son of the late John R. & Anna Petit Carswell. He was also preceded in death by seven brothers and sisters.
He was a United States Navy Veteran.
He retired from management in the trucking industry and finished his career at Clinical Pharmacy Solutions. He never met at stranger.
Survivors include his wife, June Holston Carswell; daughters, Dee Blalock (Allen), Donna Carson (Jim) and Dawn Proffitt (Shawn); son, David Carswell (Shannon); grandchildren, Lauren Logan, Leah Blalock, Justin Carson, Ashley Gorniewicz, Brittany May, Colton Carswell, Emma Carswell, Logan Proffitt and Chloe Proffitt; six great-grandchildren; and several nephews and nieces.
Graveside services will be conducted 2:00 PM, Tuesday, November 23, 2021, at Washington County Memory Gardens.
Pallbearers will be family & friends.
In lieu of flowers, memorial donations may be made to St. Jude's Research Center, 501 St. Jude's Place, Memphis, TN 38105 or Multiple Sclerosis Association of America, 375 Kings Highway N. cherry Hill, New Jersey 08034.
11/23/2021
Karen & Mark Durkee
We are so sorry for your loss. He always had a smile and a twinkle in his eyes. You all are in our hearts, thoughts and prayers!
Prayers for all.
11/22/2021
Leslie Lovelady
My love and prayers to your whole family. I used to love listening to his whistling. He could whistle better than anyone I ever knew growing up.
11/22/2021
Suzanne Carswell Davila
My heart and prayers go out to the family during these tough times - Uncle "Ped" was loved and will so be missed.
11/22/2021
Geraldine Greenwell
Donna and Jim, My love and prayers are with you on the passing of your dad.
11/21/2021
Connor and Karmel Underwood
Praying for your family for healing and peace through this tough time.
11/21/2021
Bessie Carswell Parris
There's no words that convey the heartfelt loss of Ped. I have the deepest sympathy for you all, he was a great man and a wonderful uncle. I am so sad he is gone, love to all
11/21/2021
Deana Ruth Howard
I know how very much Fred will be missed and how much he was loved by family and friends. I wanted to express my heart felt sorry for each of you in your loss
11/21/2021
Michael Tillman
My deepest condolences to the Carswell family. I'm sorry for your loss.
11/21/2021
Brian Brademeyer
Fred was a great neighbor and a joy to talk to. He will be missed.
11/21/2021
Tracey Lovelady Behrer
Thank you Mr Farewell for being my "Ward Clever". You were always a great husband and father to your family. You were also a good father to me. Taking me to the pool, taking me with your family on picnics, taking me to have ice cream. You will be missed by your family, beyond words, but you will also be missed by me.