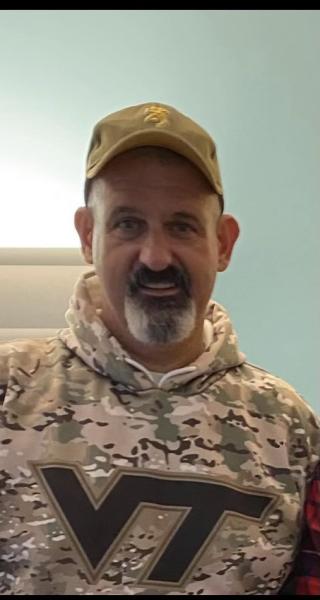 Mr. Timothy James Fisher, age 52, Jonesborough, passed away Saturday November 6, 2021 at his residence.
Tim was born in Radford, Virginia and was the son of Vickie Hoback Fisher and the late Richard John Fisher. He was also preceded in death by his mother-in-law Jessie Lynn Jones.
Tim received an associate degree from Highlands Community College and bachelor's degree from Virginia Intermont College
Tim worked as loader, supervisor, and driver for United Parcel Service for 33 years (from 1988 - 2020)
Tim was a kind, loving, and funny husband, father, son, and brother. Tim and Holly met when he delivered to her one time. It was love at first site. He was known by some as "Brown" due to his employment with UPS or "Fish" and to everyone as a wonderful, friendly man that would and did do anything for his friends and those in need.
Tim was an avid hunter and fisherman his whole life. He enjoyed frequent camping trips with Holly, Eli and wonderful friends. He was an amazing cook and no one would ever go hungry when he was around.
Survivors in addition to his mother are his wife Holly Jones Fisher, one son Eli Fisher; brother, Rick Fisher and wife Kelly, sister Vanessa Meyers and husband Jason; father-in-law Freddie Jones, sister-in-law Cindy Widener and husband Chris and brother-in-law Casey Jones; nieces and nephews, Joshua and Caleb Fisher, Cainan and Brodie Meyers, and Kelsey Widener; aunt Sue Fisher; cousins Darrell Fisher, Dwayne Fisher, Chris Hoback and Chad Hoback.
Funeral services will be Saturday November 13, 2021 12:30 PM at Boones Creek Christian Church, with Father Todd Hare officiating. The family will receive family and friends from 10:30 to 12:30 prior to the service. Graveside will follow at Monte Vista Memorial Park.
Pallbearers will be Freddie Jones, Casey Jones, Rick Fisher, Jason Meyers, Chris Widener, Craig Kellner, Dallas Arrowood, and Wade Hardin.
Honorary Pallbearers: Scott Worsham, Cainan and Brodie Meyers, Joshua and Caleb Fisher, Chris and Chad Hoback, Darrell and Dwayne Fisher, Joe Taylor, Nathen Tate, Steve Rosenbaum, and Steven Whitaker.
The Family would like to thank Jim Montag, PA-C and his team at Vanderbilt for their wonderful care.
The family would appreciate assistance with funeral expenses in lieu of flowers or in addition to flowers. Donations can be sent to Dillow-Taylor Funeral Home or by Venmo to @Timothy-Fisher-23.
11/12/2021
Taffie and Wayne Martin
Father God, we praise You in the storms of life, even when we do not understand. Thank you for the life and legacy of Tim. We ask Father, for Your loving arms to surround Holly, Eli, his mother and all his family and loved ones with Your Peace that passes all understanding. Amen. Holly--You are loved by your family at BCCC ❤️
11/12/2021
Steve Vankovich
So sorry to hear about Tim's passing. I went to school with Tim and he was a great person. My prayers go out to the family.
11/11/2021
Peggy Heatherly
Holly, Praying for you and your son at this time. Much Love, Light and Blessings.
Holly and extended family, I feel your pain and my prayers are for your comfort. So many good times were shared with Timmy at our house. He and Jonathan were always into something! God must have needed him for a purpose in the kingdom! It won't be long until we will all be reunited. Holly you will have a special reward for how you loved and cared for him
11/11/2021
Pam Cunningham
Holly praying for comfort and mercy during this time of loss
11/11/2021
Gary and Linda Robinette
We knew Timmy through our boys attending same school, as well as his parents through St. Luke UMC, Bristol, VA. We were saddened to learn of Tim's passing and at such a young age. Our thoughts and prayers for God's Grace are lifted for his wife and son and all of his family and friends.
Timmy was a classmate and a friend. Always a fun guy to be around! My prayers are with the family during this time. It was an honor to know him! My fondest memory with Timmy was a squirrel hunting trip we did at some land his parents owned off Jonesboro rd. Rest in peace My friend!
11/10/2021
Katy & Allen Overbay
We are so saddened to hear of Tim's passing. We will always remember him as that 8 year old playing with all his cousins at Granny Ruth and Grandaddy Pap Fisher's house during family gatherings. Prayers for comfort for Holly, Eli, Vickie, Rick , Vanessa and all the family.
Dear Holly and Eli, This is Pam from Dr. Tiller's office. I am so sorry to hear of Tim's passing. I always looked forward to his appointments and enjoyed our visits. He was a wonderful person, so kind and sweet. I knew he had a tough battle ahead when he was diagnosed but thought he would beat it. I know he was a courageous fighter. Please accept my wishes of deepest sympathy and if I can help in any way, please let me know. 676-1987. With Love, Pam
11/10/2021
Tabatha F.Salsbury
My thoughts and prayers are with you and the family and friends.Tim was a wonderful guy he will be truly missed.
11/10/2021
Cathy and Alan Hart
Sending Deepest sympathy and caring thoughts to the entire Fisher family. May all your beautiful memories remain in your hearts forever. Our prayers are with you all.
RIP Fish and prayers for the family.