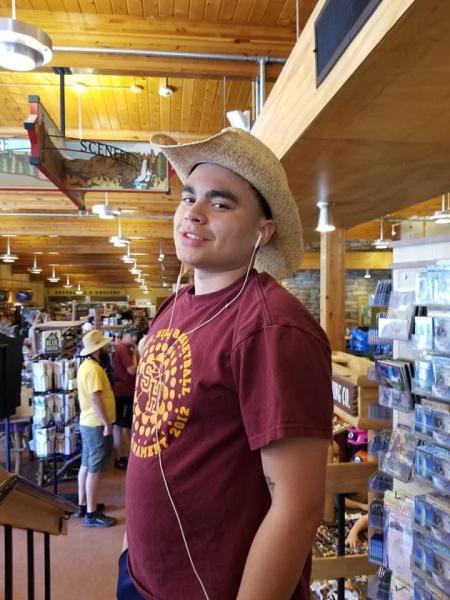 Isaiah Tariq "Zero" Beatty was gifted to the world on June 24th, 1998. He was called home on November 2, 2021.
He left behind a large heartbroken family that includes his loving parents, Anthony & Kelly Beatty of Johnson City. A sister Tatyanna Beatty, that was not only his best friend but the greatest love he ever knew. Others left to carry on without him include two grandmothers, Sherry Rhoton and Willietta Ridley of Johnson City as well as a host of Aunts, Uncles, Cousins, Great-Uncles and Great-Aunts and a special girlfriend.
He was preceded in death by an Aunt Shannon Hill and an extremely influential Great-Grandmother Reba Brooks both of Big Stone Gap, Virginia. As well as three Great-Uncles, Earnest Beatty of Knoxville, Victor Beatty of Nebraska, Jeff Beatty of California & his Godfather Mark Ross.
Isaiah was a graduate of Science Hill High School and currently was employed at ACT. He loved baseball and basketball and played both growing up. His baseball family and friends new him as "Zero". He was a huge Boston Red Sox fan. He loved the outdoors and was often found fishing many days after work. He had a smile that would light up a room and a laugh that was so innocent & sweet that you couldn't help but laugh with him. His family knew him as the sweetest most gentle soul.
He loved his family with all his heart and would do anything for anyone. He had a heart of gold. His absence has left a hole in our hearts that can never be filled.
Memorial services will be conducted 7:00 PM, Monday, November 8, 2021, at Dillow-Taylor Funeral Home with Pastor Rocky Peeler officiating. The family will receive friends from 5:00-7:00 PM, Monday prior to the service.
Dear Anthony, so sorry to hear about your son. My prayers and thoughts are with you and your family at this difficult time.
11/08/2021
Nicole & Gabbi Oaks
Our prayers and daily thoughts are with you all as you go through this heartbreaking painful time. We love you guys! ❤️
11/08/2021
Jerome, Cynthia & Cyndia
Our hearts are full of love for you and the family. We offer our sincere condolences during this time. We pray God will comfort you during this time. Much Love!
11/06/2021
Cassandra n chris highben
so sorry bout your loss we meet him through Colton at our church the family n friends r in our thoughts n prayers so sorry
11/06/2021
Miranda DeBoard
Anthony, Kelly and Family sending my deepest condolences and sincere prayers for you all Love and hugs the DeBoard's
11/06/2021
Katherine Newson
Anthony,Kelly ,&Tatyana our condolences go out to you. We will miss Isaiah. We will continue to pray for strength during this difficult time. Tyrone,Katherine, & Kristin
11/05/2021
Jennifer Fields
My heart breaks 4 y'all & no words cud ever make it any easier I hv ur whole family n my thoughts & prayers praying God helps y'all n ths terrible time & over time y'all's days/nights will become easier 2 breath w out hurtn No1 will ever tke his place & he will live 4ever n ur hearts/memories ... W all my luv