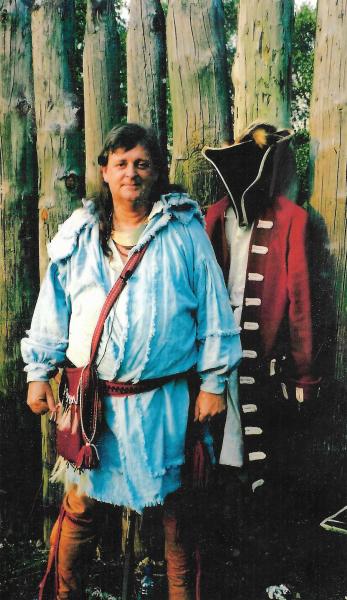 Mr. Gary Stevens, 66, passed away Wednesday, October 6, 2021. The son of the late Lewis & Florence Richardson Stevens, Gary was born in Carter County, Tennessee, on December 31, 1954.
Gary retired from East Tennessee State University as a Maintenance Supervisor. He was formerly employed at SB White for 26 years.
Gary's grandkids were the light of his life. He had a love for history and enjoyed teaching others about his culture. Gary participated in the Wataugans outdoor drama as Chief Little Carpenter for 30 years. He was a founding member of the Ghost Riders and also founded the Tennessee Frontiersman.
He is survived by his sons, Chris Stevens and Cody Stevens (Miranda), grandchildren, Sarah Stevens, Katherine Stevens, Case Stevens and Delaney Stevens, brother, Eugene Stevens Sr. (Karen), sister, Sandra Townsend, several aunts and uncles, nieces and nephews, and fur-buddies, Gracie and Daisy.
In addition to his parents, Gary is preceded in death by his first wife, Daisy.
A funeral service will be held at the Tipton-Haynes Historic Site on Friday, October 15, 2021, at 12:00 PM. The graveside service will follow at 2:00PM at Roselawn Memory Gardens.
10/15/2021
Roni and Larry Vleminckx
So very sorry for the loss of your father. Gary was such a dear sweet man and I enjoyed visiting with him so much. He was so knowledgeable about so many things in life. Prayers for your comfort in this difficult time!
Me and my husband Preston Glover we're lucky enough to have crossed paths with Gary. He was an amazing person and our family was so blessed to have him in our lives. He was so good to our kids and treated them as his own. He was so fun to be around and knew so much. We cherish every memory we have of him. He went way too soon and we miss him dearly. Rest in peace
Gary was a wonderful human being. I worked with him and was also a neighbor for many years and he always cared and listened to those around him.
RIP Gary. I enjoyed knowing you from the Pow Wows and appreciated all you brought to those events.
10/13/2021
Carolyn Gentry
Chris and Cody, So sorry to hear about the loss of your dad. He was a good neighbor. I have never heard anyone say anything but good about him! We will miss him in our neighborhood!