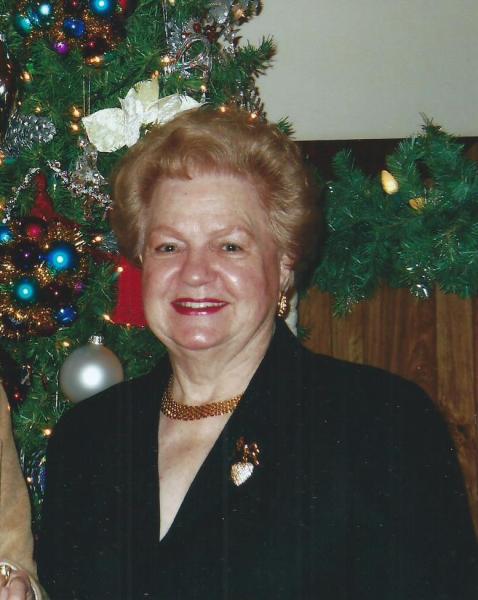 Pauline (Polly) Miller Archer-Phillips, 88, died October 6, 2021, in Hillview Health and Rehabilitation Center, Elizabethton, TN from multiple health complications. Born August 5, 1933, she was the youngest of ten children of Tommy and Ella Miller, Embreeville, TN.
Growing up in The Great Depression, Polly learned the importance of a strong work ethic and helping others. After graduating from Lamar High School where she played varsity basketball, Polly worked as a secretary at Free Service Tire Store in Erwin, followed by a similar job at S. Steel Ball and Bearing. She later accepted a position as a bookkeeper for Baylor and Backus which is now a full-service accounting firm. Her perseverance led to a position at East Tennessee State University in the Department of Admissions, and her true calling: working with students. Later her responsibilities included Veterans Affairs and guiding them in transitioning from military service to enrolling in university classes. Known as a "get things done" person, Polly became a cherished friend and a second mom to countless students.
ETSU and the State Department of Veterans Affairs recognized her dedication and service throughout her career. And beginning in 1996, the Upward Bound Veterans present the Polly Archer Scholarship to the ETSU veteran student with the best yearly academic performance.
As a young working mother, Polly was involved with her Sunday school class and the Youth at Pinecrest Baptist Church. She later attended Bethesda Methodist Church where she taught Sunday school. Polly was an active member of the Military Order of the Purple Heart Ladies Axillary and the Johnson City Business and Professional Women's Club.
She was married to Robert "Bob Archer" for 59 years until his death June 5, 2009. They had two children Carl Archer (Patty) and Teresa Lawson (Jim). Grandsons Chad (Stephanie), Great granddaughter Lexie, Cody Archer (Morgan) and Great-grandson Rylan.
In March 2011, Polly married Hubert "Billy" Phillips and gained a bonus family: daughter Sherri Phillips Poeckert, son-in-law (Rev. Kevin Poeckert) of Rockingham, VA., son Rodney Phillips (Julie), and grandchildren Christopher and Kayla of Hillsborough, NC, and Jordan of Denton, TX. Billy is a loving and dedicated husband that gave Polly unwavering support and care throughout their marriage.
A special thank you to the Hillview Nurses, and the entire staff for the professional care and loving compassion that they gave Polly and her family. You are all special people, and we are eternally grateful.
Reverend Kevin Poeckert, Mt. Clinton United Methodist Church will officiate a private graveside service at Bethesda Cemetery on Monday, October 11 at 11:00 a.m. In lieu of flowers, please consider a donation to Tunnels to Towers Foundation, 2361 Hylan Blvd, Staten Island, New York 10306 or Bethesda Methodist Church, 4755 Cherokee Road, Jonesborough, TN 37659.
10/10/2021
Mitchell Brown, MB Mowing Services & Family
Pauline was a very wonderful person to work for, She Will Be Dearly Missed.
10/09/2021
William David Ratliff
Polly was my wife's aunt and she was always nice to me and she would give you anything if she thought you needed it. Her brother Carl Miller was my father-in-law and they would both help anyone they could. They were very close growing up and shared many mannerisms. I am deeply saddened at her passing but I know she is in a greater place than I. Carl and Teresa have always been part of my extended family through her and he first husband Bob Archer.
My condolences to Polly's family. She helped me and other veterans with the transition of starting or resuming their college academics. She was a sweet and caring lady, and a wonderful liaison between ETSU, the Veterans Administration, and the V.A. Medical Center at Mountain Home/Johnson City. Polly was instrumental with referring me for a student/veteran work-study position at Mountain Home, which ultimately led to a career with the V.A. in Human Resources. Polly and I subsequently worked together with other student veterans, with work-study positions, or finding employment with the V.A. Thank you so much Polly for what you've done. You positively impacted the lives of so many, you will be missed, may you rest in peace.
10/09/2021
Lynn Richardson
Very sorry about the loss of Polly and for all her family and Billy for taking such good care of her! Polly treated me like a son and I always done everything I could to help her out with anything I could do! Going to truely miss her!
10/09/2021
Carol Byrd Godsey
We offer our condolences to Polly's family. Polly and Bob were our long time neighbors & friends in College Park. D.H. & Betty Byrd
10/08/2021
Mary Lynn Lancaster
Teresa and family: My thoughts and prayers are with you during this difficult time. I fondly remember the times at your home and at ETSU when I was able to speak with your mom. Mary Lynn
10/08/2021
NORMA, JEFF JOHNSON, KIM COOK
SO SORRY FOR YOUR LOSS, PRAYING FOR YOU ALL.