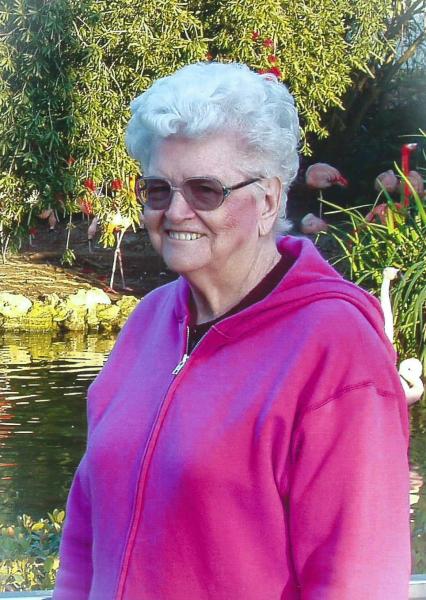 Mrs. Sarah Lorene Johnson Adkins, age 96, of Jonesborough, Tennessee, went to join Jesus on Sunday, October 3, 2021, at Abundant Christian Living Community. Lorene was born on April 24, 1925, to Thomas D. Johnson and Mary Kathryn Duncan Johnson.
Lorene met and married John Clifton Adkins and they were married August 25, 1953. Lorene and Cliff made their home in Erwin, Tennessee before moving to Elkhorn City, Kentucky, where Cliff worked on Clinchfield Railroad and Lorene maintained the home. After Cliff passed away in 1992, Lorene came back to Jonesborough, Tennessee, to make her home.
In addition to her husband, Lorene was preceded in death by her parents, six sisters and one brother.
Left to cherish her memory are two sons, Edward Glenn Adkins and David Clifton Adkins and wife, Michelle. Lorene was blessed with two grandchildren, Logan Adkins and fiancé, Allison Dyer and her son Aiden McGinley, granddaughter, Shelby Briane Adkins Oakley and her husband, Chris. She also was survived by one brother, Charles Thomas Johnson and wife, Brenda Johnson.
Due to Covid-19, there will be a private family viewing.
Graveside service will be held at Evergreen Cemetery, Erwin, on Saturday, October 9, 2021, at 11:00 AM.
Pastor Albert Bentley and Pastor David Effler will be officiating.
Pallbearers will be T. Johnson, Tell Johnson, Ty Johnson, Lane Johnson, Caleb Fannon and Holden Fannon.
In lieu of flowers, the family requests that donations be made to a charity of your choice.
Sorry for your loss. Sending love, hugs and prayers. She was a wonderful and kind lady.
10/06/2021
SHIRLEY CUTSHALL
Eddie, David and family, my prayers and love are with you. I loved Lorene dearly. She was a sweet, beautiful lady.
10/06/2021
Stephen C Mullins
In addition to my condolences, I want to share with you that my mom had a ton of respect and high regard for your mom, and cherished Lorene's friendship. Much love. Fuzz
10/05/2021
Trina & Jim Jessie
So sorry for your loss she was a wonderful lady ❤️ Praying for Comfort