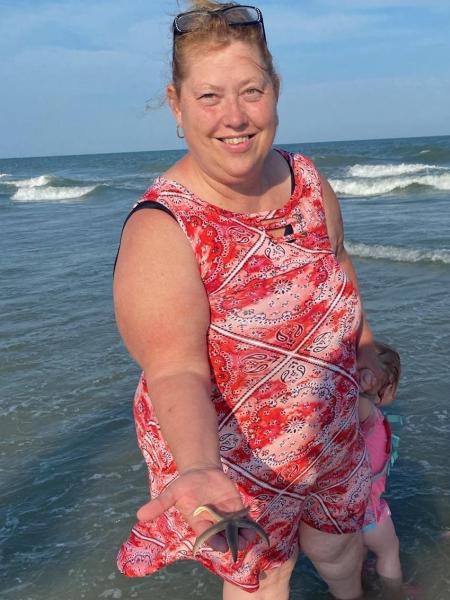 Mrs. Patsy Lowery, 57, of Jonesborough, passed away Friday, September 24, 2021. The daughter of the late John & Virginia Renfro Peterson, Patsy was born in Washington County, Tennessee, on October 12, 1963.
Patsy had a servant's heart. She was actively involved with her church and enjoyed organizing the fundraisers and running the food pantry. Her family knows just how much baptisms meant to Patsy because she baptized her kiddos whenever the chance arose. She loved the beach and going on vacations with her family and friends.
Patsy is survived by her husband, Cheyenne Lowery, daughter, Shawnee Cole (Cody), son, Cheyenne "CC" Lowery, grandchildren, Damien, Brooklyn and Presley Lowery and Amari Cole, three "special grandchildren", Dudina, Katlyn and Trinity Nela, siblings, Judy Smith, Debrah Day (David) and Timmy John Peterson (Diana), several nieces and nephews, and her special friend, Flutra Nela.
In addition to her parents, Patsy is preceded in death by her grandmother-in-law, Granny Lowrey.
Visitation will be held at Berea Freewill Baptist Church on Friday, October 1, 2021, from 2:00 PM to 3:00 PM, with the funeral service beginning at 3:00 PM. Pastor Brian Brown & Pastor Gary Hill will be officiating.
Your passing still hasn't sunk in and thankfully for fb we have been able to stay in touch. It was so good to see you a few years ago. I so enjoyed working with you at the Buc store along with Martha and Helen. We were quiet the crew. Even tho we haven't been in close contact in the past years before fb, I still thought of you often. I know heaven is loving having your warm sweet self. Will see you sometime or another. You will be missed
09/30/2021
Juanita Leach Church
Judy, I am so sorry to hear about the passing of Patsy. Prayers for you and the whole family. I know she's very happy now being with God and your mom, dad & grandmother.
Patsy is sitting at the feet of Jesus. I know we are missing her but she is having a royal celebration. No pain an no tears. I want all of our family and friends to be ready when we are called for we know not the day or the hour. Be ready to meet her again. We will be waiting on the far side of Jordan. I loved you Patsy. You was a strong woman.
09/29/2021
Christine Bradish
So sorry to hear of Patsys passing. I have many fond memories of Patsy while working along side her at The Firehouse restaurant. May she be resting peacefully in the arms of Jesus.
09/29/2021
Teresa mccurry
Family i am so sorry for your loss. I loved patsy . She was always so pleasant to talk to. God's speed
09/29/2021
Becky waycaster
Patsy was a wonderful woman. She had a kind heart. I know the family is suffering from this unexpected news. My thoughts an prayers are with u cody ,Shawnee, cc an Cheyenne an family.
09/29/2021
Helen Burrough
Wow!! You will be Missed So Much. May God Wrap all the family up in his Loving Arms and Give You Peace. I Know for Sure She In Heaven. That Helps to know. She will be missed by so many people. Sending Lots of PRAYERS. And Love to ALL.
09/29/2021
Janice McCurry Fogle
There truly are no words for the pain I feel! Life took us in different directions but I hope you know you were always in my heart Patsy! I love you cuz and I know you are in heaven with all the family. Until we meet again!
09/28/2021
Debbie Higgins
Patsy was a lady with a heart of Solid Gold and lived her life 100 percent for Our Lord and Savioir.Cheyanne and Family i am truly so so sorry that Patsy has Passed on but she stepped straight into Heaven as soon as she closed her eyes."To be absent from the Body is to be present with the Lord".I loved Patsy so so very much and will miss her dearly.She was a Very Godly woman and I was honored to have known her for all of these years.She was a True Friend Always. And always helping anyone and everyone in anyway she could. I loved Patsy Lowery and I will miss her all the days of my life.