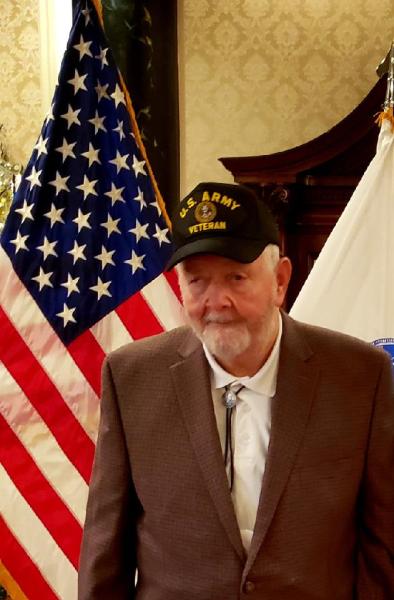 Mr. John R. White, age 82, Telford, passed away Thursday, September 23, 2021 in Logoff, South Carolina.
Mr. White was born in New Brighton, PA and the son of the late James J. & Dorothy (Mansfield) White. He was also preceded in death by his wife, Jacquelyn L. White, brother, Richard White and sister-in-law, Connie White.
He was a member of Notre Dame Catholic Church in Greenville, TN
Mr. White was a United State Army Veteran.
He was very active in the Scouting community and Community Ruritan in his young adult life. Mr. White was also a member of the Jonesborough Senior Center.
Survivors include his children, Michael White, Mary White & Rhonda Morrison; grandchildren Denine (White) Mixon, James T. Morrison & wife Taylor, and Jason T. Morrison.
The family will receive friends from 9:00-11:00 am, Saturday, October 2, 2021 at Dillow-Taylor Funeral Home. Graveside services will follow at 12, Noon, at East Tennessee Cemetery, Blountville, TN with Father Joseph Kuzhupil officiating.
Pallbearers will be Jason Morrison, Chris Lang, James Morrison, Brandon Burmeister, Tyrone Addison, Scott Johnson.
10/01/2021
Kathleen OBrien
John you were and still will be an inspiration to everyone through your legacy you left in the Jonesborough community. You were a wonderful man full of stories and teaching moments loved to talk with you. God Bless you in Heaven finally those fingers won't be poked anymore. You are missed. I hope you do get to see Pat up there. Say Hi you veterans all stick together Love you buddy
John, You will be deeply missed. You was always so kind to me when I was growing up and hanging around your house. You always tried to make us laugh and you did. Our kids always had a great time hanging around with you. We will be missed.
I miss you daddy. I love you
John volunteered in the Chester Inn Museum where I worked. He was always so happy to be there and to share history with our visitors. I will miss his kind and gentle presence at the front desk. I will miss his jokes and sense of humor. Thank you, John, for all the help you gave us. I also enjoyed watching John in the local plays. Whatever he was doing, he dedicated his whole heart to it. He will be missed, but he certainly left an impact on his community and the people who knew him.
09/28/2021
Cheryl D. Clark
So very sorry for you loss. Loved being in plays with him. Will keep you all in my prayers.
I have known John since 2009 but really got to know him at the Jonesborough Senior Center and through the MyRide Jonesborough program. We were HONORED to serve him. He was kind, funny and a great conversationalist. He will be missed. Susan Katko