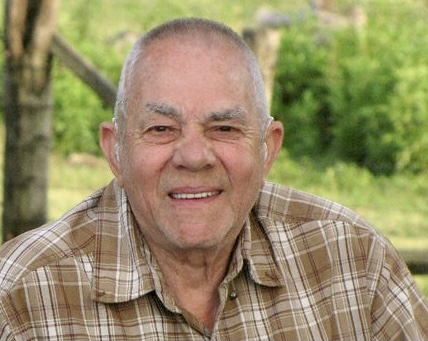 Lester Archer, age 88, of Jonesborough, Tennessee passed away on Sunday, August 29, 2021, following a courageous battle with Multiple Myeloma and Dementia. Lester was born in Washington County, on August 29, 1933, to Joe and Ines Collins Archer.
At the young age of 17, he made the decision to serve his country by joining the United States Army. Soon after, he was deployed and valiantly fought on the front lines during the Korean War, earning three Bonze Service Stars, the Army Occupation Medal (Japan), the United Nations Service Medal, and the National Defense Service Medal. Upon his return to the United States, he trained young cadets at West Point.
Soon after returning home, he met and married the lovely, Eloise Hammitt, with whom he shared 60 years of marriage, four daughters, and life with. Lester worked at Klopman Mills (Burlington Industries), Diesel Sales and Service, and always farmed, growing tobacco, beef cattle, and dairy farming. He was an excellent gardener, loved flowers, hunting, fishing, bowling, collecting guns, raising prize winning coon dogs, and being in nature, but most of all, he loved his family. He was a member of Sulphur Springs Baptist Church.
He was preceded in death by his parents, his wife, two daughters, Angela and Rebecca, brother/in-law, Sydney Archer and Rufus Hammitt, and his sister, Martha Emmert.
He is survived by his daughters, Vicky Weil (Ron Deshaies), and Darlene Ranegan (Joe), his grandchildren, Adam Glass, Tyler Laxton, Brittney Pearson (Bryan), Daniel Brant (Erin), Will Brant (Alisha), and Joseph Ranegan, his great grandchildren, Jack, Kelsey, Carter Rose, Evelyn, Adeline, and June Eloise, his brothers, Raymond (Betty), Howard (Ann), Herman (Billie), Paul (Teressa), his sisters, Anna Earldene Littleton, and Joyce Greg (Ed), his in-laws, Lula Gray (Gale), Pat Jamerson (Gerald), Nelta Cox, Famah Fenner (Jim), Charlie Hammitt (Linda), Vickie Hammitt, Eva Archer, Beau Hammitt (Lionel), several nieces, nephews, and cousins.
The family would like to offer their sincere appreciation to his very special caregiver, Stephanie Holt, and to all those who cared for Lester at various times throughout his illness, Leslie Hohl, Mountain Home VA, Amedisys Hospice, Ballad Hospice, Lakebridge Skilled Nursing Facility, and Brookdale Assisted Living.
A graveside service will be conducted on Saturday, September 25, 2021, at 2:00 p.m. at the Sulphur Springs Cemetery with Pastor Jon Reed officiating.