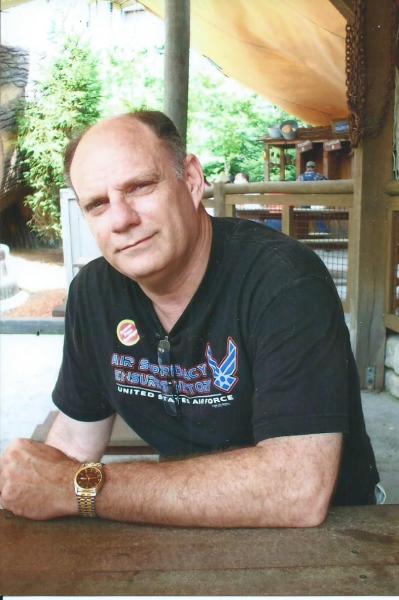 Mr. Edward Brittain, age 66, Johnson City, passed away Monday, September 6, 2021 at Johnson City Medical Center.
Mr. Brittain was born June 8, 1955 in New Brunswick, NJ and the son of the late Edward Stanton Brittain Sr. & Thelma Donaldson Brittain. He was also preceded in death by brothers and sisters, Hank Brittain, Richard Brittain, Gloria Griffin and Thelma Jane Pope. He grew up in Tampa, Florida.
He was a member of Grandview Christian Church. He had a degree in Christian Ministry from Atlanta Christian College and a degree in Business from Milligan University. He served as Youth Minister at Cedar Gove Christian Church, First Christian Church of Carrollton, Conyers Christian Church, Boones Creek Christian Church, Cherokee Church and Director of Cherokee Christian Learning Center. After his retirement he enjoyed working at Wheelers Bagels.
Mr. Brittain was a Christian Illusionist and balloon artist. He was a member of the Tri-Cities Magic Club. He loved hiking and biking. He trained with his son, Garrett and at the age of 59 he competed in an MMA Fight. He was a huge Walt Disney World fan and spent many happy vacations there with Brenda and the boys.
Survivors include his wife, Brenda Chesser Brittain; children, Jeremy Brittain and Garrett Brittain (Courtney), grandchildren, Callista Brittain, Hayden Brittain, Kinsley Brittain, Kaylin Brittain, and Kyson Brittain; brother, Charlie Brittain (Loujean); and many nephews and nieces.
Funeral services will be conducted 2:00 pm Saturday, September 11, 2021 at Grandview Christian Church with Minister Aaron Wymer, Minister Charles Reese, and Minister Tommy Staggs officiating. The family will receive friends from 12:00-2:00 pm Saturday prior to the service.
In lieu of flowers the family requests that donations be made to your local Christian camp.
So sorry for your loss...be praying for you and the family...
09/11/2021
Betty Snow Skinner
So sorry Brenda, Jeremy & Garrett and grandchildren but rejoicing for Eddie having attained the victory. My family has such fond memories of Eddie and he meant so much to my children. I thank God for his life and ministry.
There aren't enough words to describe my shock and sadness. Brother Eddy was a great colleague at Cherokee. Staff meetings and VBSs were a joy. Brenda and family Roz and my prayers are with you guys. Love.
Matthew 5:4 - Blessed are those who mourn, for they will be comforted. I will truly miss cycling with Eddie at the Wellness Center. I only spend 1 hour a week, many weeks a year but have developed a friendship that I will miss. Eddie was such a great guy. I am praying for family and friends. I pray for a peace that passes understanding that only Jesus can give. He will definitely be missed here but we know he is in such a wonderful place.
My prayers go out to the Brittain family. Mr. Brittain was always very kind and welcoming. Always a pleasure to be around. He helped raise a wonderful family. I know he will be missed greatly by many, many people. God bless.
There are many fond memories of Eddie, through school and ministry. Thoughts and prayers to the family.
09/10/2021
Dwight and Phyllis Taylor
Brenda, Jeremy and Garrett: Phyllis and I are so sorry to hear about your loss and regret that current circumstances will not allow us to return to Tennessee for Eddie's service. Our prayers and our thoughts are with each of you. I know words can do little to ease the pain you are suffering right now, but I also know your faith and trust in Jesus Christ will help you get through this. During our time at Cherokee Church, Eddie was always a true friend and an unwavering Christian influence in my life. He was always such a great role model for me in my Christian juorney as I witnessed him living his life, full of love, full of giving and totally dedicated to the his Christian ministry. I shall forever remember the many meeting both scheduled and impromptu with Eddie at Cherokee Church, as well as our many lunches together (I don't think any one liked Mexican food better than he). His life priorities were always Jesus first closely followed by his love, dedication and loyalty for his family, of whom he was always so proud. Eddie was one who did not just talk the talk but he walked the walk. He did not just strive to follow Jesus, but each day his goal was to walk in Jesus' footsteps and always ask "What would Jesus do in this instance?". Eddie, my friend, during this football season I will cheer for the Gators each week (ouch) just to honor you.
09/10/2021
Patricia and Patricia Rodriguez
To my wonderful aunt Brenda cousins Jeremy and Garrett (Courtney) we are sending our love to all if you. I wish we could be there with all of you. I am so sad to loss uncle Eddie. He will be so missed by everyone and all the life's he has touched. We love you uncle Eddie, until we meet in heaven.
09/09/2021
Krystal Cavelli
This news saddens me so much... I worked for Eddie at CCLC for close to 7 years. I'll never forget the day I met him, I was talking with a friend about how much I missed teaching and he popped out of his office , handed me a job application and said "fill this out, you'll have an interview in 20 minutes." He was an amazing boss and a friend. There was nothing he wouldn't do to lend a hand. In some of the hardest times of my life Eddie was there with a prayer and a smile. He will be greatly missed. My condolences to his family and friends. Praying for you all that God brings you comfort and peace during this time.
09/09/2021
Kathleen Petretta and family
So very sorry to hear the news of Mr. Eddie passing. My children when to daycare when he was the director. Recently my daughter (19) was waitresses and she saw him. She was c so excited to say..Mom I saw Mr. Eddie! It was so nice to catch up with him at Wheelers Bagels He sure left a impact and a smile on everyone's heart that he came in contact with. Rejoicing that Mr. Eddie has reached his final destination in the arms of Jesus. Praying for his family.
09/09/2021
Mike and Brenda Gillespie
Our thoughts and prayers are with the Brittain family at Eddie's departure from our presence into the presence of God: the worst of times for all who remain here, but the absolute best for him. As an old southern Gospel song put it, "there's more to go to Heaven for than there was yesterday". Personally, I'm grateful for memories of Eddie's friendship and understanding support for my family and me as we traversed a rough spot in our ministry experience. Again, you are in our thoughts and prayers.
09/09/2021
Kermit Johnson
I have the privilege of meeting Eddie through a Neighbour of his David longwater who was a young man into Magic, he introduced me to Eddie and our friendship grew from there. He helped with magic and balloon animals as well as my growth in Christ and love for the church. Eddie was very unique and special in his own way and he will be deeply missed, but thanks to his strong faith in God, I know we'll see each other again
Uncle Eddie served the Lord and touched so many lives. He is an inspiration to so many. My love and prayers are with Brenda and the rest of the family.
09/09/2021
Marsha Dockins
I am so sad to hear of Eddie's passing. He was a dear friend and coworker at JCMC in the financial counseling department. I pray for Jesus peace and strength for all of the family. God bless you all.
09/09/2021
David and Judy Johnson
We were so sorry to learn of Eddie's death and send you our deepest sympathy. We celebrate his love of Christ with you and pray for your peace and comfort. "Lo, I am with you always, even unto the end of the world." Matthew 28:20
I'm thinking of and praying for you all during this difficult time. God's blessings to you all.
09/09/2021
Erika Campbell
Eddie had the best smile and laugh. He made a big impression on us in the time our Daughter, Ava, spent at Cherokee Christian Learning Center. It's not hard to understand why he was so loved by so many. My condolences to Eddie's family. Sending much love and prayers ❤
Very sorry to see this. Eddie was a well loved man. He will be missed. May the comfort of God's promises be with you all at this time.
09/09/2021
Randi Nussbaum
Oh, Brenda… I am so sorry. He RADIATED Jesus everywhere he went (whether at church, or bookstore previews, or at conferences). He adored you, the kids, and his grands and never missed a beat to share stories about each of you. I will treasure our VBS travels together and will never forget the time he quickly figured out that I was traveling the wrong direction home after a bookstore preview. *shew* Praying for peace and comfort as you walk through this wilderness together. Sending love and hugs your way… ~ Randi Nussbaum
09/09/2021
Dolores Powers Fredericks
I taught music at Cherokee Elementary School many years ago and had Jeremy and Garrett as students at one point. His sons were wonderful students and the love they showed their parents was so caring and proud, and of course their parents' love for them. I remember Mr. Brittain coming to the school to perform magic or to assist in any way. Our prayers go out for you and your family. He will be missed.
My heart breaks for your family. Eddie had such a fun and uplifting spirit. I remember when he was the entertainment for my daughter's birthday many years ago. All the smiles on the faces of her friends were priceless. I'm keeping everyone in my prayers.
09/09/2021
Ton and Nancy Helsabeck
We are saddened to learn of Eddie's passing. Brenda,you and Garrett and Jeremy will all be in our prayers.
Dear Brittain Family, I so sorry for your loss and I will be lifting each of you up in prayer. I worked with Eddie several times back in the days of Cherokee United Methodist Church. Vacation bible school and teaching Sunday School class were a couple of places our paths would cross. He was a good man and I had great respect for him. I saw him last when I was in the hospital in 2018 and he stopped by to check on me. It meant a lot to me. He will be missed. I was glad to know him. Sincerely, Johnny Cloud
09/08/2021
Cori & Tyler Horne
Our family is so saddened to hear of the passing of one of our favorite wheelers bagels workers. Each time I would come in, Eddie would talk to me about his wife being able to retire in the next year from school. I am a school teacher , and I was excited for him to be able to spend retirement with her. My husband and I frequent wheelers, and and when our young girls were there with us, they would look for him because they knew he would make them a poodle/dog. We are praying for your family, knowing that his loss Fills a huge void in your lives and many others in our community. The Hornes
09/08/2021
David Longwater
When I met Eddie, he was just my friend's dad. That quickly changed because he wasn't just any friend's dad. He was a great friend's dad! When he realized I had an interest in magic we became friends. I would be visiting Jeremy, and Eddie would invite me to his office to share magic tricks, tips, and secrets. I was 11 or 12 years old and this man was treating me like a peer. He was my youth minister, friend, and neighbor, but in the Brittain home I was always treated like family. I thought he was going to ground me the time I got my ear pierced on a youth group trip at age 14. He thought my dad was going to be furious and made sure I was the one to break the news to my dad. (Sorry Eddie! I still wear the earring though.) I'm proud of the time I shared on stage with Eddie as a magicians assistant and him as my assistant a couple of times. The man I am today is partially thanks to Eddie. He taught me a lot about life, God, a love for performing, and how to be a good father and husband. He was so good to Brenda and would do anything for his children and grandchildren. Regrettably I cannot make it to Tennessee to say goodbye and celebrate the life of one of my role models, but Eddie's influence will live with me the days I have left. Brenda, Jeremy, Garrett, Courtney, and all of the kids; Lidia and I love you all and are so sorry for your loss. He has touched so many lives. He was truly magical.
09/08/2021
Alice Maden (Brittain)
We were blessed to know him and have fond memories of him. Not only from high school years, but beyond. We had the pleasure of enjoying his magic at my son's birthday party a few years ago and he was a welcome face when my other son was in the hospital some time later. Your family is in my prayers as I can only imagine to loss you have endured.
My heart is aching for you Brenda. Eddie was one of the finest Christian men I have ever had the privilege of knowing. His joy cworking with children was just wonderful to behold. His love of you and the boys was so very evident in his life and the way you were the priority in his life. A shining light has gone out here but I know, without a shadow of a doubt, is with the Lord. He no longer has to imagine what his eyes will see for now he sees quite clearly the glories that await us. He will be missed.
09/08/2021
Bill and Pat Smith
Eddie was a generous, thoughtful, and caring friend and a wonderful husband, father, and grandfather. We will treasure our memories of him and continue to keep Brenda, Jeremy, Garrett, and the rest of the Brittain family in our thoughts and prayers.
09/08/2021
Michael Hilley
Brenda, please accept my condolences and know that you and your family are in my thoughts and prayers. I enjoyed serving with Eddie at the church and am grateful that he was a very positive influence for my children as they were growing up. I am happy that I was able to speak with Eddie at times throughout the years and I am sure he will be greatly missed. His love for Christ and His church was never in question. I amhonored to have served with him.
My wife and I served at Central Christian in Tampa, FL. Eddie and Brenda were part of the Seekers class which opened up their arms and welcomed us. Eddie and Brenda worked with our youth and because of their background in ministry were not only highly qualified, but compassionate and dedicated. Probably what I remember most was the Seeker class parties; Nerb Party, 50-60's party. The highlight was a grand performacne by Eddie and Brenda and Kevin and Lori lip-synching and acting out a coupe Weird Al Yankovich songs. Brenda, Kim and I love you, and are praying for you.
09/08/2021
Darlene (Brant) Ranegan
Dear Brenda and Family, I am so sorry to hear of Eddie's passing. I remember having him entertain with his magic and balloon animals at one of Brittney's birthday parties. It was one of the sweetest of all. He was an inspirational youth minister for my three children at BCCC. Although I haven't seen you or Eddie for years, I truly appreciate your family's commitment to service. I will be praying for all of you.
09/07/2021
Don and Angie Gibson
Eddie Brittain meant the world to our family. We will be praying for his family in the days to follow. Thank you to his family for sharing him with so many that he worked to make a difference in our lives.
Our family was saddened to hear of Eddie's Illness and death. Amy loved being his magician assistant and he was such a great Christian youth minister. He was instrumental in their Christian lives. Amy, Tommy, Anna and Ryan and myself all will hold him in our memories.
09/07/2021
Ronnie and Jane Nobles
Brenda and family, We are so deeply saddened to learn of Eddie's passing. He was a wonderful minister and friend to our youth in Conyers. We are praying for comfort and peace for you all. Love, Ronnie and Jane Nobles
09/07/2021
Debbie Lynn Lewicki, Matthew Albrecht and Shonda Lucas
Our family sends our heartfelt sympathy.