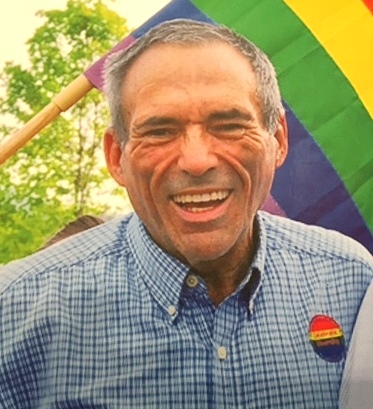 Geoffrey (Jeff) David Dupre died peacefully at home in Jonesborough, TN, on August 20, 2021, surrounded by his family.
He is survived by his husband David A. Phillips, his sister and brother-in-law, Dona and Chuck Lewis, his brother and sister-in-law Normand and Jane Hanchett Dupre, sister-in-law Cheryl Dupre, sister-in-law Theresa Phillips, sister-in-law Donna Wilson, brother-in-law and sister-in-law Charles and Greta Phillips, numerous nieces and nephews, and his cats GoldieLocks and Tinky.
He was predeceased by his partner, Doug Newton, his parents Noel F. and Margaret D. Dupre, brother N. Marc Dupre, and his in-laws Doris and Glenn Phillips.
Jeff grew up in Elizabeth, New Jersey. He attended Union County Vocational Technical School (Associates of Science), University of Fort Lauderdale (Bachelor of Science in Engineering/Industrial Management), and also attended the University of Dallas. Jeff had a long and varied career. He worked at Westinghouse, Texas Instruments, Motorola, OKI Telecom (the first two manufacturers of cell phones), Schlumberger, Texas Instruments, and with Steve Jobs at Apple. He then settled down for 27 years at John Deere as the plant engineer in Greeneville, TN. He was actively involved in the building and expansion of the Greeneville John Deere plant from 50,000 square feet to its current 539,000 square feet and was recognized with the John Deere Presidential Award more than once.
Jeff was active with the Town of Jonesborough on accessibility issues and with the Historic Zoning Board of Review. He and his husband David had a restaurant, Dogwood Lane, in Jonesborough for many years which was a town favorite.
Jeff had many favorite activities including Storytelling, the Progressive Dinner, Tri-Cities AIDS Project, and cooking classes. He loved going to flea markets. He had every tool, (kitchen, yard, building) one could imagine. His desire to help those around him was amazing.
The family thanks Amedysis Hospice, numerous doctors, and Dr. Joe Florence for their care for Jeff and the family. In lieu of flowers, donations may be made to The Bridge Home No Kill Animal Shelter (Jeff loved cats) and John Deere backpack program through UnitedWayofGreeneCounty.com "donate now" for Geoff.
A memorial service for family and friends will be held at a later date.
So sorry for your loss.
09/02/2021
Jim & Linda Klocek
David, Dona & Chuck we are so sorry about Jeff. Our prayers are with you.
08/31/2021
Charles and Sherry Harrison
Sherry and I extend our deepest sympathy and condolences to the family and friends of Geoff. He was a fine and giving person who loved his adopted town!
08/30/2021
Richard and Kathy Deming
Dear David, we were so sorry to see that Jeff passed away. We can only imagine your pain and sorrow. Please know that you and Jeff are in our prayers and thoughts. Richard and Kathy Deming
I will miss him. Prayers for David and the family.
08/27/2021
Heather Bishop
Jeff and I worked together in Greeneville at John Deere. Jeff was continually looking ahead and anticipating issues and ensuring that our facility was well cared for. My husband and I also enjoyed many meals at Dogwood where Jeff and David always made sure the experience was delightful. Jeff's heart and care for Jonesborough left an impact. Jeff made a difference to so many of us. You will be missed my friend.
My sincere condolences for your love ones. God bless and keep you. Jeff was a good man and was one of the nicest and most caring people I ever meet. He will be missed by all who knew him.
Joe and I are so sorry to hear about Jeff, David. You are all in our thoughts and prayers.
08/26/2021
Marianne and Roland Oligny
We are very sorry to hear of Jeff's passing. Prayers for Jeff and all of you. We love you.
Jeff was a great Engineer, kind friend and will be missed deeply in Jonesborough and long remembered at John Deere Power Products.
08/25/2021
Eleanor Mosca. La Jolla, CA
What a tragic loss! I have so many fond memories of you and Jeff and truly valued your friendship and kindness during my time in Greeneville. My thoughts and prayers are with you.