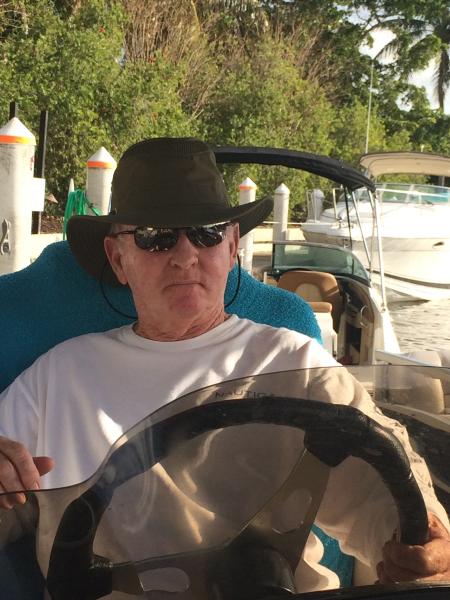 Mr. Don McCracken, age 83, Johnson City, passed away Friday, August 20, 2021 at James H. Quillen VA Medical Center.
He was born James Donald (Don) McCracken, on May 5, 1938, the only child of John Arthur (Jay) and Ada McCracken.
Don graduated from Boones Creek High School. He worked for many years at Unisys before taking over Jay's Boat Dock in 1984 following Jay's passing.
Don was an avid UT and Dallas Cowboys fan. All through his life, Don loved the water and boating. His favorite places to be were the lake and the beach.
In addition to his parents, Don was preceded in death by a grandson, Brett Sizemore.
Don is survived by his wife Carolyn McCracken; daughters, Nancy LaGuaradia (Randy Curde) and Cindy Light (Jeff); grandson, Ryan Sizemore; sister-in-law, Linda Cross; aunts, Mary Nell Burleson, Bessie Leonard and Evelyn Gates; and several cousins.
Services will be scheduled at a later date.
The McCracken family wishes to thank the VA nursing staff for their extraordinary and compassionate care of Don.
In lieu of flowers, memorial donations may be made to the Daily Bread Community Kitchen P.O. Box 1458 Morristown, TN 37816 or Recovery Soldiers Ministries P.O. Box 603 Elizabethton, TN 37644.
09/01/2021
Paul & Sharon Dwyer
We are saddened to learn of Don's passing. We tried to reach out to Carolyn. Prayers are with the family.
I work at McDonald's I took good care of Don every morning. For eight years.My heart is so broken. I thought the world of Don. He was such a wonderful man. I will always cherish his memory. He holds a very special place in my heart. I have to smile cause him and monk are together again. I'm very sorry for your loss. He sure did Love you. God Bless you
08/27/2021
Bill and Beth Hall
So sorry to hear of Don's passing. We asked Cindy about him last week at the dock. He will be missed at the lake. Carolyn, Nancy and Cindy are in our thoughts and prayers. Glad he got to see lake at full pool after 7 years. We miss the good old days with good lunches and good friends at Jay's.
08/26/2021
Bob & Marty DeWelt
We are very sad to hear of the passing of Don. Don was a friend and neighbor who will be greatly missed by those of us who knew him and spent time with him. We offer our sincere sympathy to Caroline, Cindy and the rest of the family in this time of grieving but rest assured that Don is in a better place with our savior. God bless your family and give you extra strength to endure this difficult time.
08/25/2021
Audrey Steed Cline
I'm so sorry to hear this!! He gave me such grief and I loved him for it!! I will really really miss him!! Much love to the family!!
Carolyn, I am so sorry for your loss. Stay in peace by remembering the adventures and good times you shared with Don. So many couples come to the end with regrets, but not for you two. What a wonderful life he had with you at his side.
We are so sorry to hear of Don's passing. Carolyn and Family please accept our deepest sympathy. Sincerely. Mr. and Mrs. Sam Ogle
I am sorry for your loss, I thought a lot of your dad he was a good man and I always enjoyed talking to him when I worked the lake.
Carolyn, praying for you and the family.