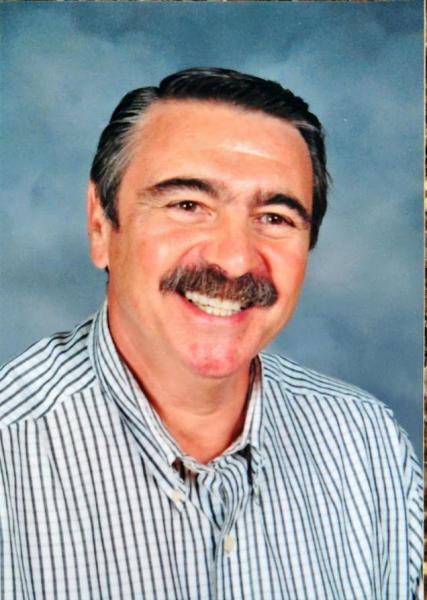 Mr. David Paul Wolgast, age 79, Jonesborough, TN, passed away Monday, August 16, 2021 at Johnson City Medical Center.
Mr. Wolgast was born in North Tonawanda, NY and the son of the late Paul & Mildred Bliss Wolgast.
He was a United States Marine Corps Veteran. He was a member of the VFW and Tri-Cities Marine Corps League.
Mr. Wolgast was an Insurance Underwriter for Travelers and Kemper Insurance Companies. He was also a Teaching Assistant at Tonawanda High School.
He was a long-time board member of Buffalo and WNY Junior Soccer League. He coached soccer in Grand Island, Tonawanda, Cardinal O'Hara High School and Mount St. Mary's in New York and in Tennessee at Daniel Boone High School. He was also a referee for US Soccer and WNY and TN and was a life member of Western New York State Referee Association.
Survivors include his wife, Janis Luther Wolgast; children, David Jr. (Michelle) and Dustin (Karen); grandchildren, Madison, Sarah, Allyson, Samantha, Bekah and Johnna; and a brother, Tim (Roberta).
In lieu of flowers, please consider a making a donation to Daniel Boone HS Marine Corps JROTC at 1440 Suncrest Dr, Gray, TN 37615 or Humane Society of Washington County at https://hswctn.org/ or mail to: 2101 W. Walnut Street, Johnson City, TN 37604
The family will receive friends from 5:00-8:00 pm Wednesday, August 25, 2021 at Dillow-Taylor Funeral Home.
09/03/2021
William Van Slyke
Janis, David and Dustin - I knew Dave for many, many years through our mutual involvement in soccer in Western New York. We refereed together and I refereed games that he was coaching. And I 'd like to think we were friends off the field as well. He really cared about the game and the players on his teams, always being positive and supportive with them. And it was obvious the players loved playing for him. When my father died in in 2016, Dave wrote a very touching online condolence and I will always remember that kindness. I spoke with Dave on the phone in June and I am so glad we were able to have one last conversation, though we did not realize it at the time.
Jan, I was so sad to hear of Dave's passing. The years working with him at Travelers are full of great, funny memories! What a wonderful man with an amazing sense of humor. My thoughts are with you and the family. Sending hugs, Donna
Tim and family, condolences regarding the loss of Dave. The family has to be so so proud of the man he was. The obituary tells the story of a very talented, gifted man.
08/30/2021
Bill DeGlopper
Very sad to learn of Dave's passing. It was a pleasure knowing Dave for many years as we shared a passion for soccer. Pleased to have coached Justin in Grand Island soccer, and working with Dave Jr as a referee. Later, I enjoyed officiating games when Dave coached the High School teams at O'Hara & the Mount. My entire family extends our condolences to your family. Be strong.
08/30/2021
Marlene Czuprynski Roe
Jan I am so sorry for your loss. Dave was such a warm hearted person with a great sense of humor and always willing to help out. When I think of Traveler's Insurance, he is always one of the first people I think of.
08/29/2021
Karl and Wendy Rasch
Sorry for the loss of your Dad. He was a big part of our childhood and love of soccer (along with many others in Western New York). Wendy and I both send our condolences.
08/29/2021
Sue and Mike Britt
Jan, So sorry to learn of Dave's passing. He was a true gentleman and an exceptionally talented wood worker, my mother's mantel is a beautiful testament to his skill. Prayers for you all.
Dave you were big part of our Marine Corps League RIP you will be missed Semper Fi
I'm so sorry for the loss of your father. Please accept my condolences and let me know if there's anything I can do to help during this difficult time. My thoughts and prayers are with you and your loved ones right now. I hope you're able to find peace and comfort during this difficult time.
08/25/2021
Terry and Teresa Sweet
We are so sad to hear about Dave's passing. Prayers and hugs to Janis, their Children and Grandchildren. We knew Dave from Cross of Grace, he was a good guy with a big heart ❤. He will definitely be missed.
08/24/2021
Marty and Barb Donn
We are so sorry to hear of Dave's passing. He was a wonderful neighbor, good friend, and a very talented woodworker. He and Jan spent so much energy and time making their house and gardens beautiful. We're so happy you both got to enjoy your dream retirement home in Tennessee. Our love to you, Jan, and all the family and friends he has left behind.
08/23/2021
Linda C Kozlowski
Jan, I am so sorry to hear about Dave's passing. I was shocked. I was also shocked to find out he was 20 years older than me. He didn't look like it or act like it. I thought Dave was a character, and therefore, was unforgettable. I hope the memories you cherish will help heal the pain in your heart. My sincere condolences to you and the rest of his family.
In between the date of our birth and the date of our passing, we live our "DASH". Dave has lived his "DASH" to the fullest. (Take time to read the poem, "The Dash") To know him, is to love him. Dave really touched so many lives, making a lasting impression because of his big heart. A soccer coach, teaching skills and basic life lessons to many boys and girls in NY state and TN. When we sat down for a visit, you never knew what you might learn from Dave. It could have been a history lesson, car mechanics, wood working tips, the goings on in the area, anything Marines, names and stories that were " older than dirt", how proud he was of all the kids he coached, his pride in his family, things he and Jan were working on in their home, riding in his truck with Sunny Mae, what he's done recently lending a helping hand to anyone that needed it. The list goes on and. on. We are the lucky ones who are grateful for our time with Dave on this earth. 'Til we meet again...he will be truly missed.
Semper Fi. Rest easy Marine
08/19/2021
PDD Douglas Essinger
Rest easy Marine. Semper Fi
Semper Fidelis, Marine
In recognition of David Paul Wolgast's Honorable Service in the United States Marine Corps, the members of Anne Arundel County Detachment 1049 Glen Burnie, MD ,the members of the SSgt Walter F. 'Trae' Cohee III Detachment # 115, Salisbury, MD and the members the Tri-Cities Detachment # 969, Gray, TN of the Marine Corps League would like to extend our appreciation and gratitude for his service to God, Country and Corps as well as our sincere condolences to his family. SEMPER FIDELIS Don Elseroad Staff Sergeant USMC (Ret) MCL Detachments # 1049, # 115 & # 969
Fair winds and following seas my brother in arms, Semper Fi