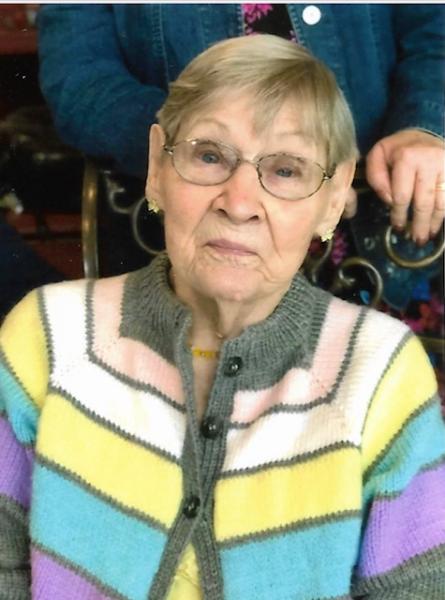 Mrs. Roberta Reynolds, aged 100, passed away on July 18, 2021. She was a Christian, and attended Freedom Fellowship in Greeneville. As a "Preachers Kid" she learned to take care of others, and she did so all her life, including a greeting card ministry.
Roberta leaves behind two daughters, Cheryl (Mike) Clark, and Patrice (Robert) Wells, four grandchildren, Kindra Ryan, Sean Wells, Amanda Combs, and Amy Jones, eleven great grandchildren, and four great-great grandchildren. She also leaves behind many friends, including three very special children of her heart, Diana Behling, Judy Morrow and Barb Monson.
Roberta was preceded in death by her parents, William and Violet Field, her beloved brother, Robert, grandson, Tony Clark, her husband of 58 years, Patrick Reynolds, her companion of 11 years, Russel Van Brakel and her precious granddaughter, Gigi Kropla.
Special thanks go to all the good people at Amedysis Hospice that loved and cared for Roberta, especially Tammy, Mary and Kayla.
There will be no formal services. Interment will be at Prairie Rapids Cemetery in Tomahawk, Wisconsin.
07/22/2021
Barbara Monson
For the 20+ years I knew ROBERTA she was always a very dear friend and then in the last several years included me as a special daughter even though we were not truly related but we were in heart I will miss her very much love to everybody in the family!
07/21/2021
Dixie Rivenbark
This sweet Roberta was loved by so many❤️…..she will be so missed but we know she is now healed and living with Jesus in Heaven….sending prayers to all her family
So sorry for your loss. Prayers and blessings for you and your family.