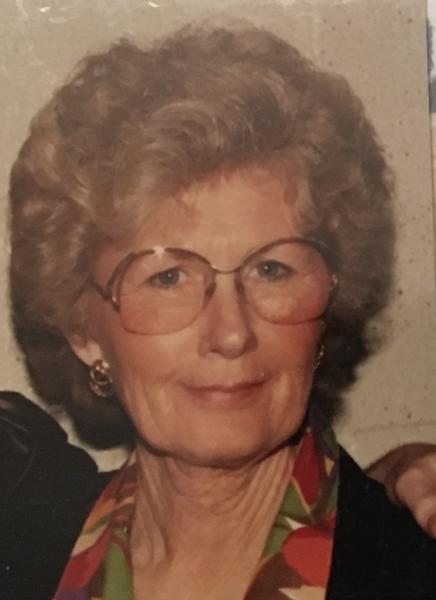 Mrs. Betty Ruth Broyles Miller, age 91, Jonesborough, passed away Monday, June 21, 2021 at Sycamore Shoals Hospital.
Mrs. Miller was born in Washington County, Tennessee and the daughter of the late Jerome & Lola Austin Broyles. She was also preceded in death by her husband, Charles Bruce Miller, and her brothers, Roy Broyles, Gilbert Broyles, Ellis Broyles, Paul J. Broyles, Harry Broyles, Jerome Broyles, Jr, Dana Wayne Broyles, Glen Dale Broyles and Taft Broyles and sisters, Muriel Conley and Gladys Holland.
She was of the Baptist faith.
Survivors include her children, Harry Miller (Sandra), Charles "Red" Miller (Deborah), Stanley Ray Miller (Vickie), Betty Jayne Kitchings (Ken), Debbie Jackson (Steve), Linda Bailey (Clarence) and Bennie Miller; seven grandchildren, Harry Miller, Jr, Chris Miller, Heather Casey, Brandy Early, Megan Miller and Amber Bailey; great-grandchildren, Moriah Miller, Jordan Miller, Judah Miller, Colton Casey, Chole Casey, Layla McKee, Ross Miller and Jessee McKee; numerous nieces, nephews and cousins.
The family would like to extend a special thank you to the employees and staff at Erwin Health Care Center and Sycamore Shoals Hospital.
Funeral services will be conducted 7:00 PM, Thursday, June 24, 2021 at Dillow-Taylor Funeral Home. The family will receive friends from 5:00-7:00 PM Thursday prior to the service.
Interment services will be conducted at 11:00 am Friday, June 25, 2021 at Grace Brethren Church Cemetery.
Pallbearers will be sons-in-law and family.
In lieu of flowers, memorial donations may be made to Alzheimer's Northeast Tennessee Chapter 2020 Meadowview Pkwy. Suite 100 Kingsport, TN 37660.
06/26/2021
Kay and Sonny Miller
Harry , Sonny and I are so sorry to hear of your Mother's passing. We pray for peace and comfort for you and your family. We love you.
Sorry about the loss of your mom Jayne and Ben love you both praying for your family.❤️
06/24/2021
James/Michele Beals
Stanley & family, So sorry for your loss. So glad she is with the Lord. We offer heart felt sympathy & prayers. In Christ Love, James and Michele Beals
06/23/2021
Wassan Broyles
Really didn't know that you guys had such a big family. Your Mom must have lived a very interesting and I would think a funny life at times. Just knowing a few of the family members as I do. I would think that she was proud of her family also. Wow, 91 years on this earth. She has heard and seen a lot of changes in her life. We all miss our Moms and Dads when they are gone but there is hope in our hearts that we will see them again in Heaven. Our condolences go out to all the friends and family of Betty Ruth Miller, may she rest in peace till we all meet again, Wassan and Vickie Broyles.
06/23/2021
Ricky and Sue Hammett
We are so sorry to hear of your mother's passing. Harry and Red and family we are saying prayers for you all.
06/22/2021
Tony and Jane Galloway Hughes and Diane Galloway Moore
We are so sorry to hear of your Mothers' passing. Our prayers and thoughts are with you, Red and Debbie, and the rest of your family.
I am so sorry. I loved your Mom and always held her and all you kids close to my heart. I send prayers and sympathy to all of you and will always remember Mama Betty with a smile. Much love to the entire family.
Harry, so sorry to hear of the passing of your Mother. My thoughts and Prayers are with you and all the Family. With Deepest Sympathy, Judy Briggs and Family