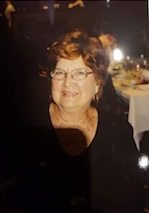 Mrs. Etta Carolyn Blankenship, age 78, Johnson City, passed away Sunday, April 25, 2021 at her residence after a brief liver cancer diagnosis.
Mrs. Blankenship was born in Washington County, and the daughter of the late Hugh McMackin & Nelle McMackin-Tipton. She was also preceded in death by her husband, Earl Frank Blankenship, two brothers, Gary McMackin and Larry McMackin and a sister, Barbara Knisley.
She was a member of Eden United Methodist Church.
Mrs. Blankenship worked many years for Thomasville Furniture and retired from State Farm Insurance Company. Carolyn & Earl were very active in Tennessee Walking Horse Association.
Survivors include one brother and sister-in-law, Mike & Patty McMackin; loved by many nephews and nieces including great nieces, Allie & Courtney McCurry of Johnson City; and best friend, Jane Nesseth.
Graveside services will be conducted 3:00 pm, Saturday, May 1, 2021 at Washington County Memory Gardens with Pastor Bryan Orchard officiating.
Pallbearers will be family & friends.
In lieu of flowers, memorial donations may be made to Isiah 117 House P.O. Box 842 Elizabethton, TN 37644.
05/01/2021
Patty McMackin
You lived your life with no regrets! Always carried yourself with grace and charm. We will miss you. Heaven gained a beautiful angel.
04/29/2021
Bill and Gail Rambo
So sorry to hear of Carolyns death. She was a close friend for many years. Will miss her smiling face.
04/28/2021
Robert R Saranzak
Dear Uncle Mikey & Aunt Patty and family, We would like to express, on behalf of the Saranzak family, our deepest condolences on the loss of Aunt Carolyn. We are truly blessed with the time we spent together. Her wonderful smile and distinguished disposition indeed set her apart from all. You will be missed Aunt Carolyn. The Saranzak family would like to extend our deepest sympathies to you and your family during this period of mourning. Sincerely, The Saranzak family
04/28/2021
Ricky Keys (nephew) Charleston South Carolina.
I always will remember those days working on the farm, painting fence for Earl and Carolyn. I have missed so much the Christmas Eve visits each year at mama Blankenship's, with all the family. Earl and Carolyn were always making us laugh. Carolyn's laugh i will remember forever, I just wish I would had got to see her more over the past years. The last time is saw and got to hug her was here in Charleston couple of years ago. I miss you Aunt Carolyn hope you and uncle Earl are together again.
04/28/2021
Felisha McCurry
We love and miss you Carrot! You always lived life to the fullest and were ready for any adventure! Thank you for sharing so many wonderful times with us. Love you eternally.