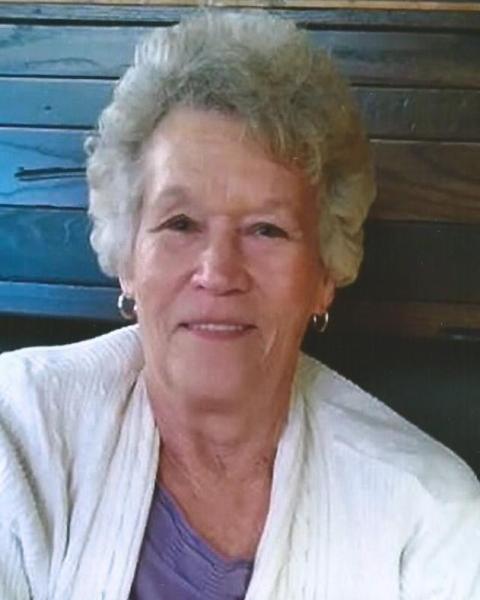 Mrs. Erma "Fay" Kinley, age 77, Jonesborough, passed away Tuesday, March 23, 2021 at Johnson City Medical Center.
Mrs. Kinley was born in Washington County and the daughter of the late Eldridge & Alpha Rector Cavin. She was also preceded in death by her husband, Bobby Joe Kinley, brothers, Dale Cavin and Beryl Cavin.
She attended Second Baptist Church of Jonesborough for many years and Bethesda Freewill Baptist Church. She enjoyed gardening, reading her Bible and loved her grandchildren and great-grandchildren.
Mrs. Kinley worked at Burlington Industries and was a Caregiver.
Survivors include two daughters, Melissa Kinley Barnett (Marcus) Paris, KY and Deborah Kinley, Jonesborough; son, Michael Joe Kinley (Brandi) Elizabethton; grandchildren, Ashley Kinley Maden (Caleb), Michael Shane Turner, Issac Kinley, Kayla Dixon (Matt), Jordan Barnett, Elijah Kinley and Houston Brown; great-grandchildren, Ashton Maden, Keatin Turner, Camden Kinley, Benjamin Maden, Cole Dixon, Allason Maden and Caelyn Maden; brothers, Dalmer Cavin (Carolyn) and Larry Cavin (Jill); sisters, Wilma Conkin (Howard) and Joy Gail Green (Stuart); sisters-in-law, Elizabeth "Lib" Cavin and Debbie Cavin; and several nephews and nieces.
Funeral services will be conducted 3:30 pm Saturday, March 27, 2021 at Dillow-Taylor Funeral Home with Pastor Danny Willis and Pastor Jerry Conkin officiating. The family will receive friends from 2:00-3:30 pm Saturday prior to the service. Graveside services will follow at Fairview Cemetery.
Pallbearers will be grandchildren.
03/27/2021
Tim and Treva Freeman and family
Sorry to the family and our prayers and thoughts to all of you she was a special lady and there's no doubt where she is.
03/27/2021
Vanis and Glenda
Faye was such a wonderful lady. Never saw her without a smile on her face. We know she will be truly missed. We are sorry we can't be there but with Mom's medical problems, it's hard for her to get around. Just know we love all of you and you are all in our prayers.
03/27/2021
Wade and Helen Runion
Our heartfelt sympathy to all of you. We really liked Faye and loved her company any time. She certainly was the best of the best..We pray for your comfort and strength at this sad time and for the days ahead.
I'm so sorry for your loss,my prayers and thoughts are with you during this difficult time.
03/27/2021
Linnia Painter
I am so sorry for your loss. Faye and I had some wonderful years working together at Burlington Industries. She always had a smile then and every time I seen her thereafter.
03/26/2021
Kathy & Kenneth Carver
We are so sorry for your lost. All the memories we have of Fay were that she was full of laughter and life. When she was with you, you knew that she dearly loved her family. I am glad that we were able to know her and part of her family. We also are proud to have Mike as part of our family, as well, and to share our grandsons - Elijah and Houston. Our prayers, thoughts and love are with you all.
I am sorry for your loss. Mrs. Kinley was an amazing woman and will truly be missed.
This sweet lady hugged me every time she saw me at the ballfield from the moment she met me. I am so sorry for your loss, sending much love an prayers to your family at this sad time. What a blessing she was! Love, Melissa Moody
So sorry for your lose our thoughts and prayers are with the family.
I'm so sorry for your loss. She was one of the sweetest ladies you could be around and her love for the lord was so strong. My prayers are with you all during this time.
03/25/2021
Brenda Freeman
She was a beautiful person, inside and out, always loving to all that knew her! My family will be praying for each of her family members! God give you peace in knowing that she is with the Lord! God bless you all and we send our love!
I am so sorry for your loss. She was one of the most amazing women I have ever met. I remember when I was a kid sitting with her at church every time. She would bring me gum every time she saw me. I thought of her like my own grandmother. I begged my mom to let me go home with her all the time. I loved her so much. I know it is hard right now and I am praying for you and your family.
So sorry for your loss, thoughts and prayers are with you all,
We were blessed to meet Fay when she cared for Delores Collins, a dear lifelong friend of my mother Luvanne Hubbs. Fay was a wonderful companion to Delores and mom dearly loved Fay and spent her evenings after dinner with Delores and Fay at their assisted living. Mom had actually known Fay from her caregiving for Ida Poe, and Fay actually reconnected mom and Delores which enabled them to get close again in Delores' final years. Fay was a blessing to my mom and I'm grateful for her. My condolences to her family.
03/25/2021
COMER INSURANCE
WE WERE SORRY TO HEAR OF MRS KINLEY PASSING. WE WANTED TO SAY WE ARE SORRY FOR YOUR LOSS AND MRS KINLEY WILL BE MISSED. WE WILL KEEP YOU IN OUR PRAYERS.
03/25/2021
Teresa Milhorn
So sorry for the loss of your sweet mom passing away. You all are in my through and prayers. Praying for you and your Family
03/25/2021
Stellamaecoffeyturnmire-lewis
Melissa debra and Michael i would like to knowing your mom was a wonderful time at the ballpark and watching her grow into a wonderful person thank u for your mom with us my prayers r with u guys everyday just remember that she is no longer in pain k love u stella p.s. love u Faye kinley
03/25/2021
Shirley & Alex Keys
Wilma and family, so sorry for the loss of your Sister. Many thoughts are with you and your family at this difficult time. God bless you all.
So sorry to hear of Fayes passing. I worked many years with her at Burlington. Very sweet spirited person. She will be greatly missed.
Melissa, Debra, and Michael- So sorry for the loss of your dear Mom. Many prayers for comfort. Reunited with your Dad, and in the loving arms of Jesus.
03/24/2021
Jodi and Brandon Curtis
Sorry for your all's loss She always made sure I went to church on Sunday and Wednesday nights love you aunt Faye
03/24/2021
Phyllis and Bob Dugger
So sorry many prayers and much love to all the family. Wish we could be with you but Bob cant travel .
03/24/2021
tammy greene surcey
so sorry to hear of your mothers passing she always had that smile so today shes smiling down on all of you i pray for peace and comfort for all of you prayers from jackie and tammy
03/24/2021
Laura and Becky Sims
Our deepest sympathies to your family. Becky loved Fay. She was a dear friend to Becky and a beloved caregiver. Becky is sad that she cannot be there for the service. Know that we are praying for you, and grieving with you for your loss. God Bless you
03/24/2021
Martha & Stan Gross
This is just unbelievable to me, I loved Faye and we were friends. I am so sorry. Ashley I know how much you loved her, and Debra and all the family you all know how special she was. I loved her.