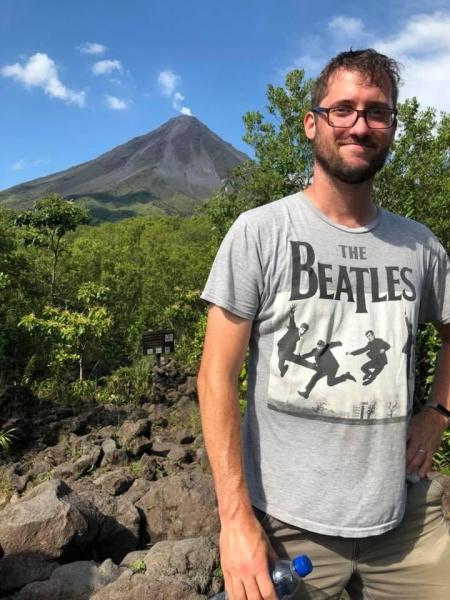 Mr. Benjamin Bright, 36, of Jonesborough, passed away unexpectedly on Wednesday, December 9, 2020. The son of Gregory and Carol Bright, Benjamin was born on May 7, 1984. Ben is also survived by his sister and brother-in-law, Carlin and Beau Billings, and niece, Hayley.
Ben will be remembered, first and foremost, as a father to his children, Ezra, Juniper and Arden and partner to his wife, Candace. With Candace, Ben created a world of joy and peace for his family in their yellow farmhouse and outdoor landscape of animals and nature trails. Ben spent many years as a science teacher and never left that role. He loved science documentaries and teaching his children about inventions, space and the universe. He was happiest in the natural laboratory he provided his children.
A natural explorer, Ben shared with Candace 12 years of adventure, from road trips around the full perimeter of Iceland to drives across country to visit the natural parks of the US. He and Candace often joked that, while both being born in Atlanta, they had to travel to Korea to meet and fall in love. Every year since, they have chosen a different country to visit. Ben and Candace's home was an extension of that spirit, reflected in impromptu Saturday morning hikes, sunset bonfires and evenings in their field, and watching their children climb trees.
Ben was a natural at dad jokes even if he was the only one laughing. When anyone in the house used the word, "intense," Ben would respond with, "like camping," then laugh at himself. A lifelong fan of the Chicago Cubs, he always said, "Go cubbies," when anyone mentioned baseball. He was the kind of man who had the funny habit of finding lost dogs and trying to figure out where they lived.
Ben's intellectual curiosity and love of animals, nature and life will forever be embodied in Ezra, Juniper and Arden, and held safely in Candace's heart and memory. He will be deeply missed by family and friends alike.
Services for Ben will be held at a later date.
Candace's friends are creating a fund toward the goal of securing three lifetime memberships to the Appalachian Trail Conservancy for Ezra, Juniper and Arden. Membership funds go toward the Conservancy and linking the children to the legacy of stewardship begun in their backyard.
To make donations, copy and paste the link below to your web browser.
https://donate.appalachiantrail.org/default.aspx?tsid=7703
For questions regarding the membership fund, please email Melissa Schrift at schrift@etsu.edu
12/15/2020
Ed and Ellen Fendley
We have known Ben since his days as a student in Katy, Texas. We extend our sympathy and condolences to his family.
I am Jakob's GM. We are so sorry for your loss! We love being in class with Ezra. If we can ever be if help we would love doing anything. Hugs and love.
12/15/2020
Ron and Tena Hensley
Our hearts are broken for your loss. We looked forward to many years of having you as neighbors and seeing the whole family outside. Ben seemed to be such a family man and I know his presence will be sorely missed. Our prayers go out to you!
Candance, my daughter Tessa was in your class at Pius. She said you were always so nice and had a warm and friendly smile and demeanor. I'm so sorry this has happened to you and your children. My prayers will be with you . Your loss is felt throughout the community. God Bless you and your beautiful children