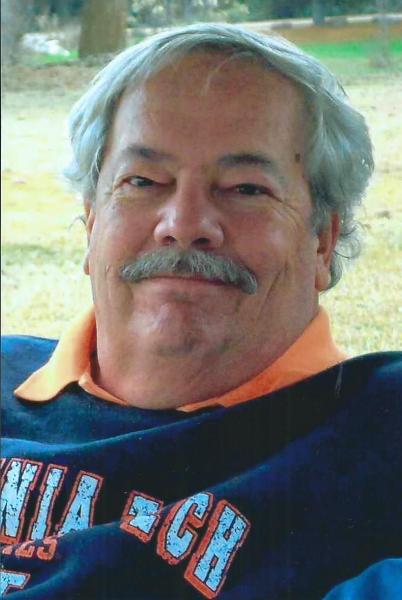 On the morning of October 14, 2020, Fred Dykes III passed away surrounded by those who loved him; his wife of 44 years, Susan, and his children Kristy and Justin. Fred had deep faith in God, and is now home with his parents, youngest brother, and his many pets. Fred was born on December 24, 1954, and was 65 when he passed away.
While a student at David Crockett High School, Freddy excelled at all sports. In baseball, he hit .325 for his career and .333 in tournaments. In every basketball game he played, he always scored double figures. However, football was his first love, and he was the teams quarterback. During his Junior year of high school, several schools merged to become David Crockett High School. Fred became the first player in David Crockett History to throw a touchdown pass, score a touchdown running, kick an extra point, kick a field goal, and intercept a pass. He was a two-time All-Conference quarterback, finishing his career completing 52% of his passes, 18 touchdown passes, and 6 rushing touchdowns.
In college at the Coast Guard Academy, he continued playing football. After one year, he transferred to East Tennessee State University to not only study Industrial Engineering Technology, but also continue playing football. While going to college, he started his postal career, which began as a Clerk and ended as a Post Master.
As an adult, Freddy loved playing golf with his work buddies. He also loved challenging his family to putt-putt games. He swore he won every putt-putt game, even when it was clear he lost. Fred also loved Indian wrestling, and almost never lost. He was so strong, even in his 60's, he frequently pushed his sons arm onto the table.
Not only did Freddy enjoy participating in sports, he also loved watching sports on TV. Golf, football, basketball, baseball, and even the occasional figure-skating program. What is watching sports without junk food? Fred's greatest weaknesses were potato chips and mint chocolate chip ice cream.
Freddy loved helping others. He would not only give those in need rides, he would sometimes help those with a financial need. After his son-in-law had foot surgery, he offered to drive him to work and come pick him up, which would equal to 4 driving hours a day. He was generous to a fault.
Fred loved all animals. His pets included a ferret, cats, and dogs. Cats were his favorite. Fred's cat Clarence, aka Clairebear, already misses him.
Those left to cherish his memory are his wife, Susan, son Justin, daughter Kristy Ray and her husband Chad, all of Johnson City; sister Kim Conley of Telford, brother Jeffrey Dykes in Florida, and several nieces, nephews, and cousins. He was preceded in death by his parents, Fred Dykes Jr. and Betty Jane Tipton Dykes, and brother Rodney Dykes.
Funeral services will be conducted 7:00 pm Sunday, October 18, 2020 at Dillow-Taylor Funeral Home with Rev. David Reece officiating. The family will receive friends from 5:00-7:00 pm Sunday prior to the service.
Interment services will be conducted 10:00 am Monday, October 19, 2020 at Monte Vista Burial Park.
Pallbearers are : Justin Dykes, Ronnie Bledsoe, Steve Spain, Stanley Gross, Larry Shropshire, and Jeremy Jones.
MASKS ARE REQUIRED AS WELL AS SOCIAL DISTANCING!
10/19/2020
Joseph Watterson
Justin And Susan I'm So sorry Fred was one of my Favorite Friends I'm will definitely miss him his smile was one of a kind we loved what he did I will be praying for you guys may Fred Rest in Peace
Susan, I just now saw this. I am so sorry for your loss. You have stepped into a club that I would never wish on anyone. I'm in the book if you need to talk and walk at Willow springs daily...it helps if you'd like to join us.
Susan and Family, We were so sorry to hear of Freddie's passing. He was always kind, always friendly. A great Boss to work for and respected people he worked with. He was a great athlete, way ahead of his time. He will be missed by everyone who knew him. Let us know if you need anything. You will be in our prayers. John and sandy Thomas
10/16/2020
Janice & Ed Simerly
Ed & I are so sorry to hear of Freddie passing. We will be praying for you and family.
So sorry for your loss. I'm related to the Dykes family. My ancestors are buried in Jonesborough. God's blessing on your family.
Freddy was a great friend to all who worked with him during his USPS career. I'm so sorry his retirement years were cut short but if there's a golf course in heaven, I'm sure Keith and him are teed up. May God bless and keep his family.
10/16/2020
Kathy Leach Carder
Susan, I was shocked to hear of Freddie's passing on Facebook. It was just in August that he sent me an article about Joe (my husband) on Facebook. Joe and I will keep you and your family in thought and prayers. May you feel God's loving arms surrounding you giving you peace and comfort during this very difficult time.
I am so sorry to hear about Fred's passing. Growing up close to his family he was one I always looked up to and admired. Fred was fun! I still remember the time he took me and his brother to the Driving Range. Our first experience with Golf. He would hit 300 yard drives with ease and that amazed us. He took the time to show us how and made it enjoyable as I took up golf later on. What a great older cousin he was to a young boy like me. Fred and his family are in my prayers.
10/16/2020
Mary Kaye Brobeck O'Brien
My deepest sympathy to the family. I was privileged to known Freddie from 1st grade through graduation at DCHS. He was always so nice and thoughtful. I have many fond memories of him. Sending prayers for comfort for you all at this difficult time.
10/16/2020
J. Keith Clark / Knoxville, Tn.
I'm was so sad and shocked when I heard a great friend had passed. Freddie was one of the most kind, friendliest guy in the world. I enjoyed playing golf with him and all of the guys. He will be deeply missed by everyone. My heartfelt condolences goes out to all of his family. With great sadness. Keith
My heart goes out to you and your family on the passing of Freddy, know that you are in my thoughts and prayers..
10/16/2020
Debbie Collette Dunbar
Susan, Corky and I send our deepest sympathies to you and your family. You are in our thoughts and prayers.
Susan, Kristy and Justin- We are so, so sorry to hear of Freddy's passing. Please know we are thinking of you. If you need anything please let me know. Love - Myra & Ivan
10/16/2020
Mildred Shipley and family penny Shipley Roberts
We are sorry for your loss we was all neighbors friends
So sorry to hear of Freddy's passing. He was a great friend in our two years at DCHS. I still remember accompanying him to the 1973 spring orange white football game at UT. Freddy was one of a few East Tennessee athletes being honored at halftime for athletic and academic achievement. That was who Freddy was.
so sorry for your loss grew up with Fred played football at Jonesboro together