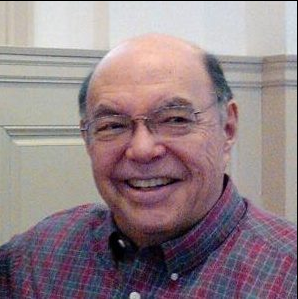 Thomas (Tom) Edward Corum, a steadfast intercessor for many, passed away on May 4, 2020, at Gray Life Care Center.
Tom was a beloved member of Munsey Memorial United Methodist Church where he was known for his greeting of "God Bless You!" to each one he met. He was active in all parts of the life of the Church and was especially devoted to the prayer ministry, making numerous calls each day to encourage and pray for others.
Tom was born in Phoenix, Arizona on January 29, 1940 to Mary Maxwell Corum and Herbert Bernard Corum. He graduated with a Bachelor's Degree in Business and worked for the United States Department of Agriculture in the United States and in several countries, including Switzerland, Japan and the Middle East.
In 1985, he married Gladys (Vlaciha) Ryan and lived in Lisle, Illinois until moving to Johnson City, Tennessee in 1994. In addition to his parents, he was predeceased by his wife, Gladys, in 2008.
He is survived by a sister, Frances C. Jarvis(David) of Johnson City, Tennessee, a brother, Hubert Corum of Chicago, Illinois, nieces, Monica Corum and Elizabeth Corum and step-children, Tom Ryan, of Bartlet, Illinois, William Ryan, of Florida, Robert Ryan, of Lisle, Illinois, Andrea Scheire (Jack), of Naperville, Illinois and Donna Ryan of Atlanta, Georgia.
Tom had many friends at Munsey, but two very special ones were Elliott, age 5 and Ticen, age 2. They brought him great joy always, but especially during his last week of life.
Memorials for Tom may be made to Munsey Memorial United Methodist Church, P.O. Box 1336, Johnson City, TN37605
A memorial service will be held at a later date at the Church.
05/16/2020
Vickie and Dana Grist
We were blessed to have knownTom at Munsey Church. We will miss his ever present smile and greeting of God Bless You. Our sincerest sympathy to his family
We met with Tom Corum in church and have been friends for the last 12 years of his life. He showed incredible kindness to my family and I. He was always cheerful and ready to offer an ear, to listen to your troubles, to pray with you, give you wise advice and perspective on things. But he had never insisted on his point of view. Tom was very hospitable and had a big heart. He embraced people of all nationalities, gave his support to new immigrants and students, helping them to learn English (and taught Latin to music students). He had invited me to many concerts at the ETSU and thanks to him my life was enriched with the opportunities to listen to classical music again and to mingle with the faculty and students of East Tennessee University. We celebrated birthdays together, and he threw us a party for our ten years in the USA as legal residents anniversary. No one has ever supported us as he did from the kindness of his heart ❤️ May he rests in peace and his memory be eternal!
Loved Mr. Tom Corum. We will miss his earthly presence, but know he is a welcome addition into the heavenly realm of angels! May God grant you PEACE as only HE can! Love and prayers sent!
05/12/2020
Dolores Fredericks
I remember with great admiration Tom and his wife Gladys. I had the opportunity to meet them, pray with them, work with him and his wonderful musical talent for a short while at St. Mary's Church many years ago. I know that those who had the opportunity to know him are saddened at the loss of a wonderful spiritual man. Condolences and prayers for his family.
Tom was a wonderful person. He was always interested in everyone. I am so proud to have know him and called him my friend. He will be missed by all whose lives he touched. I will miss our discussions. My prayers and heart are wit his family and all wh lives him.