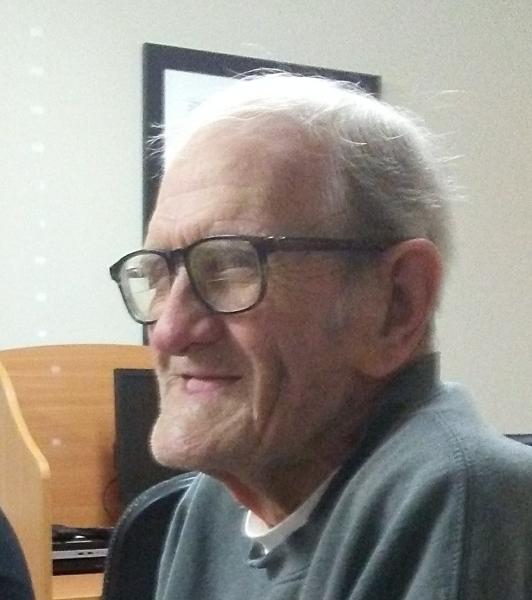 "For I know that may Redeemer lives, and at the last day he will stand upon the earth." Job 19:25
W.H. (Dub) Dykes, 94, went to be with the Lord in the early morning hours of Friday, April 17, 2020 from Four Oaks Health Care Center. He was born March 24, 1926 in Washington County and lived in the New Victory Community until moving to Four Oaks in 2013. Mr. Dykes was the son of the late Gordon and Eldora Hensley Dykes. He was also preceded in death by his wife Emogene Loyd Dykes in 1970, and by brothers Newman and Worley. His mother-in-law and father-in-law Flora Garvin Loyd and Byrd Loyd, and sisters-in-law Margaret Dykes, Sue Peterson, and Julia Loyd also predeceased him.
Dub, as he was commonly known, was a member of New Victory Baptist Church. He was a World War II Veteran having served with the Air Force on the Island of Guam. After returning home, Dub went to work at Gordon's Furniture. He retired from there after almost 40 years of services.
Dub was a quiet man who enjoyed good mountain music and caring for his cats.
He is survived by his son and wife, Bill and Rebecca, and his grandson and his wife, Jeremy and Andrea, all of the Conklin Community. He is also survived by Naomi and Everette Loyd, and Carlos Peterson, sister-in-law and brothers-in-law. Several nieces and nephews also survive.
Because of the COVID 19 virus, the family will have a private burial at New Victory Baptist Church Cemetery with his grandson Jeremy offering scripture and prayer. A Memorial Service remembering Dub will be announced at a later date.
Instead of food or flower donations, please consider helping someone in need or donating to a local food pantry.
We could never express our love and thanks to Dub's "family" at Four Oaks Healthcare. They have cared for him and us and loved on him for the past seven years. We pray for God's protection and blessings for each one of the Staff and residents. Also, special thanks to our friends who have been so faithful to pray for Granddaddy and us. We love you all and appreciate your many acts of kindness. You have truly been the hands and feet of Jesus.
I am so sorry for your loss. Bill showed love to everyone around him which is a true testimony of what was in his heart. He lived for the Lord, and it showed in his actions. He will be missed tremendously, but we will see him in heaven some day soon. I'm sure he will be there to welcome us home. Praying for the family as they have lost their sweet Bill. Much love!
04/22/2020
Kay and Sonny Miller
We are so sorry for your. May God comfort you at this time.
04/21/2020
Susan Franceschina
Thinking about you at this time. I am sure that he will be greatly missed. Sending love and prayers to you from Conklin Rd.
Bill, Rebecca,Jeremy & Andrea I was sorry to hear about Mr Dykes passing during this trying time. He is in a much better place and not suffering anymore. You are in my thoughts and prayers
04/20/2020
Barbara Morgan
Rebecca and Bill, so sorry for your loss. You are in my thoughts and prayers. May God Bless your family.
04/19/2020
Brenda Mathes-Story
Bill, and family I am so sorry for your loss. Brenda
04/19/2020
Francie True Cannon
My condolences to the Dykes family. I know you will cherish many fond memories. "Peace I leave with you, my peace I give unto you: ..." (John 14:27)
04/19/2020
David and Sandra Holt
Sending our heartfelt sympathy and prayers during this time. May God comfort each one of you.
So sorry for your loss of your grandfather Jeremy and family
04/19/2020
Elizabeth Mason
Bill, Rebecca, and Jeremy, My sincerest condolences on the passing of your father. You were always so proud of him, and you lived your life to make him proud of you. Grace and peace as you adjust to this new normal.
04/18/2020
Stella turnmire-lewis
Jeremy I am very sorry for your lost of your grand father my prayers are with u and your dad
04/18/2020
Debbie Arrowood
So sorry to here of Dub's passing. He was a sweet and kind fellow. Bill I see where you got your kindness as well. Praying for you and your family to have peace and be safe.
04/18/2020
Noah t arrowood
Bill and Rebecca sending you my condolences. May G be with you and strengthen you during time of loss
04/18/2020
Junior and Hilda Bryant
Prayers and Sympathy for you and your family.
04/18/2020
Nancy Grindstaff I am John Grindstaff wife mr.Dykes and John were roommates a Four Oaks
I am so sorry for your loss mr Dykes was such a nice sweet person. Praying for your family
04/18/2020
carolyn wishon
Bill and family. So sorry to read about your Fathers death. You guys will be in my thoughts and prayers as you go through this hard time. Hold on to each other. God bless. Snowbird.
I am so Thankful that I got the chance to meet and take care of W. Dykes. He was a very quite and Happy Man. I called him Papaw. and he would come down to Activities for some Coffee and to see what's going on for the Day. I truly am going to Miss his Smiling Face and his Caring Heart . I Love You Papaw!! Rest In Peace My Friend till we meet agin.
I would like to offer my deepest and sincere condolences to your family! You are all in my prayers.
Bill, I am so sorry to hear about your Dad. I will be keeping you and your family in my thoughts and prayers.
04/18/2020
Charles L. , Charlie & Donna McInturff
So sorry for your loss.
04/18/2020
Griff and Dallas Adams
We are so sorry to learn of your loss. We are praying for all the family
04/17/2020
Linda Bryant Raines
So sorry for your loss Bill and family. He was a sweet man. Prayers
04/17/2020
Teresa Milhorn
I am so sorry for your loss of your grandfather
I will miss little Dub.he is very special to me.
04/17/2020
Thomas Williams
Bill, so very sorry for you and your family's loss. May God bless.