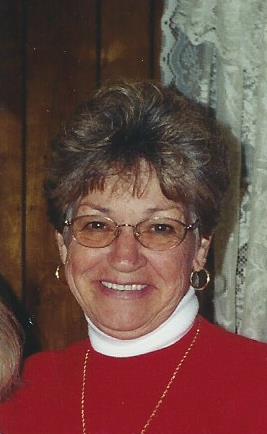 Mrs. Alma Jean Peterson Blankenship, age 83, Telford, passed away Tuesday, January 7, 2020 at Franklin Woods Community Hospital.
Mrs. Blankenship was born in Mitchell County, NC and the daughter of the late Sam & Maude Bennett Peterson. She was also preceded in death by her husband, Conway Blankenship, a brother, Kermit Peterson and two sisters, Elaine Pittman and Anita Tipton.
She was a member of Trinity Baptist Church and loved her church family.
Mrs. Blankenship was the wife of a military husband and traveled extensively. She loved her family, was an excellent homemaker, and enjoyed quilting. She made all her quilts by hand with lots of love for her family.
Survivors include a son, Major Ret. Michael Blankenship and wife Zeta, Fayetteville, NC; daughter, Michelle Honeycutt and husband Thomas, Telford; grandchildren, Misty Faith Horton and husband Shane and Michael Gabriel Blankenship; great-grandchildren, Caleb Blankenship, Jacob Broyles, Savannah Grace Broyles, and Gavin Horton; four sisters, Evelyn Peterson, Jenny Hightower, Nancy Adkins and Shirley Whitson; five brothers, Curly Peterson, Douglas Peterson, Garnie Peterson, Lincoln Peterson and Randy Peterson; and several nephews, nieces and cousins.
Funeral services will be conducted 7:00 pm Monday, January 13, 2020 at Dillow-Taylor Funeral Home with Dr. Mark Harrod officiating. The family will receive friends from 5:00-7:00 pm Monday prior to the service.
Interment services will be conducted 11:00 am Tuesday, January 14, 2020 with Mountain Home National Cemetery.
Pallbearers will be Caleb Blankenship, Jacob Broyles, Gavin Horton, Kenny Boling, Gabriel Blankenship and Shane Horton.
Memorial donations may be made to Trinity Baptist Church 260 Headtown Rd. Jonesborough, TN 37659.
04/26/2022
Oscar Von Grinch
Mamaw, I love you, and keep your teachings sacred. Thank you. I've been learning, and promise to do my best. ANU:Amun-RA
01/13/2020
Lincoln Peterson
You were the best sister a man could have. I will miss you! Love, your baby brother Lincoln
Michelle, while I only knew your mother for a short time, I knew that she was a very special lady! I got to know her better through the beautiful Video I just watched. I am so very sorry for your loss. While the grief is great, let the wonderful memories you shared together sustain you. Life is so very fragile, each day a gift. You will see her again some day. Love and Blessings to You and Your Family, Gayle and Gil
I will lift my eyes to the hills From whence comes my help? My help comes from the Lord,who made heaven and earth. To Jean's family I think of her as one of the strongest women I have ever known. Take comfort in knowing she is in heaven and we will see her again soon. I loved her dearly and all her family. My prayer is for your comfort and peace. I love you all.
01/10/2020
Ward & Carole Hilemon
We will miss you Ms. Jean. Your faithfulness to Trinity Baptist Church and the choir are an inspiration to the both of us. We served you in our deacon family for a short time, but we loved you just the same. We know you are safe in the arms of our Lord and Savior and look forward to seeing you there someday! Miss you, Ward and Carole Hilemon
I'm so very sorry for your loss. Sending love and prayers ❤