Alma Ruth Mitchell Snapp
11/09/2019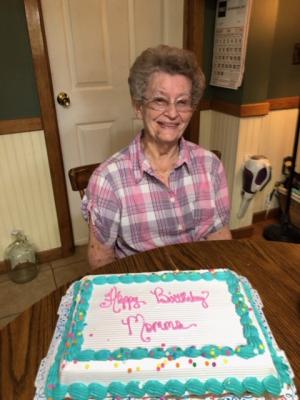 Mrs. Alma Ruth Mitchell Snapp, age 86, Limestone, passed away Saturday, November 9,2019 at the home of her daughter in Chuckey.
Mrs. Snapp was born in Sullivan County and the daughter of the late George Dewey Mitchell, Sr. & Gracie Lee Smith Mitchell. She was also preceded in death by her husband, Jack Snapp and five brothers.
She was an active member and Sunday School Teacher at New Salem Baptist Church.
Mrs. Snapp was a homemaker and a great cook. She loved birds.
Survivors include two daughters, Donna Bishop and Brenda Ealey (Freddie); son, Gary Snapp (Lisa); grandchildren, Jason Clark (Lorie), Karri Jones, Sara Edwards (Nico), Robert Tilson and Amanda Cutshall; great-grandchildren, Micah Edwards, Bailey Clark, Hannah Clark, Jase Clark and Addison Grooms; great-great grandson, Jaxston Clark; and several nephews and nieces.
Funeral services will be conducted 7:00 pm Tuesday, November 12, 2019 at Dillow-Taylor Funeral Home with Pastor Craig Ponder officiating. The family will receive friends from 5:00-7:00 pm Tuesday prior to the service.
Interment services will be conducted 11:00 am Wednesday, November 13, 2019 at New Salem Cemetery.
Pallbearers will be family & friends.
Leave an Eulogy or Condolence for Alma Ruth Mitchell Snapp
EULOGIES & CONDOLENCES
11/13/2019
Barbara Harrison
I am very sorry for the loss of your mother. My childhood memories recall especially her work in Vacation Bible school and Sunday school remains a pleasant memory. I will never forget her smile as being so genuine.. It's never easy to let go of a loved one, but always remember she had purpose on this earth and fulfilled her earthly mission. Please rest assured as she enters the heavenly portals, she hears the words: "Welcome home, my good and faithful servant."
11/12/2019
Amy and Debbie Lamb
Donna Sorry to hear about the loss of your Mother ... Our prayers are with you at this time
Brenda, Donna, and Gary and all the grand children.. so sorry for your loss. We had alot of good times when we were younger our families were always close. Prayers, thoughts, hugs and love to you all at this time.
11/11/2019
Tom and Julie Britt
Such a sweet soul, Always a smile. You will be so missed.
11/11/2019
Susan Gillis Bennett
So sorry, sending love and prayers . . . So many memories thru the years. Love, Susie
Donna, Brenda,and Gary, Your mom was a very dear friend to me.She worked with me for many years in VBS. I always admired her ability to teach the children about Jesus. Our thoughts and prayers are with you and your family.
11/11/2019
John Roger Barnes, Nephew
Pat and I would like to send our sincere condolences to the entire family during this time of great loss and sadness. I always called her Aunt "Sis", which was definitely a term of affection. Most everyone, even non family members who got to know her, referred to her as "Sis". I have nothing but fond memories of times spent with here at seasonal family gatherings. During the summers when school was out was when I was closest to her because I ate a lot of noon time meals around her table. I would be staying with Grand daddy and Grandma Barnes and working. Often I would walk down the creek to Uncle Jack's house and help with his truck farmimg operation. Those are some of my fondest memories of childhood and Aunt "Sis" was always there providing a wonderful childhood experience of family, love and stability. To all of the family, Pat and I send our prayer for the Peace of Christ to enfold you during this time of loss. Sincerely, Roger and Pat Barnes