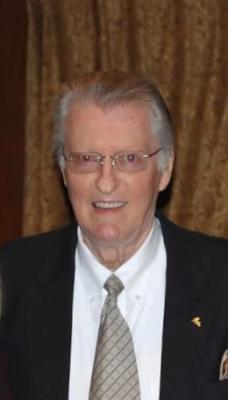 Dr. William Wayne Scott, 82, passed away peacefully with his family in Johnson City, TN on September 30, 2019. He was born in Chattanooga, TN on May 29, 1937. He graduated from Chattanooga Central High School in 1956, earned a BS degree in Engineering - Physics from University of TN Chattanooga, where he served in ROTC and became a Reserve Commissioned Officer of the Army. He earned a Master of Arts degree in Physics from The College of William and Mary and a Ph.D. in Higher Education Administration and Leadership from The Ohio State University. He was an adjunct instructor for The Management Development Institute, UNC Chapel Hill School of Business, and attended The Institute for Educational Management at Harvard University.
He served as Nuclear Radiation Physicist /Space Engineer with NASA where he did extensive work (17 general and technical publications) on space radiation and the radiation protection of man in space flights, and he designed the film-shielding package for the successful lunar orbiter that took pictures of the back side of the moon. He was a Graduate Teaching Assistant at the University of Georgia where he met the love of his life, his wife Jane. He was Professor of Physics and Head of the Department of Nuclear Technology at Chattanooga State Technical Institute and also served as Consultant Physicist and Computer Specialist at Oak Ridge National Laboratories. He was chosen 3 years as Visiting Lecturer with Tennessee Academy of Sciences. Wayne was Consultant to the Chief of Surgery at Washington University School of Medicine in St. Louis, Mo, Department of Surgery, where he participated in the first double-valve heart operation. He was President of Oconee Community College in Seneca, SC; Chief Educational Officer, State Board for Technical and Comprehensive Community Colleges, Columbia, SC; Chief Academic Officer, Greenville Technical College, Greenville, SC; President and Chief Executive Officer of Dekalb College in Atlanta, GA; President of Gaston College in Gastonia, NC; and Vice President, Covington-Newton Campus, Dekalb Technical College in Covington, GA. For over 14 years, he was Program Chairperson and Lecturer for The American Management Associations and conducted senior division management and leadership training programs with Fortune 500 companies throughout the United States, Canada, Central America, and Puerto Rico.
He had a love of people and service and spent many hours sharing his talents with numerous voluntary boards and organizations in Georgia, North Carolina, South Carolina, and Tennessee.
He authored 22 books on success and motivation and did extensive research on the Enneagram and developed several forced-choice inventories.
Although he held many professional positions, his first ambitions were art and baseball.
As a high school student, he was selected by the Carnegie Foundation as one of the ten rising artists in the United States, receiving a 4-year art scholarship to the University of Georgia. He did not pursue the art scholarship, but art remained a very important part of his life. He took a special interest in carving ceramic reliefs in clay and alabaster stone. He carved a full size carousel horse for his wife at Horsin' Around in Chattanooga, TN. He leaves his friends and family with many remembrances from his lifetime hobby of artwork.
His lifetime passion was finding ways to motivate others and help everyone he knew reach their full potential. He had a great love of animals and will be missed by his two dogs, Bailey and Rosie. He always loved waterfalls and found great beauty in a piece of stone.
He was preceded in death by his parents, Otto Lee Scott and Essie Mae Frazier and his brother, Richard Lee Scott. Survivors include his wife of 57 years, Jane Morrison Scott, two daughters, Michele Watson Scott and Melissa Scott Gray, her husband Jeff Gray, and four grandchildren - Parker, Connor, Thomas and Georgia. He was deeply loved by his family and friends.
A Celebration of Life will be held Saturday, October 12, 2019 at 3:30 at Boones Creek Bible Church, 1528 Old Gray Station Road, Johnson City, TN 37615. Interment will be private. In lieu of flowers, the family asks that donations be made to The Michael J. Fox Foundation for Parkinson's Research.
Sending love and prayers to your family. Dr. Scott was an inspiration raising the DeKalb Tech campus in Covington to very high, creative levels. We hold him fondly in our hearts.
10/11/2019
Sandra Clapper (DeKalb Tech)
I am so sorry to hear about Dr. Scott. I worked with Dr. Scott at DeKalb Tech in Covington. He was very loved at DeKalb Tech and the Covington community. I was just going through pictures I found at our Covington Campus and found many of Dr. Scott. They brought back so many wonderful memories. Dr. Scott always had great stories to tell. Sending condolences, love and prayers.
So sorry to hear of Dr. Scott's passing. He gave me the opportunity to be the Administrative Assistant to the Business and Computer Science Division at Gaston College. Thoughts and prayers are with you Jane and your family.
10/09/2019
Maureen Watt-Heron
Good day Mrs. Jane Scott & family, Grace and Peace be yours in abundance. 2nd Peter 1:2. I respected Dr. Scott and admired his passion for Georgia Piedmont Technical College (formerly DeKalb Technical College) and our students. My condolences, Grace and Peace.
10/08/2019
Gary Woody(Cousin)
So sorry Jane, Michelle, Melissa & all. There are many of us who will never forget Wayne. Such a talented & brilliant person. So many people knew him and I know he will be greatly missed. My Mom & Dad loved you & Wayne & spoke very highly of you both. If there is anything you need the girls know how to get in touch with us. My brother Gene & my sister Brenda send their condolences. Gary & Glenda Woody
So very sorry to hear of the passing of Dr Scott. Jane, my thoughts and prayers are with you and your family. I hope you know how much you and Dr Scott meant to me during his tenure at Gaston College. He was a great president and an even better person. He will be missed.
Mrs. Jane Scott and family, I am so sorry to hear about Dr. Scott's passing. I worked for him at Gaston College...he hired me in 1991. I retired in 2011 and I will be forever grateful for the opportunity he gave me. Please accept my sincere condolence. Praying for peace and comfort for all.
So sorry for your loss. You and your family are in my prayers.