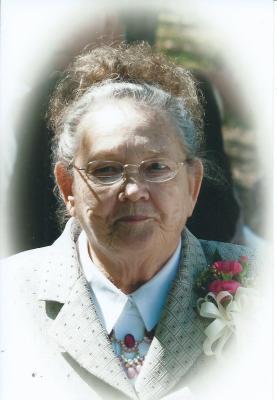 Mrs. Ina Kate Rice, age 84, Jonesborough, passed away Wednesday, August 28, 2019 at Durham-Hensley Nursing Home.
Mrs. Rice was born in Greene County and the daughter of the late Paul Sevier & Viola Jennings Henry. She was also preceded in death by her husband, Jesse Harold Rice, four brothers and two sisters.
She was a member of Mt. O'Dell Free Will Baptist Church.
Survivors include a daughter, Kathy Riddle, Telford; son and daughter-in-law, Glenn & Janice Rice; grandchildren, Dwayne Riddle (Donna), Dustin Rice, and Dan Rice (Kay); great-grandchildren, Ashley Riddle, Blake Riddle, Ellie Rice and Emma Rice; a sister, Pauline Littleton; and several nephews and nieces.
Funeral services will be conducted 8:00 pm Sunday, September 1, 2019 at Dillow-Taylor Funeral Home. The family will receive friends from 6:00-8:00 pm Sunday prior to the service.
Interment services will be conducted 11:00 am Monday, September 2, 2019 at Pleasant Grove Baptist Church Cemetery.
Pallbearers will be Dustin Rice, Dan Rice, Don Conner, Dwayne Riddle, Blake Riddle and Bobby Tester.
My condolences Kathy. It was a pleasure to have met your mother at Ernestville church. May God bless you and keep you safe in all you do. Rest in peace Ms. Kate
08/30/2019
David and Johanna Foster
Our hearts are saddened for you all. May God give you all peace and comfort at this time and the days to follow. We won't forget the good times we have had with you all. Our prayers continue for you all. Love you...
08/30/2019
Frank &Carolyn (Plank) Hunt
Kathy,Dewayne & family, You have our sympathy in the passing of your mother,grandmother. May the Lord give you peace knowing sister Kate is now in peace with our Lord and savior Jesus Christ. If there is anything we can do feel free to ask us. Due to health problems we will be unable to attend Kate's services. Love and prayers. Frank & Carole
08/30/2019
Richard & Sarah Hammer sons Zachary and Charles Hammer
Our thoughts and prayers are with you. May God hold you in His arms and give a sense of peace. I am sorry we cannot be there for you in this time of sadness. Know that we love you and are with you in thought and spirit. Call anytime!
08/29/2019
Christa Tipton Hicks
Kathy I am so sorry for your liss.Kate was always so nice to all. She will be missed by many.Praying for your family.
08/29/2019
Maynard & Carolyn Tipton
Our thoughts and prayer's are with your family. Kate was a wonderful person. She will be missed and thought of often.