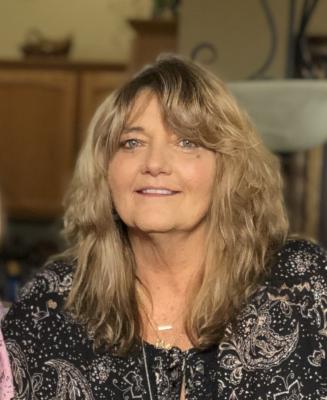 Pam S. Rutherford, age 58, passed away peacefully at her residence due to a lengthy illness on Monday August 19, 2019.
Pam was a caring wife, mother, and grandmother. Her sense of humor and pleasing aura brought laughter and joy to many. Her outgoing personality always brought the room together. She definitely had a natural ability to make people happy. Pam was loved by all and had the ability to make friends with any stranger. She also had a passion for photography, stained glass, and anything creative. She enjoyed spending her free time creating, reading and playing make-believe with her grand-daughters Zoe and Charlotte (Charlie).
Survivors include her mother, June Krupcale, her husband of 38 years Chuck Rutherford, daughter Renee Rutherford Tester, son Dylan Rutherford, granddaughters Zoe and Charlotte (Charlie) Tester, brothers Joel and Tony Shipley and several nieces and nephews. She is preceded in death by her father Joe Blaine Shipley.
Receiving friends will be Thursday August 22, 2019 from 6-8pm at Dillow Taylor Funeral Home Jonesborough. A celebration of life will be held directly afterwards.
Graveside services will be 11:00 AM, Friday, August 23, 2019 at Fairview Cemetery.
10/09/2019
Renee DeLong Weed
I've known Pam since age 15... She was like a sister. She was such a positive influence on me and she had such a great disposition. I'm lost without her here on this earth, but I know that I will see her on the other side of life. She will be missed by many and I pray for all who ache to hear her voice just one more time. Love you Pamey, and miss you terribly. R
Chuck, i'll be praying for you and your family. God Bless, Jon.
08/22/2019
Nora Huff Andies
Chuck, I am so very sorry to hear about Pam. I know that there are no words that anyone can say that could make it easier. I just wanted to tell you that I know your pain and I'm praying for you and your family. God is close to the broken hearted . (Psalms 34:18)
Dear Chuck & Family: Words from others at this moment are hollow at best but the Words from our Lord & Savior Jesus Christ are hallowed making them the very best even in times of sorrow like this. John 14:1-4, "Let not your hearts be troubled. Believe in God; believe also in me. In my Father's house are many rooms. If it were not so, would I have told you that I go to prepare a place for you? And if I go and prepare a place for you, I will come again and will take you to myself, that where I am you may be also, And you know the way to where I am going." Jesus sees everything as being alive even in death. As He promised, He will do. He has done that for Pam and He will do that for us.
I am so sorry to hear this news about Pam. She was always so sweet and LOVED getting to see her near Halloween at the stores years ago. Prayer for you all and your family from the Hughes family.
Chuck I am sorry for your loss. You and your family are in my prayers.
08/21/2019
Melody and Bill Sink
We had the privilege of meeting Pam at one of her visits to UVA, what a blessing. I will forever remember this sweet precious soul and consider it a blessing from God that she was brought into my life. I was deeply sadden to hear of her passing and my deepest sympathy goes out to the family. You will continue to be in our thoughts and prayers, may God give you peace. Rest in the arms of God Pam.
Renee & Family...I am so sorry to hear about Pam. I was lucky to get acquainted with her when you & Cindy were in school...and we shared many talks! You and your family will continue to be in my heart and prayers...sending love to you all.
Our hearts and our love will be with you and our incredible family as you celebrate Pam's life. Her spirit shines and sparkles through those she loves and the joy she so generously spread throughout her life will be with us as we journey on. We will see it and feel it in the eyes of our cousin and her dear husband Chuck and the lives of the children they brought into the world and guided to adulthood. Renee and Dylan are a testament to her grace and dignity. Her creative mind left behind her photography and her own special take on the many things her hands touched. Though far apart, the good times we had during visits and vacations whether here in Florida or in Tennessee, will remain sweet memories of times we enjoyed together. Pam left a legacy and that legacy is love and kindness and sweetness and laughter that make our time on this earth worth being here. We will miss her greatly.
Chuck,I have no words! I tried looking you guys up a couple times while in J.C. but had no luck! My heart breaks for you old friend, all I can do is pray God gives you comfort during this terrible time in your life. I am TRULY sorry for your loss.Pam was an AWESOME GAL that I had the pleasure of knowing and running with during our younger years.She will be missed!!