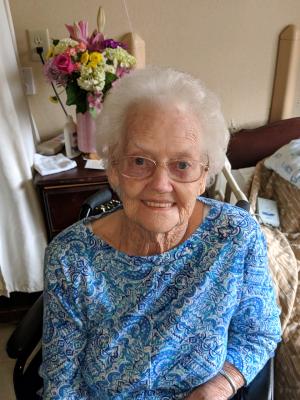 Maxine Imler Swanner of Telford, TN passed away Monday, July 1, 2019 at the age of 91 in the presence of family & friends. Born May 20, 1928 in Unicoi County, she was the daughter of the late D.E. Imler and Lincoln & Minnie Tilson.
In addition to being a Wife, Mother, Grannie and friend to many, Maxine worked many years in the sewing industry at Levi Strauss, Greeneville Manufacturing, Woods Manufacturing & later retiring from Baxter Pharmaceuticals. She attended & was a member of Pleasant Grove Missionary Baptist Church where she taught Sunday School classes for several years. After retirement she remained active with local churches, the Jonesborough Senior Center, visiting patients in local nursing homes as well as visiting family & friends.
In addition to her parents, Maxine was preceded in death by her husband, Cad J. Swanner; son, Farrell Swanner; grandson, Jamie Swanner; stepgrandsons Ricky & John Cable; Sister & Brother - Kathleen Pierson & Jack Imler.
Left to treasure lifetime memories of Maxine include three sons & four daughters-in-law: James & Cindy Swanner, Darrell & Shelby Swanner, Glen & Janis Swanner and Brenda Swanner; stepdaughter Elnora Cable. Grandchildren are: David (Victoria), Jacob (Gabi)and Cody Swanner. Three step grandchildren: Patty (Rick) Whitehead, Harry (Donna) Cable and Bobby Cable. Two great grandchildren - James & Max Swanner; several great stepchildren. Siblings include Jewel Martin, Dorothy Toohey (Don), and Tom Tilson (Shirley). Several nieces and nephews. Special friends who were like daughters - Sarah Roberts, Mae Swanner (Bob Lucas), Janice Berger (Franklin), & Tammy Maye ( Ronnie). Special friend Velma McKee.
Pallbearers will be Glen, Cody, David, & Jacob Swanner, Bob Lucas, and Ronnie Maye.
The family would like to express our sincere appreciation to the State of Franklin Palliative Care, Dr. Kevin Sweet, and especially the staff of Amedisys Home Health & Amedisys Hospice for all the care extended to Maxine & her family during our last earthly journey together with Maxine.
At Maxine's request, a graveside service will be held at 11:00 a.m. on Wednesday, July 3, 2019 at Washington County Memory Gardens (113 Memory Gardens Drive, Johnson City, TN) with Reverend Charles Morgan officiating. In lieu of flowers, donations may be made to Pleasant Grove Missionary Baptist Church (P.O. Box 246, Limestone, TN 37681) or the charity of your choice. Dillow-Taylor Funeral Home in Jonesborough, TN is assisting the family with services.
02/21/2020
Glen and janis swannet
We loved you unconditionally as you loved us. You were my mother . You taught me so much. We will miss you terribly. God has a wonderful child come home.
07/03/2019
Kathy and Family
So sorry about hearing about my Aunt Maxine. I remember her being very kind to me as a child growing up and after. My fun memories are all the relatives playing softball with my grandfather and having a huge picnic! She and all her sisters were and are,"Beautiful!" I can see my,"Daddy" greeting her into the kingdom of heaven as she finally gets to see her sweet,"JESUS"!!!!
Thoughts and prayers for all the family & friends who are grieving the loss of an incredible lady. Blessings to all as you remember her well lived life.
She will be greatly missed by me. She was a great friend.
07/02/2019
Sylvia English Chiu
Please accept my condolences on the loss of Mrs. Swanner. She was a lovely lady and I know she will be missed.