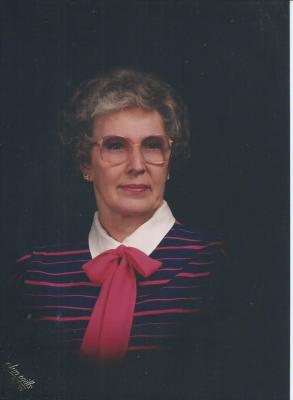 Mrs. Betty Ferguson, age 86, Jonesborough, passed away Wednesday, May 29, 2019 at Four Oaks Health Care Center.
Mrs. Ferguson was born in Jonesborough and the daughter of the late W.C. & Vera Jenkins Decker. She was also preceded in death by her husband, Raymond Ferguson, three brothers, John Decker, Tommy Decker, and Eural Decker.
She was a member of Mt. Wesley United Methodist Church.
Mrs. Ferguson worked for Magnavox. She collected dolls, enjoyed shopping and ran a dairy farm.
Survivors include two sons and daughters-in-law, Jackie & Tonia Ferguson and Johnny & Tammy Ferguson; grandchildren, Amy Henley, Traci Ferguson, Raymond Ferguson, Billy Ferguson, and Jacob Ferguson; great-granddaughter, Emma Carrier; one brother, Mickey Decker; cousins, Nancy & Greg Gravey; and special friends, who made her laugh and brought her food, David Spurgeon and Darrell Woods.
The family would like to thank Mt. Wesley United Methodist Church for the gift baskets.
Graveside services will be conducted 2:00 pm Sunday, June 2, 2019 at Mt. Wesley Cemetery with Pastor Jeremy Dykes officiating.
05/31/2019
Tina Bennett McCracken and T J McCracken
Jacob so sorry to hear of your grandmother passing . I am praying for you . Jackie and Johnny so sorry to hear of your mom's passing. I am praying for you all.
So sorry to hear of Betty's passing, and then rejoice to the fact that she is resting in Jesus's arms! Praying for peace for the family that only God himself can only during the loss of a love one!
05/30/2019
Tommie Sue Jones Tittle
I was sorry to hear this. Betty was a fine lady. She grr up around my daddy Tom Jones and her and Raymond were great friends with Daddy and my Mom June Jones. My prayers are with the whole family