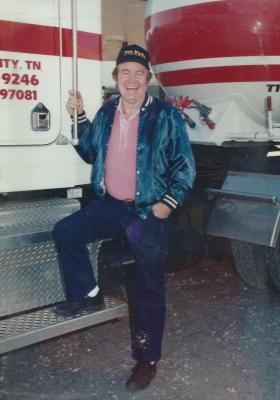 Mr. Kent M. Ayers, age 76, Jonesborough, passed away Tuesday, April 2, 2019 at Johnson City Medical Center.
Mr. Ayers was born in Daybrook, North Carolina and the son of the late Junior M. & Geneva Peterson Ayers. He was also preceded in death by a brother, Sidney Ayers and a sister, Bobbye Webb.
He was owner and operator of his own truck and did over the road trucking for many years and later was employed by Mountain Empire Oil Company.
Mr. Ayers loved UT Football and all NFL games and was a NSCAR fan. He loved cookouts and sister's desserts. He never met a stranger. He enjoyed woodworking, working on old cars and attending gospel concerts. He loved his family, especially the toddlers, Addison, Abbey, Rhett, Leland, and Ruby Ray.
Survivors include his wife, Carolyn "Carol" Tipton Ayers, Jonesborough; three children, Mava Henley (Dana), Teri Hopson (Donnie) and Greg Ayers; three grandchildren, Kayla Ricker (Ryan), Jessie Yokley (Steven) and Tara Hopson (Anthony); great-grandchild, Rhett Ricker; one brother, Jimmy Ayers; and several nephews, nieces and cousins.
The family would like to extend a special thank you to Washington County EMS, the staff of Johnson City Medical Center Emergency Room, the Chaplain, Dr.'s James Hansen, Carlos Floresguerra, Martin Tran, Scott Dulebohn and Wayne Tongco.
Funeral services will be conducted 3:00 pm Friday, April 5, 2019 at Dillow-Taylor Funeral Home with Rev. Bill Murray officiating. The family will receive friends from 1:00-3:00 pm Friday prior to the service. Interment services will follow at Maple Lawn Cemetery.
Pallbearers will be Larry Ayers, Jerry Crawford, Brandon Ayers, Ryan Ricker and Steven Yokley. Honorary pallbearers will be Greg Ayers, Jimmy Ayers and Chris Webb.
04/04/2019
Delores, Shannon Mettler
I am so sorry to hear this. Ken was a good neighbor to us and we enjoyed him. He would do anything we needed. I remember he was always smiling. Mava, Terry, and Greg I am sorry that you lost a good father. I will remember him fondly. We lost Glen 3 years ago, we understand the pain that follows. Take care of each other. Dee and Shannon Love you all and have good memories of you 257 3501 call when you can! Shannon is an artist and plans a show soon, maybe you can attend, I would love to see each of you, I am in a wheel chair now.
04/03/2019
Alma Hyder,Greenwood Baptist Church
Carol, I was so sorry to hear about your husband's death. I won't be able to come to the funeral Friday because Gail is having surgery and I am taking her. I am thinking of you and you are a very special person to both Gail and me. Love you and God bless you through this hard time.