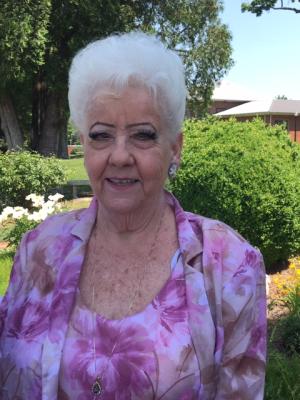 Jane Honeycutt, age 77, born February 28, 1941, died peacefully Christmas Eve at her home in the Embreeville community. Her childhood home was in the Washington College community. She graduated from Washington College Academy and attended Steed Business College. Most of her career years, she worked as a legal secretary and later as a church secretary and a caregiver. After living in Atlanta, North Augusta, SC, West Palm Beach, and Gadsden, Alabama, she returned to Washington County to reconnect with friends and home church. She was a member of Salem Presbyterian Church, Washington College.
She was predeceased by her mother, Louise Doane, her brother, Jack Doane, her husband, Harold Asher, and her beloved pet dog, Jody.
Those who remain to cherish her memory are her husband and late life companion, Clarence Honeycutt, her two sons, Jeff Asher of Oklahoma City and Jack Asher and daughter-in-law, Sue of Winter Garden, FL and one grand-daughter, Sara Asher. She considered her pet dogs, PJ and Becky, and cat Prissy as family and they too will miss her companionship. Those who remained as special close friends to Jane include Caroline May, Christine Keys, Carol Loyd, and Carolyn Spitler. Her husband wants to thank his sister-in-law, Marie Honeycutt, caregiver Ashley Greene, and Hospice nurse Becky for their help and consideration.
Graveside services will be Saturday, December 29 at 1:00 p.m. at Salem Cemetery. Services to be conducted by Rev. Sherrolyn Weed and Chaplin Karl Gasser.
12/26/2018
Crystal Blevins-Doan
Miss Jane was such a sweet, kind lady. She will be dearly missed. Our deepest condolences at this time. Crystal & Lumpy Brenda & Hunter
Jane had a beautiful voice & produced beautiful music with the flute in our WCA Band. She was quite a talented lady. She will certainly be missed in the Salem Presbyterian Church. Thoughts & prayers go out to the family & Clarence. She will be missed by many people.