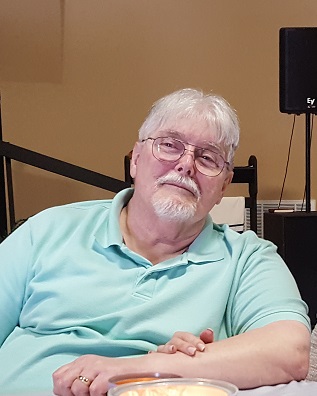 Jesus saith unto her, I am the resurrection, and the life: he that believeth in me, though he were dead, yet shall he live. John 11:25
Mr. Ricky Allen Short, age 71, Jonesborough, passed away Thursday, December 6, 2018 at Johnson City Medical Center with his wife by his side. We know Rick was greeted in heaven upon arrival by his son Jason. Most importantly he was welcomed with open arms by Jesus, his Redeemer and Savior. Rick was the oldest of two siblings, born to the late Carson and Ruby Short.
He was a member of Mt. Zion Baptist Church and loved singing in the church choir. Much of his life was spent reading and studying the Word of God. One of his favorite Bible verses being "Trust in the Lord with all thine heart; and lean not unto thine own understanding. In all thy ways acknowledge him, and he shall direct thy paths." Proverbs 3:5-6.
Rick was proud to have been able to serve his country during the Vietnam War in the United States Army until his honorable discharge in 1968.
He retired from Amcast Industrial Corp. in 2008 where he was Plant Manager.
His greatest love in life besides his Lord and Savior, were his family, fishing, wood working, and affection for his cates.
He was preceded in death by his parents and his beloved oldest son, Jason.
Survivors include his devoted wife, Anita Rader Short, Jonesborough; three sons and daughters-in-law, Erin & Valerie Short, Anderson, SC, Michael Short, Johnson City and Dustin & Kristy Short, Johnson City; daughter-in-law, Melissa of Kinderhook, MI; step-children, Melody Justice, Kingsport, Allen White (Rhonda) Tulsa, OK, Meredith Hoskins (Stephen), and Joshua White (Casey); sister, Alane Bomyea (Mike); eleven grandchildren, Krista, Ricky Taylor, Katy, Coleen, Chase, Alexandria, Zane, Zahvia, Zeke, Solomon and Lazarus; step-grandchildren, Jeffrey, Cody, Caleb, Victoria, Gabriel, Quinton, Joshua, Jonah, Nathan, Amelia, Dylan and Molly; and two great grandchildren, Evelyn and Paisley.
Funeral services will be conducted 7:00 pm Monday, December 10, 2018 at Dillow-Taylor Funeral Home with Pastor Brian Nuff officiating. The family will receive friends from 5:00-7:00 Monday prior to the service.
Interment services will be conducted 10:00 am Tuesday, December 11, 2018 at Mountain Home National Cemetery.
Pallbearers will be family & friends.