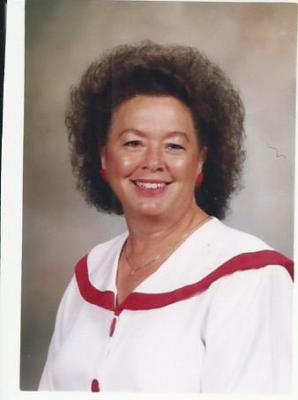 Mrs. Nancy Morelock Street, Telford, went home to be with the Lord, Friday, November 23, 2018 at her residence.
Mrs. Street was a loving wife, mother, sister, friend, and neighbor.
Nancy loved sewing, teaching, and spending time with all of her kids, especially her grandkids.
She was a member of Telford Baptist Church.
Mrs. Street retired after 43 years of service with the Washington County School System.
Mrs. Street was born in Greene County, daughter of the late Bennie Earl and Flavia Bell Tweed Morelock. In addition to her parents, she was also preceded in death by her husband, Bearl Street; brothers Johnny W. Morelock, George Morelock, Bennie Morelock Jr., and Jimmy Morelock; sisters, Shirley Clay and Peggy Russell.
Left to cherish her memory are her son Jeffery Street (Charlene), her two daughters, Leisa Evans,(Richard), Kelly Beam, (Carl), grandchildren, Jessica Crawford (Vance), Austin Beam(Stacy), Abigail Street, Derek Evans,(Kara), Helania Campbell Ketron, Charles Campbell, Layla Mehra, (Vidur) and Kimberly Campbell, great grandchildren; Jaden Crawford, Jaren Crawford, Avery Beam, Henry Bashor, Journey Campbell, Trey Campbell, Riley Campbell, Brody Campbell, Campbell Marshall, and Ishan Mehra; sister, Billie Jo Hicks; and many dear friends, neighbors, nieces and nephews.
Funeral services for Mrs. Street will be held 7:00 PM Sunday, November 25, 2018 at Dillow-Taylor Funeral Home with Pastor Mike Faye officiating. The family will receive friends from 5:00-7:00 PM prior to the service.
Graveside services will be 1:00 PM Monday, November, 26, 2018 at Fairview Cemetery. Pallbearers will be Vance Crawford, Austin Beam, Derek Evans, Brian McPeck, and Jeff McPeck.
11/27/2018
Leisa Street Evans
I just want to take this time a send a heartfelt Thank You to everyone for the prayers, words of encouragement, and messages of the wonderful legacy our MOTHER left behind. She was a very special Christian woman. Our hearts are broken but, with comfort knowing that our Dad is smiling now and heaven just gained the best angel ever. Thanks again, Lots of love to everyone! Leisa, Jeff & Kelly
11/26/2018
Debbie Williams
JEFF, LEISA, and KELLY SO SORRY TO HEAR OF THE LOSS OF YOUR MOM. IT HAD BEEN YEARS SINCE I HAD SEEN YOUR MOM BUT ONE DAY A FEW MONTHS AGO I DECIDED TO STOP BY HER HOUSE AND I WAS SO EXCITED THAT I CAUGHT HER AT HOME. SHE MADE ME FEEL AT HOME AS SHE ALWAYS DID YEARS AGO. WE HAD A GREAT VISIT AND SHE TOLD ME I COULD STOP BY TO VISIT ANYTIME. I HATE THAT I WILL NOT GET TO TAKE HER UP ON THAT INVITATION. I WILL ALWAYS REMEMBER THAT SHE WAS ALWAYS GOOD TO ME. DEBBIE WILLIAMS
SO SORRY TO HEAR THIS WE LOVED NANCY HERE AT OUR OFFICE. KELLY OUR HEARTS ARE WITH YOU AND YOUR FAMILY
11/26/2018
Leisa Street Evans
We just want to say Thank you to everyone during this time of sorrow! I have to say that We we're blessed to have terrific parents and they both will be missed greatly! My Mither was a special person and I have absolutely have no doubt where She is today peacefully looking down from Heaven.God has truly blessed our Family! Leisa, Jeff, Kelly
11/24/2018
Sherri Bradley Southerland
Jeff, Leisa, and Kelly and family, I'm so sorry for the loss of your mother but do rejoice that she's with our Savior and with her loved ones now!!! I know I haven't seen all of you in years and you've always been in my hearts no matter where we are including all the Street clans as well and I do miss all of you!!! My heart and prayers are with you all that the Lord will be with you and comfort you during this time of mourning.. much love and hugs to you sending down from Pennsylvania!!! Love and miss y'all very much!! Your cousin, Sherri (Margaret Jaynes' granddaughter)
She was a wonderful woman and I met her when I was in third grade at Lamar . She was always so nice to me and the other kids . Always a smile on her face and an inspiration to many . Sending my condolences and prayers for the entire family and God give you peace during this time .
Jeff,Leisa,Kelly I'm so sorry for loss of your mom she was such a sweet lady and friend.I loved working with her.I will keep you in my thoughts and prayers.
11/24/2018
Kay and Mike Meade
Jeff and Charlene, so sorry for your loss.
11/24/2018
Michael and Masako Hicks
We love Aunt Nancy and we miss her dearly. Such a sweet and dear lady. Rest in peace, in the arms of the Lord.
11/24/2018
Alice Snowden Addington
She was such a beautiful girl, always smiling. Now at peace with our other loved ones that have gone before us. Prayers for all. Love, Alice
11/24/2018
Gail McCracken Rambo and Bill
Jeff,Leisa,and Kelly, I graduated with Nancy and she was my best friend. Also lived close as a neighbor. Bill was her mailman for years. I use to visit her moma and daddy. Had some fun times. This is shocking news to us. You have our sympathy. Bearl was a good husband as long as he could be. Thinking of all her sweet family!
11/24/2018
Mike and Marilyn
Nancy was the kindest most wonderful, beautiful, friend . We will miss her. We loved our friend Nancy. Lisa, Kelly Jeff. I'm so sorry she will be missed. She certainly was angel. Praying for you all and the family.
11/24/2018
Jeanette Knight
Loved Nancy, we lost a wonderful person. My prayers for you during this time of loss and sadness.
11/23/2018
Judy Briggs and Family
I am saddened to hear about the passing of a my dear friend ,Ms Nancy. I thought so very much of Ms Nancy, she was so loved and admired. She will be dearly missed. Always had a smile and a kind word. My grandson Lukas Nelson,really Loved his Ms Nancy at Grandview, he thought a lot of her. My prayers are with you Kelly, Jeff and Lisa in this very sad time and I'll be praying for you all in the days to come. With Deepest Sympathy, Judy Briggs and Family and Tommie Douglas
Kelly and family, I'm so sorry to hear of your moms passing. If there is anything I can do for you or your family,please let me know! Nancy was such a friend to everyone and will be missed by so many. You and the family will be in my prayers.