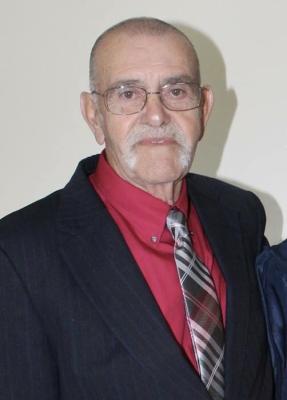 Mr. Thomas Eugene "Gene" Alexander, age 77, Telford, passed away peacefully Saturday, November 10, 2018 at Johnson City Medical Center.
Mr. Alexander was born in Sullivan County and the son of the late William Preston & Lula Millodean Whitaker Alexander. He was also preceded in death by a daughter, Evelyn Mae Thomas, brother, Verlon Max Alexander and a son-in-law, Stephen Matthew Chatman.
He was a member of Russell Baptist Church in Green Cove Springs, Florida.
Mr. Alexander was a life-long Truck Driver and had visited 49 states.
Survivors include his wife, Mary Etta Hyatt Alexander; daughters, Marietta Chatman, Janet Briggs (Terry) and Sharon Rowell (Theo); brothers, Johnny Alexander and Rex Alexander (Susan); grandchildren, Nicole Peters (Eddie), Stephanie Thomas, Robert Chatman (Jennifer), Chelsea Dore (Donny), Christopher Dore (Carrie) and Rebecca Rowell; great-granddaughter, Kali Peters; and special extended family, Rev. & Mrs. Sinclair Jenkins and family of Green Cove Springs, Florida.
Funeral services will be conducted 7:00 pm Wednesday, November 14, 2018 at Dillow-Taylor Funeral Home with Dr. Mark Harrod officiating. The family will receive friends from 5:00-7:00 pm Wednesday prior to the service.
Interment services will be conducted 11:00 AM Thursday, November 15, 2018 at Fairview Cemetery.
Pallbearers will be Randy Sparks, Ricky Sparks, Travis Sparks, Ryan Dougherty, Billy Alexander and Johnathan Hyatt. Honorary pallbearers will be Mark Christian, Jim Cash, Arthur Casey, and Mike Hyatt.
11/15/2018
Charisse Peeks
Janet, I was very sorry to hear of the loss of your father. You and your family will be in my prayers.
I am so sorry for your loss He was a wonderful uncle he was loved so much by so many He will be miss dearly
11/13/2018
India Dore Kurtz
I had the fortune of knowing Gene for a number of years. I always enjoyed his company, He amazed me with his engineering abilities. I know he will be sorely missed by his family and friends. Rest in the arms of Jesus. May Jesus provide comfort for you Mary and your children. Love in Jesus , India
Janet and Family,,I am so sorry for the loss of your Dad. You and all your Family are in my thoughts and prayers and will be in the days and weeks that follows. With Deepest Sympathy, Judy Briggs and Family