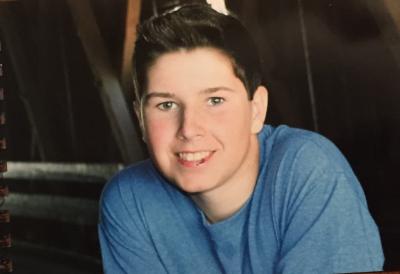 Matthew Hunter Millsaps, 18, Jonesborough, TN, left his earthly home and walked into the presence of his Lord and Savior, Jesus Christ, on Tuesday, October 9, 2018, at Wellmont Hospice House, Bristol, TN.
Matthew was a native of Jonesborough, and the beloved, precious son of Douglas C. Millsaps and Sharon Bennett Millsaps, of the home.
Matthew was diagnosed with Philadelphia Chromosome Positive Acute Lymphoblastic Leukemia October 29, 2014, at 14 years of age. He was a patient of St. Jude Children's Research Hospital, Memphis, and the St. Jude Tri-Cities Affiliate Clinic, Johnson City.
He was a former student of Lamar School, Jonesborough, where he was on the basketball and track teams for three years. He was a prankster and worked so hard to complete "the 8th grade prank" on his last day of middle school by blowing up truck loads of balloons and distributing them inside his teacher's classroom.
Upon the onset of his illness, he had just begun his freshman year at David Crockett High School. He excelled in all his classes. Due to the side effects of chemotherapy, he was unable to return to the public-school setting. In August 2017, he began attending classes at Northeast State Community College, to obtain his high school equivalency diploma, and met all the requirements in October 2017. In the presence of his family and friends, he was able to wear his cap and walk across the stage with the Northeast State Adult Education program on June 14, 2018.
Matthew was a son who loved to hunt and fish with his daddy and drive his 1985 Camaro IROC Z-28 and blast 80s music. On a dirt bike he was fearless and looked forward to obtaining his motorcycle license, so he could ride with his dad. He loved to mow and took pride in caring for his Mamaw's yard, making every line perfectly straight. Matthew also loved his mama fiercely, and he was the light of her life. Every day he was reminded that he was her sweet, sweet boy. Matthew had a love for his sister that was undeniable, and told everyone he met all about his sister, and how proud he was of her, how pretty she was, and how much he loved her. He called her his "little, big sister." He was a grandson who was adored and brought so much joy to his grandparents anytime he was near. As a nephew, Matthew liked to take trips to Bass Pro, ride dirt bikes or four wheelers and spend time together. Matthew looked forward to the day he would meet a special young lady, marry and become a daddy. He loved children so. He aspired to be an airplane mechanic. For those fortunate enough to meet Matthew, his constant smile, sense of humor, and firm handshake left an impression that will not be easily forgotten.
Matthew was a member of Cherry Grove Baptist Church, Jonesborough, and had asked Jesus into his heart at the age of 7.
Because of his illness, Matthew lived the last two years of his life with many adventures that would have never happened, had he not been sick. His family has been so blessed with hunting expeditions from Sky High Adventures and Trinity Oaks in San Antonio, TX. He also saw his favorite band, Def Leppard, in San Antonio, August 31, 2018. The memories and friendships made during his trips will last a lifetime.
Matthew was preceded in death by his Dadaw, Bobby Jack Bennett, August 23, 2016; his Granny, Imogene Millsaps, December 6, 2017; and his Aunt Jewel Cooper, June 9, 2009.
In addition to his parents, Matthew is survived by his sister, Sara Elizabeth Millsaps, Cleveland, TN; his Mamaw, Kathy Cooper Bennett, Jonesborough, his Pa, Raymond Millsaps, Elizabethton; uncles, David Millsaps, Elizabethton, and David Cooper, Jonesborough; and cousin Davis Webb. He is also survived by special friends: Barbara Allen; Bill Bartlett; Richie Bartosh; Carlos, Patsy, Travis, Faith, and Sadie Campbell; Ed Cobb; Philip, Brandi and Peyton Cornell; David Good; Zach Shell; and Judy and Gerald Webb (aka Meme and Papa); aunt, Doris A. Harry and numerous cousins.
The outpouring of support for the family since his diagnosis has been unfathomable and very appreciated. They would like to offer special thanks to Ballad Health Strategic Planning, Service Line Management, Alan Levine and Corporate Administration, as well as, his parents fellow team members; Wellmont Hospice House, Ballad Health Hospice, the St. Jude Tri-Cities Affiliate Clinic, especially Melissa Sifford and Summer Dinnes, for their exceptional compassion, love and care for Matthew; Cherry Grove Baptist Church faithful prayer warriors and Pastor Tommy Clark; Drs. Kathy Klopfenstein, Marcela Popescu, Jeffrey Towbin, Jean Ballweg, John Eshun, Catherine Habashy and Angela Snyder, NP.
A celebration of life will be held Saturday, October 13, 2018, at 3:00 pm. at Cherry Grove Baptist Church, 104 Cherry Grove Road, Jonesborough. The family will receive friends at the church from 12 pm until the service time. Pastor Tommy Clark will be officiating, with musical arrangements by Vince Walters, and Matthew's Story and Memories by Barbara Allen. Matthew will be laid in his earthly resting place next to his Dadaw, in the Cherry Grove-Keplinger Cemetery, immediately following the service. Pallbearers will be: Bill Bartlett, Richie Bartosh, Carlos Campbell, Ed Cobb, David Good, David Millsaps, Zach Shell and Davis Webb. The family will also receive friends at the home of his Mamaw, Kathy Bennett, Jonesborough.
In lieu of flowers, the family requests memorial donations be made to the following:
Ronald McDonald House, 535 Alabama Ave. Memphis TN, 38105;
Sky High for Kids, 9800 Richmond Ave., Ste 335, Houston TX 77042;
Trinity Oaks, 9385 Miller Lane, San Antonio TX 78266.
10/13/2018
Jamie Whaley Coy Vaughn and Madison Vaughn
We wish that we could change the events that have taken place since 2014. We all have loved Matthew from day one. I especially have always had a special place for Matthew in my heart, he has always been such a wonderful young man. He always had me laughing and he was always smiling. I remember asking him how to play basketball when I was coaching the girls...what was some good plays I needed to know some, he would look at me like why are you coaching...i really don't know, no one else would do it, now give me some of your moves..haha. he would laugh. I would ask coy ty tell all of them. I wish I had a magic button that could just change events and things from ever happening, but then I would be cheating God from having a jewel, one of his most awesome beings he has created so far, and I would be cheated Matthew from being with the greatest being ever! Can you imagine what he is doing right now with Jesus by his side? I bet he is telling him all about his car...and deer hunting...lol the smile he must have on his face while talking to God, it must be a mile long right now. His eyes filled full of life and happiness no more pain or sickness and his heart full of love as always and joy just over flowing from his body. I can see him sitting there telling him all about his moma, sister and everyone who means the world to him because he is so excited to be there. One day we will be there too and when we get there, you best believe he will be the first one to greet us with that contagious smile of his holding his arms wide open and so excited to give all that love he has out to others as he has all of his life. You raised a fine young man, one that every mother wants and you did a wonderful job. You did what God gave you to do and now God is going to take care of him and you during this most difficult time in your life. I am here for you, when you feel like you need to scream cry or just vent or need a shoulder, I am here. Call me let me know come by whatever it may be I don't care what time it is, I am here for you. My love, my heart goes out to all of you. Coy and Madison wants to say that they are sorry and can not believe this is happening and they loved Matthew very much.sarah they said if you need them please contact them. GOD BLESS YOU ALL
10/12/2018
Kruisin For Kids
We are deeply saddened to hear of Matthews passing. He was a true inspiration and we were so blessed to have been able to meet and see him at car shows with his beautiful 1985 Camero Iroc Z-28. Our thoughts and prayers are with the family.
10/12/2018
Maecus Ratliff
Doug and Sharon, so sorry to hear of the loss of Matthew. I will have you all in my prayers.
10/11/2018
Jennifer and Steve Henley
Your family is in our thoughts and prayers. So sorry we will not be able to attend the Celebration of Life for Matthew because we are out of town. I know that Matthew is in the loving arms of God and his family members that has gone on before.
Sharon & Kathy- I cannot begin to imagine your pain with this loss. You all are in my prayers.
10/11/2018
Phil & Doris Jordan
Doug, we are so sad to learn of your unimaginable loss. Our hearts go out to your family and Uncle Raymond. You are in our thoughts and prayers.
10/11/2018
Billy B Stoots
DID NOT KNOW MATTHEW BUT I DID KNOW HIS MAMAW AND UNCLE. WHAT A LOSS BUT HEAVEN GAIN. GOD COMFORT AND CONTINUE TO BLESS THIS PRECIOUS FAMILY.
10/11/2018
Joel, Connie, & Tyler Paden
We are so deeply sorrowful for the loss of Matthew. He was a true inspiration to everyone who knew him. Our thought and prayers go out to all members of the family. We know that Matthew is now in the absolute very best place he possibly can be. May God Bless each and every family member and all friends.
Please accept my sympathy for your terrible loss. My broken heart aches with yours.
We have never met but I felt led to send you my condolences. What a bright young man who obviously had a big heart. I pray for comfort for all. Peace of Christ, Melissa
I didn't know your beautiful son but I read this obituary and he sounds like a wonderful young man who lived life to the fullest and was loved by so many. Prayers for your family
10/10/2018
J.Shannon Zukas
My heart goes out to the entire family...I can see so much of his mom in him,at that age.Our Faith teaches us to hold tight to the Lord..I learned alot of my faith with his mom,from her mom...I remember well those Cherry Grove days..Thoughts and prayers
Doug, Sharon, and family, I was very saddened to hear about the passing of Matthew. On behalf of myself, the supervisors, and the JCMC Central Supply team, please know that we are praying for each of you during this very difficult time. I know God is holding on tight to each of you. God bless.
We are so sorry for you loss! I only met him once but he was so sweet. Your family is in our prayers!
10/10/2018
Walda McDevitt
I never met Matthew, but I have kept him and your family in my prayers for the last few years. Such a nice looking young man. Praying that you feel the love of God through your friends and family at this time.
10/10/2018
Melissa France
Although I do not know you and your family personally I am heartbroken for you all. I have never heard a bad word spoken about your sweet family. Prayers to you
10/10/2018
Summer Hughes and Family
Doug, Sharon, Sara and the rest of the family we are so sorry for the loss of Sweet Matthew. He was a little fighter and never gave up. Our family will continue to pray for your family during this difficult time and pray that God comforts you all. If you all need anything please don't hesitate. We love you all.