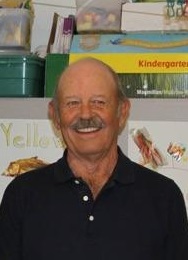 Mr. Joe L. Deyton, Limestone, passed away peacefully on Monday, August 27, 2018 at the Johnson City Medical Center.
He was a Veteran of the United States Army, and worked for Huyck Formex/Weavexx, retiring after 45 years of service.
Joe was preceded in death by his wife, Joanne Hope Deyton, his parents, Laura and Louis, and his brothers, J.C. and Jake.
He is survived by his children, Joey Deyton, Angelelia Johnson and her husband David Cooter, Randy Deyton and his wife Debbie, Hope Penley, and John Deyton; grandchildren, Lee Johnson and his wife Deidre, Jasmine Deyton, Hayden Arnett and Joseph Deyton; great-granddaughter, Isabella Johnson; sisters, Betty Cox, Francis Buckingham and Jewell Williams Susong; brother, Arthur Deyton; and several nephews and nieces.
Graveside services will be held on Friday, August 31, 2018 at 11:00 a.m. at Fairview United Methodist Church Cemetery in Jonesborough with Pastor Randal Johnson officiating. The funeral procession will assemble at Dillow-Taylor Funeral Home at 10:00 a.m.
So sad to hear of Joe's passing, his family will greatly miss him! The Deyton family loss another dear one! Love to all!!
Very sorry to read of your brother has passed Arthur. May the Lord bless you all.
08/31/2018
Nancy Baines Burgner
So sorry to hear of the passing of Joe. Jewell and family you are in my prayers. He was a really nice man. Love you all.
08/30/2018
Kent McLaughlin
So sorry to hear of the passing of Joe. He was always there to visit and help my Mother, Marie McLaughlin. And more importantly, he was always there to make her laugh!! She always talked about how much she loved her visits with Joe and his family. Your generosity and love for life will be missed by many. My thoughts and prayers are with the family.
08/29/2018
Jewell Deyton Williams Susong
Joe, I miss you so much already. I have already thought, "Oh, I need to call Joe!" Or, I must remember to tell Joe "that" when I see him. You were loved and will certainly be missed. When I get lonesome to talk with you, I will take the memories we made together out of my pocket and have another laugh with you. I know you are in Heaven and your pain is gone. It was so hard watching you suffer. Until we meet another day, your Sister! Jewell
Hope and family, I am so sorry for your loss. I pray that God will comfort your hearts now, and in the weeks to come. Dave Collins
08/29/2018
Susanna Martinez
Hope I am so sorry about your dad. Please know that you and your family are in my thoughts and prayers. Nurse Martinez
08/29/2018
Rebecca Leifert
Angelelia, I was so sorry to hear of your loss. Please know that prayers are going up for you and your family. Please let me know if there is anything I can do for you. Becky
08/29/2018
Hanna Shelton Jones
I am so sorry for your loss. Thoughts are with your family.
Remembering Joe from all the years at Formex. My deepest sympathy to all.
08/29/2018
Jeremy Casteel
I'm so sorry to hear about Joe. I'll keep you guys in my thoughts.
08/29/2018
Mick and Angela McLaughlin Jackson
So sorry to hear of Joe's passing. I will never forget his and JoAnn's kindness. He visited Mom in the hospital and at home. Brought us vegetables. I know he is with God and all of our family having a huge celebration. We will all be together again. Love all of the Deyton family. Angela, Mick.
08/28/2018
Amanda Rose (Laws) McElyea
I am so sorry. Joe would always come and visit Aunt Marie when she was in the Rehab Center after she broke her hip. I always told Joe that he looked like Great Grandpa Deyton. Again thinking about you all and praying for all of you. I am sure he is enjoying Heavenly Reunion with my mommy Ruby, Marie, all his brothers and parents aunts uncles and especially is loving wife.
08/28/2018
Sandra Laws Laughren
Dear Family, I am so sorry to hear of Joe's passing. I send my love and prayers to each of the family members.