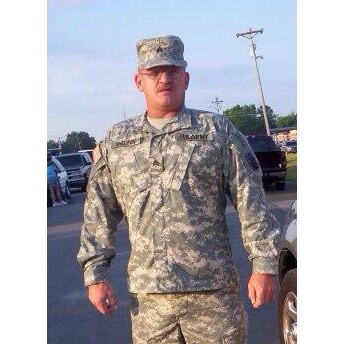 Mr. Jimmy Dean Shelton, SGT, United States Army, Retired, age 52, Greeneville, passed away at his residence Sunday July 29, 2018.
Jimmy was born in North Carolina and the son of the late Robert Shelton Sr and Patsy Shelton.
Jimmy retired from the United States Army after twenty years of service and having served two tours in Operation Iraqi Freedom.
Jimmy enjoyed fishing with his kids, hunting, watching NASCAR, the beach but most of all his children.
Survivors include one daughter Samantha Marie Cash (Austin Lyons) one son Jessie James Shelton and their mother Agnes Dinova.
Graveside services with Military Honors will be held Friday August 3, 2018 2:30 PM at Mountain Home National Cemetery, Mountain Home, TN. The family will receive family and friends from 1:00 to 2:00 PM at Dillow-Taylor Funeral Home.
So sorry to hear of Jimmy's passing. I've known him for many years. He loved his children so much. Jimmy was a good man and will be sorely missed by family and friends.
I love you brother I'm definitely going to miss you and I promise you'll live on forever in my heart I thank god for giving me a best friend like you brother
I am eternally sorry for your loss and I love you sam!!!
I have known this family for a little over ten years. Such a traumatic circumstance for someone so young who loved his family and life. My heart breaks for those he leaves behind. I know he will be watching over his family and I send prayers, hugs and lots of love. Jimmy will certainly be missed by many.