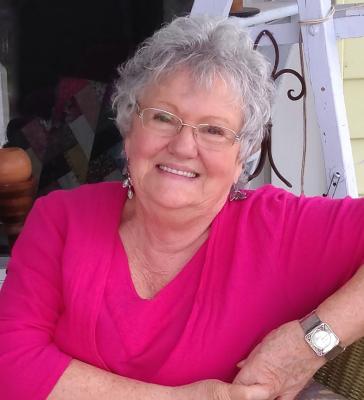 Mrs. Avril Coles Bookout, age 79, died Saturday, June 9th, 2018 at Johnson City Medical Center following a brief battle with leukemia.
Avril was born and raised in Carterton, England. She was the daughter of the late Stanley and Fanny Coles, the youngest of their three children. She was a member of Sulphur Springs United Methodist Church and the Care & Grow Sunday school class. In addition to her parents, she was preceded in death by her husband Jackie J. Bookout, brother John Coles, sister Doreen Wallace, brother-in-law James Wallace, parents-in-law James and Jaqueline Bookout, nephews John Coles and Ira Curtis.
Avril's family were members of the Showmans Guild of Great Britain, traveling around presenting funfairs with other showmen families. One of Avril's duties was to operate the dodge'em (bumper) cars. She met and married her husband Jackie when he was stationed at Brize Norton RAF through the USAF. During the 20 years Jackie served in the Air Force, Avril traveled with him, raising their three children and working as a bookkeeper. After his retirement they moved back to Jackie's hometown, Etowah, Tennessee, where she worked as a bookkeeper at Athens Products Company (a division of Westinghouse) until her retirement. In 1997 Avril and Jackie moved to Jonesborough where she worked for American Greetings. Avril also joined the Upper Room Quilters at Sulphur Springs UMC where she spent many an hour in the company of her friends making quilts for the children at the Niswonger Children's Hospital as well as many other items made to give to the community. She was a part of the British Ladies club, enjoying fellowship in shared memories.
She will be lovingly remembered by many including: her daughter, Serena Bookout Crowder & husband Jeff; twin sons, Philip Bookout & wife Jeanie and Paul Bookout & wife Morri. Grandchildren: Chelsea Crowder Talbert & husband Chris, Charlotte Crowder, Aaron Bookout, Olivia Bookout, Isabelle Bookout and Madalyn Bookout. Sister-in-law Margaret Coles. Nephews Stephen Coles & wife Emma, Daniel Coles & wife Alexis. Niece Amanda Wallace & husband Jeff Simons. Nephew James Wallace & wife Cindy. Cousin Maureen Jones. Brothers-in-law: James Bookout & wife Pat, Tommy Bookout & wife Judy, Robert Bookout & wife Libby. Sisters-in-law: Mary Pickel & Lawrence, Martha Sisson & husband Vestal, Sally Kindle & husband Rich, Blanche Wilson & husband Chris. As well as numerous more cousins, nieces and nephews.
The family will receive friends from 1:00 pm to 2:00 pm Saturday, June 30th at Sulphur Springs United Methodist Church, Jonesborough, Tennessee. The funeral service will follow at 2:00 pm officiated by Rev. Joe Barber.
A graveside service and interment in Etowah, Tennessee will be Sunday, July 1st, 2:00 pm at the Bookout-Massingale Cemetery.
In lieu of flowers the family asks that donations be made to the Upper Room Quilters of Sulphur Springs United Methodist Church, 1432 Gray Station Sulphur Springs Rd, Jonesborough, TN 37659.
06/30/2018
Lynice Broyles
To the wonderful Bookout family, words are not there to say how much your mother was loved. She was a very dear friend to me and we shared some good times. I was so sorry that I didn't know she was ill and had not gotten to see her. I will cherish the many memories of both she and your dad. My love and prayers are with you all during the coming days. Continue to cherish your memories and know she left a real legacy in the Sulphur Springs Community. Much love and prayers Lynice Broyles
Serena and family, we are so sorry to hear of your mothers death. Our love and prayers are with you. James and Betty Furches
I am so sorry for your precious loss. Avril was an awesome lady and a special neighbor. She will be missed by so many. Pray that knowing she is with Jackie again will help to ease the pain You all are special to me
Serena and Jeff, I was sorry to hear about the passing of Avril. She was a dear lady and always pleasant. I pray that your family will find comfort and peace in this trying time.