Robert Lee Campbell Jr
05/10/2018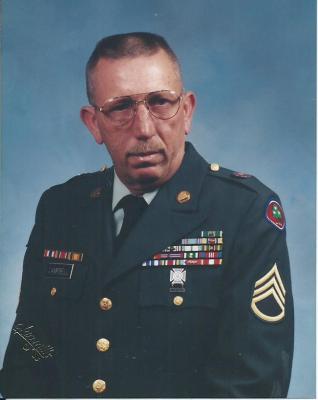 Mr. Robert Lee "Bob" Campbell, Jr. age 72, Limestone, passed away Thursday, May 10, 2018 at the James H. Quillen VA Medical Center.
Mr. Campbell was born in Johnson City and was the son of the late Robert & Pearl Whitson Campbell.
He was a United States Air Force Veteran, and while serving in the National Guard for 25 years, Bob was called to active duty during Operation Desert Storm. He enjoyed fishing, NASCAR and UT Vols.
Survivors include his wife, Mary Deakins Campbell, Limestone; son and daughter-in-law, T. Jay & Colleen Harrison; grandchildren, Cailin Harrison, Brendan Harrison, Taryn Harrison and Ryanne Harrison; sister, Sherry Stevens (Jerry); brothers, Larry Campbell (Keitha) and Douglas Campbell (Patricia); and several nephews and nieces.
Funeral services will be conducted 7:00 pm Monday, May 14, 2018 at Dillow-Taylor Funeral Home with Rev. Greg Davis officiating. The family will receive friends from 5:00-7:00 pm Monday prior to the service.
Interment services with Military Honors will be conducted 10:00 am Tuesday, May 15, 2018 at Pleasant Grove United Methodist Church Cemetery.
Pallbearers will be family & friends.
Leave an Eulogy or Condolence for Robert Lee Campbell Jr
EULOGIES & CONDOLENCES
05/15/2018
Gloria Hawthorne
Mary: You have my sincere condolences. When my husband passed last month, your husband came to visitation even after his treatment. He was a true friend to us; always helping when anyone needed him. He was a blessing to us and we will treasure his friendship. May God bless you with peace and strength to weather all the roller coaster of emotions you may go through. We are praying for you and the family.
05/14/2018
Harry&Nancy Gibson
Dear Family, We are so very sorry for your great loss. We were friends of Bob's for a very long time Harry served with Bob in the Guard. He was at our house many times. We haven't kept up with him lately We are praying for you all as you go through this Praying for God to be with you and help you!!! We were shocked to hear of this. God bless you!!!
05/14/2018
Rhonda Harmon SFC Retired
I served with Bob during Desert Storm. He was a good friend and comrade. He will be greatly missed. Praying for peace and comfort during this difficult time.
Very sorry to hear of your loss. Bob was a great and giving individual. He was always dependable and first to volunteer to help any project the guard unit was undertaking. He was a good soldier and nco. Last, but not least, he was a friend.
05/13/2018
Dave and Cielle Goodman
Mary I am sorry for your loss, Bob was one of kind and would help anyone with anything. We appreciated what Bob did in serving and helping others our thoughts and prayers are with the family.
05/13/2018
Mr. Joseph l. Carder
My friend and army buddie going to miss you my friend.
05/13/2018
Michelle & Jan Havens & Abby Grubbs
Our thoughts and prayers go out to you all during this difficult time. We love you all!
05/13/2018
SSG. John Steven's Ret.
I send my condolences to each member of the family. Bob was one of my best friends for many years. Our times together at annual training and Desert Storm will forever be remembered. Goodbye my friend. May God be with each of you and my thoughts and prayers will be with you.
So sorry for your loss, praying for the family.