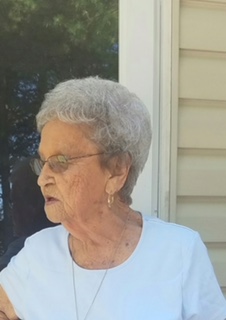 Mrs. Lila Lee Snead, age 86, Telford, passed away Monday, January 8, 2018 at Johnson City Medical Center.
Mrs. Snead was born in Scott County, VA and daughter of the late J.I. & Ruby Nuckles Spurrier. She was also preceded by her husband, Raymond B. Snead, a grandson, Jonathan Taylor, sister, Marge, three brothers, Joe Spurrier, Junior Spurrier, a Congressional Medal Honor recipient, and George Spurrier who died in Normandy during WWII.
She was a member of Telford United Methodist Church.
Mrs. Snead retired from Greene Valley Developmental Center.
She was a member and past President of Jonesborough Ruritan. She was a security guard at David Crockett High School. She worked 20 years as a poll worker at the Telford School for the Washington County Education Commission. She began housing Veterans at her home in 1988.
Survivors include two daughters, Patsy Denton (Joe), Greeneville and Rebecca Taylor, Limestone; son, Mike Snead (Marsha Weems), Midway; step-son, David E. Grubbs, Telford; sister, Hope Mills, West Virginia; grandchildren, Brad Taylor, Matthew Taylor, Dawn Taylor, Leeann Greene (Anthony), Todd Pugh (Beth), Whitney Massey, Ashley Snead (Brent) and Gina Snead; great-grandchildren, Addison Greene, Justin Lee Taylor, Landon Lane, Arien Lane, Audrey Lane, Chase Massey, Cobran Massey, Casen Massey, Cage Bowman, Blake McClellen, Sissy Church, Kaylee Whitson, Hannah Penley, Allison Penley and Madison Penley; special neighbors, Johnny & Wilma Nolan and Pat Hensley.
The family would like to extend a special thank you to Vicky & Warren Browder and Crystal Harris for their wonderful care.
Funeral services will be conducted 7:00 pm Tuesday, January 9, 2018 at Dillow-Taylor Funeral Home with Rev. Jeremy Dykes officiating. The family will receive friends from 5:00-7:00 pm Tuesday prior to the service.
Interment services will be conducted 1:00 pm Wednesday, January 10, 2018 at Mountain Home National Cemetery.
Pallbearers will be grandchildren and cousins. Honorary pallbearers will be Banks Campground and Campers and patrons of the Telford Diner.
01/10/2018
Willard and Sandra Parker
Heaven has gained another beautiful spirit♥
We are so very sorry for your loss! Feelings of despair can be overwhelming at this time. We pray that "the Father of tender mercies, and the God of all comfort" (2 Corinthians 1:3, 4) will give you peace of mind and comfort in your hearts. Acts 24:15 says that "there is going to be a resurrection" and Job 14:14, 15 shows that God has a longing to resurrect his friends! We are so grateful that our loving God looks forward, as much as we do, to reuniting us with our loved ones.
01/09/2018
Judy Tate Sullins
01/09/2018
Baileyton Medical Center
So Sorry for your loss. We will remember you in our prayers. She was a great lady who has now received her reward. Love to you!!!
01/09/2018
Judy Tate Sullins
I will always remember that smile, laugh and beautiful sense of humor. I know you are with our Lord and your loved ones. Rest in the glory of heaven. Love you.
We will miss you granny lee! Love whitney, Billy, Chase, Cobran, Casen Cage and Zoe
01/09/2018
Jim and Tina McCracken & TJ McCracken
We are so sorry for the loss of your mother and grandmother !!! She will be truly missed !!!
01/09/2018
Larry Crum Family
Becky, we so sorry on the loss of your mother may God be with you and bring you comfort.
01/08/2018
Tony & Teresa Bledsoe
Mike, We are so sorry to hear of the passing of your precious Mother. You and your family are in our thoughts and prayers