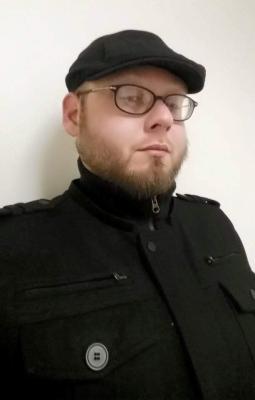 Mr. Jeffrey Michael Leonhart, age 34, Telford, passed away Sunday, December 31, 2017 at his residence.
Mr. Leonhart was born in Orlando, FL and son of Gayle Green Charcas, Kissimmee, FL.
Jeffrey, or Michael as his family knew him, treasured his family and their times together. He loved talking with his mother and sister and playing games with his brother and cousins. Jeffrey held strong beliefs towards Japanese culture, martial arts, and the spiritual warrior method. He lived a life shaped by the Samurai Code of Conduct including respect, courage, and honor. These he possessed till the end.
He worked at the Citi Call Center in Gray.
In addition to his mother, survivors include a brother, Gavin Comas, Kissimmee, FL; sister, Heather Chason (Jesse) stationed in Oahu, HI; nephew, Liam Chason, HI; maternal grandparents, Shirley & Barry Burch, Telford; uncles, Gary Green (Kelsey), Apopka, FL and Jeff Taylor, Philadelphia, PA; and his beloved dog, "Tobi".
The family will receive friends from 1:00-3:00 pm Saturday, January 6, 2018 at Dillow-Taylor Funeral Home.
While I may not have known Jeffrey in person, he was very much of a friend and comrade as any other person I have met in my life. His dedication and passion for the community that we created together are a few of the many things that will forever make him beloved and remembered by all of his teammates. The positive impact he has made within our group will never be forgotten. While he may no longer be with us, his spirit will live on in all of us and will always have a home here in Fullmetal Knights. Rest in peace, friend. We will carry your dreams and ambition for you.
01/06/2018
Brittany Johnson
Jeff I'll never forget the first day I met you in training class at work @ citi. U was the most kind-hearted great sense of humor free spirited guy. We got to be great friends at work and u was always my go to guy when I needed someone to talk too..u will be greatly missed ... Fly high .. Rip. My prayers are with the family n friends.
Jeff...I just found out. What a great guy. Thank you for helping teach me the ways at Citi. I'll miss our IM chats, our eye rolls over the top of the cubicle walls,your funny sense of humor and how you would crack me up....you were a gentle soul. I wish we had more time. Thank you for being a great co-worker, thank you for being one of the few people to check in on me, thank you for sharing your food and laughter and light. May God bring peace to your family during this time. Bye for now.
RIP Jeffrey, you will be greatly missed by everyone that knew you. You were an amazing person who would go out of his way to help someone out. Now you can fly high free of pain and most of all, free of sickness. Love always your friend, April.