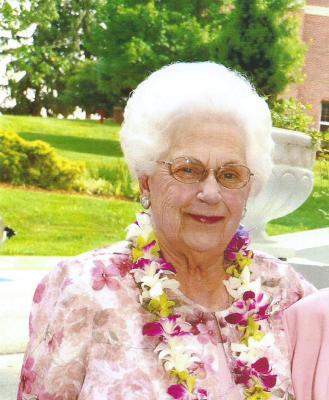 Mrs. Pansy Mae Barry Hyder, age 88, passed away Thursday, December 21, 2017. Mrs. Hyder was born in Washington County TN on August 9, 1929, the daughter of Fuller and Ruby Range Barry. She was a graduate of Sulphur Springs High School and East Tennessee State College. She married Daryl Gene Hyder, Sr., on March 3, 1951. She was employed as a teacher by Washington and Sullivan County Schools from which she retired. She was a charter member and a lifelong active member of Colonial Height Christian Church where she was also a member of the Lydia Circle. She enjoyed gardening; traveling "out west" and abroad with her husband on company trips to the far east, Hawaii and Europe; reading; and spending time with her family. Mrs. Hyder enjoyed family history and was a member of the Daughters of the American Revolution
In addition to her parents, Mrs. Hyder was preceded in death by her four sisters, Viola Copas, Lorene Gresham, Myrtle Crouch, Reba Gray, and brother, Maynard Barry. She is survived by her husband, Daryl G. Hyder, Sr.; four children, Martha Hyder Hall, Daryl G. Hyder, Jr., Mary Hyder, Rebecca Hyder Smith; five grandchildren, Summer Hyder, Seth Hyder, Brett Hyder, Brittany Hyder Manning, and Paul Smith; five great-grandchildren, Keller, Avery, Ben, Grayton and Adelaide Mae; and numerous nieces and nephews.
Funeral services will be conducted 1:00 pm Saturday, December 23, 2017 at Colonial Heights Christian Church with Minister Phil Roberts officiating. The family will receive friends from 11:00 to 1:00 pm prior to the service.
Interment services will follow at Fairview Cemetery 878 Hwy 81 north, Jonesborough, TN with Minister Brett Hyder officiating. Pallbearers will be family members.
Memorial gifts may be sent to Colonial Heights Christian Church, 105 Meadow Lane, Kingsport, TN 37663, in her honor.
01/02/2018
Pamela Overbay
So sorry for your loss! Pansy was so special!
12/24/2017
Becky Nidiffer, LPN
I am so sorry for your loss. Mrs. Hyder was a true gem. Your family is in my thoughts and prayers.
12/23/2017
Tracie Fincher
Rebecca and Mary, I was so sorry to learn of your mother's passing, I loved her as my Reading teacher in 6th grade at Colonial Heights Junior High. I am praying for your whole family during this difficult time.
While words fail to capture the pain of losing a loved one, we look forward to the time when words will fail to capture the joy of having our heavenly Father return your dear one to you. May you find comfort in knowing that your dear one is safe in the memory of God, who will remember every detail about her and bring her back again. (John 5:28, 29)
12/21/2017
Larry and Betty Barr
Very sad to here about Pansy's passing. We know that God will carry you through this time of loss. You are in our prayers and we would be there but we are out of town.
12/21/2017
Kathy Morrison
Renea , Gene & family I'm so sorry to hear about Pansy's passing. She was such a sweet lady . I know you all will miss her . All of you are in my thoughts and prayers.
So sorry to hear of your loss. Please know that we pray that God's healing hand will provide you with comfort and peace through the days ahead.
12/21/2017
Denise Snodgrass Morton
So very sorry to hear about Mrs. Hyder's passing. I had her as a teacher at Colonial Heights Junior High & I loved her. I just lost my mother, Katheryn Snodgrass, who also taught at Colonial Heights Junior High, in April of this year. I pray the peace of the Lord comforts you during this time of loss.