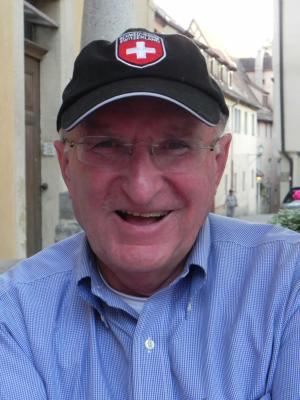 David Wayne Shepherd, 75, of Jonesborough, Tennessee, beloved husband, father and friend, passed away peacefully at home on December 19, 2017, surrounded by his loving family.
Wayne was the son of the late Lester David and Rachel Rebecca Shepherd. He was born in Salisbury, North Carolina, and graduated from Salisbury High School. He obtained a bachelor's degree in forestry from North Carolina State University. Wayne then went on to serve in the U.S. Forest Service for over 39 years. His long career with the U.S. Forest Service included timber cruising on the Savannah River Project, time as an assistant ranger in the Nantahala River District, and in offices in Asheville, North Carolina, Washington, D.C., South Lake Tahoe, California (El Dorado National Forest), Atlanta, Georgia, and Erwin, Tennessee (Appalachian Trail Team Leader). After retirement, Wayne continued to actively advocate for the conservation of our nation's natural heritage.
Wayne was an avid hiker and nature-lover, and enjoyed traveling with his family to national parks. He spent many hours with his wife Carolyn on their farm in Jonesborough, feeding his chickens and cultivating a large vegetable garden. In retirement, Wayne served for over six years on the board of the Great Smoky Mountains Association, including a year as Chairman of the Board. Wayne's deep and abiding love for Jesus Christ was ever present and shaped every aspect of his life.
Survivors include his wife Carolyn, daughters Sheri Shepherd-Pratt (Chris), Julie Shepherd-Powell (Adrian), grandchildren Nora and Oliver Shepherd-Powell, brother Larry Shepherd (Lavelle) and sister Brenda Armes (Art). Wayne was preceded in death by his brother Shelton Shepherd.
The funeral service will be held at 2:00 p.m. on Thursday, December 21, 2017, at Jonesborough Presbyterian Church, with a receiving of friends and meal to follow at 3:00 p.m. Burial will follow on Friday, December 22, 2017, at St. Matthew's Lutheran Church Cemetery in Salisbury, North Carolina.
Memorial contributions may be made to Friends of the Smokies (https://friendsofthesmokies.org/donate/), PO Box 1660, Kodak, TN 37764, or the Bluefield Project to Cure Frontotemporal Dementia (http://www.bluefieldproject.org/donate), 637 Carolina St., San Francisco, CA 94107.
I'm so sorry to hear the news of Wayne's passing. I worked with Wayne, around the late 1960's I think, on the Cheoah Ranger District in North Carolina. We did some spelunking together. Wayne was a great fun guy who loved the outdoors. My thoughts and prayers are with all of you.
I worked with Wayne many years ago on the Cheoah Ranger District in North Carolina. So sorry to learn of his passing.
12/21/2017
Ruth M. Taylor
So sorry for your loss. He will be greatly missed by all who knew him. Harry Vance and Ruth Taylor
Just got the sad news of Wayne's passing. I worked with Wayne many years in the Forest Service in N.C as well as other areas. He left his mark all along the Appalachian Trail as well as many other areas of the National Forests by working hard to conserve thousands of acres that will be enjoyed by many generations to come. His life's work will live on.
12/20/2017
Bernice Talley James
I am so sorry for your loss. Please know you all will be in my thoughts and prayers !!
12/20/2017
Malcolm Blalock
I am saddened by the passing of Wayne. As a young boy, Wayne was a great mentor, teaching me how to appreciate nature and how to hunt safely. Although had no contact for many, many years, I thought of him often, knowing he was doing good at whatever he was doing. This world has lost a good man.