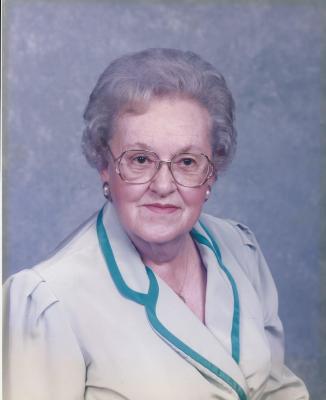 Mrs. Athene Miller Smith, age 91, Jonesborough died Friday, December 30, 2016 at NHC Healthcare of Johnson City.
Mrs. Smith was a Washington County native and daughter of the late Dennis E. & Kate Carson Miller. She was also preceded in death by her husband of 55 years, Billy B. Smith of the Bowmantown Community, brother and sister-in-law, Jack & Jean C. Miller, sister, Wanda K. Shelton, two nieces, Jaquita Cates and Paula Dunn.
She was a member of Jonesborough United Methodist Church, United Methodist Women and the Sarah Mayes Church Circle.
Mrs. Smith graduated from the Jonesboro High School in 1943 and was employed by General Shale Brick Company in the Accounting Department, retiring after 26 years as an Accounts Payable Clerk.
Survivors include three nieces, Brenda S. Smith, Cheryl Smith and Jody Moles; four nephews, Larry Smith, Tony Smith, Jay Miller, and Jeff Miller; special friends, Fannye Kate Chase, Ann Black and Kathleen Tadlock.
Graveside services will be conducted 2:00 pm Sunday, January 1, 2016 at Providence Cemetery with Pastor Karen Lane officiating. The family request friends meet at the funeral home to go in procession to the cemetery at 1:15 pm.
Pallbearers will be family & friends.
In lieu of flowers, memorial donation may be made to Jonesborough United Methodist Church 211 West Main Street Jonesborough, Tennessee 37659.