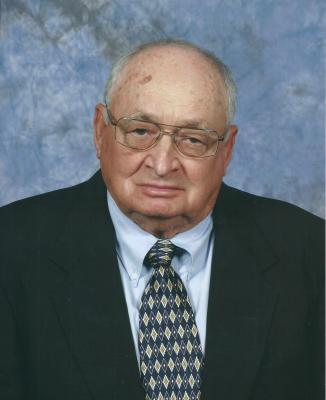 Mr. John H. "Jack" Young, age 88, Jonesborough, died at his residence surrounded by family on Tuesday, December 20, 2016.
Mr. Young was born in Washington County on July 26, 1928. He was the son of the late John Homer Young and Anne Fiske Chestnut Young and lived on the Young Farm where he was raised until his death. He was also preceded in death by his brother Thomas C. Young, brothers-in-law Dick France (Irene), Wallace France (Lois) and John Mathews.
He was a lifelong member of First Baptist Church, Jonesborough, where he served as trustee and on many committees. He also served as a chairman of Building and Grounds during a renovation of the church and was recognized for his faithful leadership from 1996-1998. He was a dairyman, beef farmer and worked as a truck driver for 28 years. In 1992, he retired from Carolina Freight Co. where he served as a steward for the Teamsters Local Union.
Survivors include his wife of 66 years and high-school sweetheart, Mary Ann Young; two sons, Dexter Young, Columbus, MS and Steve Young, Jonesborough; five grandchildren, Charles Dexter Young (Miranda), Roswell, NM, Brent Wesley Young (Cassie), Jonesborough, Nellann Elizabeth Mettee (John), Collierville, Stephanie Jayne Carey (Rick), Hondo, TX, Ruby Jane Hancock (John), Germantown; eight great-grandchildren, Jack and Ben Mettee, Giselle Carey, Luke and Paul Young, Dylan and Mary Beth Hancock and Rylan Young; three step-great-grandchildren, Madison Carey, Ryan and Sabrina Jamerson; one sister, Jane Mathews; sister-in-law, Aldaree Young; brother-in-law, Jack R. France (Claudine); two former daughters-in-law, Carol Riley Falkowski and Janice Fellers Berger; and several nieces, nephews and two cousins.
The family would like to extend a special thank you to Caris Healthcare and caregivers Linda Loyd, Linda Raines and Thomas Young.
A celebration of life services will be conducted 2:00 p.m. Friday, December 23, 2016 at Dillow-Taylor Funeral Home with Rev. Jeremy Dykes officiating. The family will receive friends from 12:00-2:00 p.m. Friday prior to the service. Burial will follow at Maple Lawn Cemetery.
Pallbearers will be his grandsons, Charlie and Brent Young, nephews, Thomas and John Young and John Matthews; grandsons-in-law, John Hancock, John Mettee, and Rick Carey. Honorary pallbearers will be Leon Baker, Homer G'Fellers, Sidney Riley, Franklin Sell, David Wise, Curtis Guinn and Chris Diehl.
Memorial donations may be made to First Baptist Church, Jonesborough 201 East Main Street Jonesborough, TN 37659.
01/09/2017
Denise Farner Webb
So sorry to hear of the passing of Mr.Young! He was always so kind and always ask about my parents.I'm sure he will be missed by many. Denise Webb Wiseman's Clothing and Shoes Johnny's Shoe Stores
Saddened to learn of the passing of my dear high school classmate and member of our Jonesboro High School basketball and football teams.
12/23/2016
Curt and Brenda Lynn
Mary Ann and Family, Please know that you all are in our prayers during this time of sadness. You and Jack were always a very "special" couple. We love you both. Take care of yourself.
12/23/2016
Donna Boyd Glass
Your family is in my thoughts and prayers. My father, John Boyd, worked with Mr. Young at Carolina. He always spoke highly of him. May God be with you in your time of loss. With Deepest Sympathy, Donna Boyd Glass
12/22/2016
Bobby and Anne Gray
We send our prayers to you all at this time of victory. Jack fought the good fight and will receive his reward. He welcomed us to the church and invited us to come at our first meeting. We will always remember him for his service to the Lord. Love in Christ.
12/21/2016
Hope & Steve Reynolds
We offer our heartfelt sympathy and sincerest prayers.