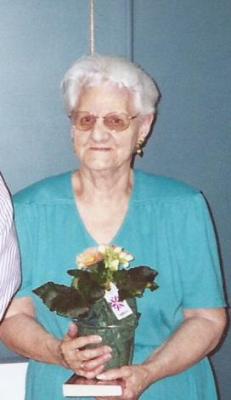 Mrs. Bessie Eugenia Ray, age 98, Johnson City, passed away Tuesday, December 13, 2016 at Center on Aging & Health.
Mrs. Ray was born on July 13, 1918 in Mississippi and was a daughter of the late Walter & Kattie Crow Murphy. She was also preceded in death by her husband, Elzie H. Ray.
She was a member of Holston Baptist Deaf Mission. At the age of six she enrolled in the Mississippi School for the Deaf. Later, she married and moved to Flag Pond, Tennessee.
Survivors include two daughters and son-in-law, Evelyn Faye & Jim "Mac" McCloud, Telford and Jane Ann Shelton, Garland, TX; grandsons, Jimmy Stancil, Erwin and Boney Shelton, Flag Pond; granddaughters, Teresa Bailey (Tim), and Libby Tipton, all of Erwin; great-grandchildren, Lindsay Bailey, Dakota Shelton, Dylan Shelton, Drew Shelton, Warren Shelton, Jessica Fisher, Nikki Miller, Daniel Tipton, Carrie Ford, William Tipton and Thomas Tipton; great-great grandchildren, Blakely Tipton, Anderson Ford, Isabelle Fisher and Andrew Fisher.
Funeral services will be conducted 8:00 pm Sunday, December 18, 2016 at Dillow-Taylor Funeral Home with Pastor Charles Morgan, Jr. officiating. Music will be provided by the choir of Pleasant Grove Missionary Baptist Church. Sign language interpreting will be provided by Patty Harmon. The family will receive friends from 6:00-8:00 pm Sunday prior to the service.
Interment services will be conducted 11:00 am Monday, December 19, 2016 at Ray-Rice Cemetery on Devil's Fork Rd., Flag Pond.
Pallbearers will be Boney Shelton, Warren Shelton, Drew Shelton, Daniel Tipton, Thomas Tipton, and George Rutledge. Honorary pallbearers will be Jim "Mac" McCloud, Jimmy Stancil, John Coffey, Jim Foglesong, Justin Foglesong, and Jonas Foglesong.
So sorry to hear about your loss Ms. Bessie was the sweetiest I thought the world of her. She always loved to check out my jewelry You are in my thoughts and prayers.
We write to express our sincere condolences with you and your family during this your time of grief. We pray you may have strength in the days ahead. May this scripture bring you hope and comfort during this time as it did our family. Isaiah 26:19 "Your dead will live. My corpses will rise up. Awake and shout joyfully, You residents in the dust! For your dew is as the dew of the morning, And the earth will let those powerless in death come to life." That's our loving God's promise. JR
12/18/2016
Gay and Jerry Whitt
Our deepest sympathy to your family on your loss. Mrs. Ray was a very dear part of our household and our children's lives when we lived in Erwin. She was a very special person who touched many lives. May you find comfort in your special memories of her.
12/16/2016
Vickie Phillips
Sending prayers to your family.
12/16/2016
Jackson Family
We would like to express our deepest sympathy. May those precious memories be foremost in your hearts and minds during this difficult time. Isaiah 25:8
12/16/2016
Debbie Shelton Corn
Condolences to the family. I remember Jean as a little girl when I lived just around the road from her. She was always so nice to me. Prayer's and may your memories bring you peace.
12/15/2016
Judie (Bett Long) Stilwell
Although it's difficult today to see beyond the sorrow, May looking back in memory help comfort you tomorrow. Love you