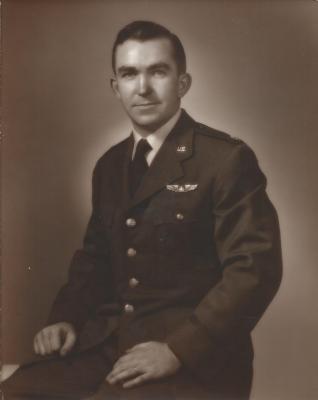 Colonel Thomas E. Miller, USAF RET, age 93, Blountville, passed away 2 December 2016 at his residence.
Colonel Miller was born 5 September 1923 in Grand Rapids, Michigan and christened Thomas Emerson Miller. Fourth son of Robert John & Norah Belle (Bailey) Miller.
He graduated Central High School, Lansing, MI in June 1941. Entered service in 1942 as an Aviation Cadet candidate. Retired in 1971 with rank of full Colonel.
Aeronautical rating: Command Pilot, Navigator, Bombardier and Nuclear Weapons Commander.
At one time or another qualified as pilot in command in many different aircraft ranging from the J3 Piper Cub, PT-23, BT-13/15, AT-6, AT-10, UC-78, L-3C, B-17, B-24, B-25, B-47, C-45 series (C-45, T-11, T-7, etc.), C-47, PQ-14 and the CONVAIR T-29 Services. Total flying time as crew member approximately 6800 hours.
Colonel Miller graduated from University of Maryland (Military Science), Air Command and Staff College of the Air University, Advanced Logistics College of the Air Force Institute of Technology, Industrial College of the Armed Forces and the Air War College of the Air University.
Combat experience: Full tour of 35 Combat Missions flying B-24 aircraft in the 448th Bombardment Group, 8th U.S. Army Air Force in World War II. Nearly five years as aircraft commander, squadron operations officer and squadron commander in B-47s of the 98th Bombardment Wing in the Strategic Air Command in the mid-1950s.
Awards: Legion of Merit, Distinguished Flying Cross, Air Medal with 5 Oak Leaf Clusters, Joint Service Commendation Medal, air Force Commendation Medal, European Theater Campaign Medal with 5 Battle Stars, Presidential Unit Citation as well as various campaign and service medal/ribbons.
Life Member: The Anciente and Secret Order of Quiet Birdmen, Veterans of Foreign Wars, The American Legion, Air War College Alumni Association, The Retired Officers Association, the Reserve Officers Association, the National Association of the Uniformed Services, the 8th Air force Historical Society and the B-47 Stratojet Association.
Member: 2nd Air Division (8th Air Force) Association, the 98th Bombardment Group Association, the 448th Bombardment Association, the Clan MacFarlane Society, the National Trust for Historical Preservation, the Tennessee Chapter of the 8th Air Force Historical Society and The Mighty Eighth Heritage Society.
He was married for 58 years to Ethelyn (Lyn) Margaret Dabbs Miller, who died 23 January 2002.
Survivors include two children, Sturart Thomas Miller, who died 9 July 2014, and Margaret Melissa (Marliss) Miller Bombardier, Washington State; four grandchildren, Lauren, Thomas, Hannah and Sierra; daughter-in-law, Glenda Schroeder Miller.
Funeral services will be conducted 11:00 am Saturday 10 December 2016 at Dillow-Taylor Funeral Home. Visitation will follow the service.