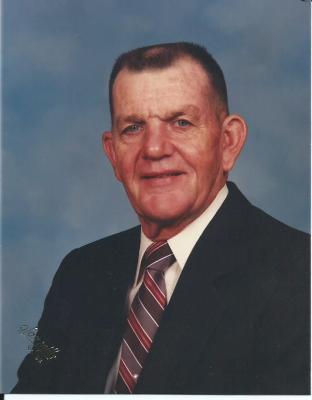 Mr. Grover Rex "Adam" Renfro, age 85, Jonesborough, passed away Tuesday, September 13, 2016 at his residence.
Mr. Renfro was born in Washington County and son of the late Luss & Mary Mae Henley Renfro. He was also preceded in death by five brothers, Stanley Renfro, Harold Renfro, Robert Renfro, Mack Renfro and Clarence Renfro and one sister Kathleen Jones.
He was a member of Bethesda United Methodist Church and original member of Lamar Ruritan Club.
Mr. Renfro was a retired farmer, an Insurance Agent for Farmers Mutual Insurance of Washington County for 31 years, and also worked as an agent for Mt. Empire Auction Company.
Survivors include his wife, Ernestine Campbell Renfro, Jonesborough; son, Chris Renfro, Jonesborough; sister-in-law, Dorothy Renfro, Erwin; and several nephews and nieces.
The family would like to extend a very special thank you to Mountain State Hospice for their wonderful loving care.
Funeral services will be conducted 7:00 pm Wednesday, September 14, 2016 at Dillow-Taylor Funeral Home with Rev. Clyde Hester, Pastor Jake Herron and Rev. Jeremy Dykes officiating. The family will receive friends from 5:00-7:00 pm Wednesday prior to the service.
Interment services will be conducted 11:00 am Thursday, September 15, 2016 at Washington County Memory Gardens.
Pallbearers will be Ralph Clarke, Chuck Hammitt, David Renfro, Garry Renfro, Stanley Renfro and W.L. Renfro. Honorary pallbearers will be Billy Jackson, Chipper White, Billy Tittle, Craig Switzer and the men of Bethesda United Methodist Church.
Memorial donations may be made to Bethesda United Methodist Church 4755 Cherokee Rd. Jonesborough, TN 37659.
09/14/2016
Shirley Duncan Cutshall
Earnestine, Please accept my prayers and deepest sympathy upon the passing of your husband. Love, Shirley
09/14/2016
Robert Runion, Jr
My condolences to the family in their time of sorrow. I knew Rex from our school days at Lamar so many years ago. Bob
Sorry for your loss. Rex will truly missed. Sorry I will not be able to attained his service. God bless all of you.
09/14/2016
The Tom R.Jones Family
We're so sorry for your loss. May God bless and comfort each of you during this time of sorrow.
I know the heavenly choir is rejoicing to add your lovely voice. I will be forever grateful for how you and Ernestine welcomed me into your lives with such love. I will miss your humor and quick wit. Your friend in Christ.
Ernestine and Chris, my prayers are with you during this difficult time. He was a very special person to me and I will miss him so very much.