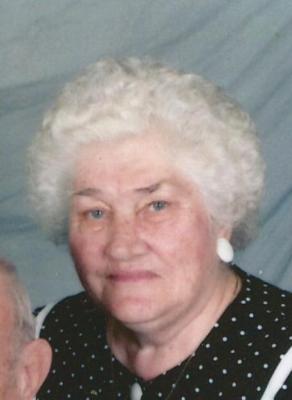 Mrs. Ruth Kiser, age 92, Jonesborough, passed away Sunday, September 4, 2016 at Christian Care Center.
Mrs. Kiser was born in Washington County and daughter of the late Charlie & Lora Ellen Adams Mitchell. She was also preceded in death by her husband, John Estel Kiser.
She was a member of Sulphur Springs Baptist Church.
Mrs. Kiser loved to garden.
Survivors include two sons and daughters-in-law, Howard & Gail Kiser (caregivers), Sulphur Springs and Lynn & Kathy Kiser, Elizabethton; grandchildren, Michael Kiser, April Kiser, both of Elizabethton, Lisa Kiser-Deel (Greg), Gray and Mitch Kiser, Johnson City; four great-grandchildren; one brother, Bill Mitchell, Gray; and a sister, Evelyn Blevins, Kingsport.
The family would like to express their appreciation to the 3rd floor staff at Franklin Woods Community Hospital (ICU) and Christian Care Center of Johnson City for their wonderful care of our mother.
The family will receive friends from 1:30-2:30 pm Wednesday, September 7, 2016 at the Dillow-Taylor Funeral Home. Funeral services will be conducted 2:30 pm Wednesday with Rev. Jimmie Rogers officiating. Graveside services will follow at Sulphur Springs Cemetery.
Pallbearers will be family & friends.
09/11/2016
Naomi shell morrell
So sorry I will not be able to attend Aunt Ruth's service.You will be in my thoughts and prayers.Gary recently had vascular surgery and cannot drive.We have to be at VA at the service time.With love and deepest sympathy,Naomi
09/08/2016
Dianna and Caleb
We are so sorry for your loss. Our prayers are with your family during this difficult time. We will all be together soon in heaven.
09/06/2016
Verlon and Donna Whitley
Our deepest sympathy, Gail and Howard and the entire Kiser family in the loss of Ruth. May God bless you and keep you during this difficult time. Verlon and Donna
09/06/2016
Naomi shell morrell
I am so sorry I will not be able to attend aunt Ruth's service.My husband recently had major vascular surgery and in ICU at VA.He is not allowed to drive and has a follow up appointment during the service Time Please know you are in my thoughts And prayers. LOVE Naomi Shell Morrell
I'm so sorry for your loss.May you find comfort in knowing that we will all meet again in the presence of our Lord.God bless you all in this time of mourning.
09/05/2016
Nancy (Kiser) Crain
Sorry to hear of Aunt Ruth's passing. I know that you will miss her, but she has been reunited with your dad. I have fond childhood memories on the farm. Take care, and warm thoughts to all.