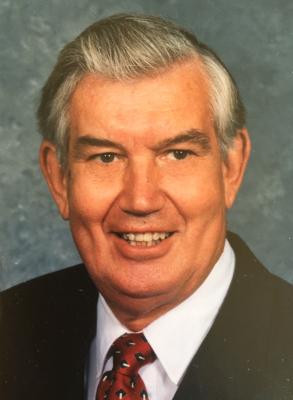 Bobby Lee Terry of Jonesborough, age 83, passed away Monday, June 6, 2016 at NHC Rehab Center in Johnson City, TN after an extended illness. Bob was born August 24, 1932 in Denver, Missouri. He was the son of the late George William Terry and Velma Spillman Terry. In addition to his parents, he is preceded in death by a brother, William Edward Terry.
Bob was a member of Southwestern Baptist Church in Johnson City where he was a member of the Ann Lacey Memorial Sunday School Class.
Bob was a United States Army Veteran having served in Chorwon Valley, Korea. He served in the 143rd Artillery Battalion.
On November 27, 1957, Bob was united in marriage to the former Wreatha W. Jarvis at the First Baptist Church in Maryville, Missouri. After receiving his B.S. Degree in Chemistry from Northwest Missouri State University in 1958, Bob and Wreatha moved to Texas where he began working as a research chemist in the petro-chemical industry. Always an avid learner, he would later attend graduate school at Rice University and University of Denver. He proudly retired from ARCO in 1984 after achieving several patents on inventions for his employer.
After his retirement, Bob continued his lifelong passion of restoring antique automobiles full-time. Bob held membership in several local and national car clubs, and was a charter member of the Houston Model-A Restorers Club. He held officer positions for that club in addition to the East Tennessee Model A Restorer's Club. Bob also held memberships in the Antique Automobile Club of America both in Houston and locally in the Dan'l Boone Chapter in Kingsport, the Early V-8 Ford Club, Model T Ford Club, and the Hudson Essex Terraplane Club. He held a fondness for his 3 vintage Hudson automobiles that had been purchased new by his parents from the Hudson dealership owned by his uncle, and where he worked during his high school and college years.
Bob is survived by his wife Wreatha Terry and their four children: Brent L. Terry and wife, Pennie E. Terry of Elizabethton, TN; JanNell J. Terry Simpson and husband, Robert A. Simpson, League City, Texas; Paul C. Terry and wife, Norina S. Terry, Pasadena, Texas; and Drue E. Terry DaSilva and husband, Steven P. DaSilva, Humble, Texas. Bob is also survived by seven grandchildren, BreAnna L. Terry; Blake L. Terry; Cameron M. Strieder; Colin M. Strieder; Braden S. Simpson; Alex M. Terry and Marie S. Terry. He is also survived by a brother-in-law, Howard Jarvis and wife Druenetta, and sister-in-law, Pat Terry, as well as several nieces, nephews and cousins.
The family will receive friends for visitation on Friday, June 17, 2016 from 10:00 a.m. until 12:00 at Southwestern Baptist Church, 1112 Cherokee Road, Johnson City, TN. A Celebration of Life service honoring Bob will be held at 12:00 noon at the church. Burial will immediately follow with a military honor service at the Veteran's Administration Mountain Home National Cemetery in Johnson City, TN. The family has requested that friends with antique cars drive them to the service and follow in procession to the V.A. Cemetery. Pallbearers will be Larry Bare, Sam Brumit, Jimmy Bunton, Keith Dugger, Larry Kyker, Jim Miller, James Michael Rogers, David McNees, Mickey Campbell and Mark Terry. Honorary pallbearers will be members of the Ann Lacey Memorial Sunday School Class and the East Tennessee Model A Restorer's Club.
In lieu of flowers, the family ask that donations be sent to The Gideon Society, South Johnson City Camp, P. O. Box 372, Mountain Home, TN 37684 or the Parkinson's Research Foundation, 200 SE 1st Street, Suite 800, Miami, FL 33131.