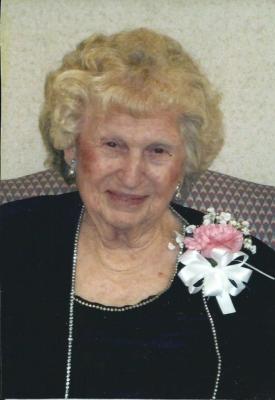 Mrs. Lillian "Jessie" Broyles, age 94, Jonesborough, passed away Wednesday, May 18, 2016 at Four Oaks Healthcare Center.
Mrs. Broyles was born in Washington County and daughter of the late Frank & Fannie Mae McCurry Humphrey. She was also preceded in death by her husband, Marne Broyles and a son Terry Broyles and eight siblings.
She was a Charter Member of Open Door Baptist Church, Jonesborough.
Mrs. Broyles graduated from Washington College Academy and retired from Washington County Schools System Food Service Division.
Survivors include one son and daughter-in-law, Roger & Vickey Broyles, Jonesborough; two daughters and sons-in-law, Reta & Thomas Kinley, Jonesborough and Teresa & Gordon Sims, Johnson City; grandchildren, Michael Broyles (Melissa), Murfreesboro, TN, Kelle Fonseca (David), Morganton, NC, Lesley Howell (Michael), Jason Kinley, Hillary Broyles (Keith), Allen Weems (Myria), all of Jonesborough and Keri Masters Cave (Barry), Gray; twelve great-grandchildren and two great-great-grandchildren; and several nephews and nieces.
Funeral services will be 7:30 pm Friday, May 20, 2016 at Dillow-Taylor Funeral Home with Pastor Craig Ponder officiating. The family will receive friends from 5:30-7:30 pm Friday prior to the service.
Interment services will be conducted 10:00 am Saturday, May 21, 2016 at Monte Vista Burial Park.
Pallbearers will be Michael Broyles, Allen Weems, Jason Kinley, Justin Pritchard, Hunter Masters and Chandler Masters. Honorary pallbearers will be Jonathan Stone, Alex Weems, Andrew Weems, Kayden Broyles and Kullen Broyles.
05/21/2016
Patsy Morelock
So sorry for all of u she was a great person and I loved knowing her and her family we had some good times camping with them many years ago. She will truly be missed but you all have some great memories. My prayers and thoughts are with you love Patsy, Schery, Pat Lee, Amy, and Carla
05/20/2016
Keith and Marty Crutcher
Teresa and Gordon we consider you a sister and brother in Christ and we lift you and your family up in prayer. We celebrate the long Christian life that your mom lived and know that she touched many others with her words, deeds and love. Even though you are saddened by your loss, please take comfort that she is celebrating in heaven with other loved ones.
05/20/2016
Vicki Hartman and Brenda Haun
Reta, we have such fond memories of Miss Jessie at John Reed. She was the life of the party and enjoyed Life. Praying for your family at this time of loss. May God give you peace and joy.